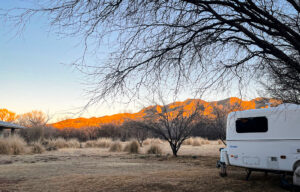 It was 3 years ago today we ordered our wonderful Escape 21 travel trailer. Not a bad birthday present, I might add. As I celebrate my 78th year on the planet, it's fitting that I write this post at our trailer's dinette; the warm colors of an Arizona sunset reflecting off everything outside. After a month living as volunteer site hosts on The Nature Conservancy's Patagonia-Sonoita Creek Preserve, it's understandable that we consider the 300+ acres on which we're parked as our backyard. To be truthful, as soon as I lock the gates at 4pm, we're the only ones on the property.
In our last dispatch, Sooney shared her perspective of how we've been living here, how we were adapting, and our impressions of the friendly community of Patagonia, population 1,000. What's particularly fascinating is how much we learn between the time I unlock the gates at sunrise and the 8½ hours we're "on" before I lock 'em up again.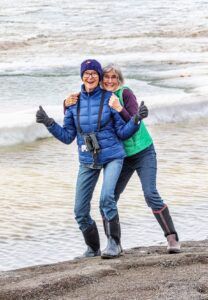 COVID be damned, we spent mid-May to mid-June in Alaska, filling our days with birds, birding, birdature, photos of birds, and processing it all with dear friends, Terry & Marty. Then, in November, we gathered up family and spent another month in Costa Rica. Yep, birds, birding, etc. So it should be no surprise that our days here are filled with more of the same. Our binocular and cameras are with us at all times because that's what we're doing all day: birding.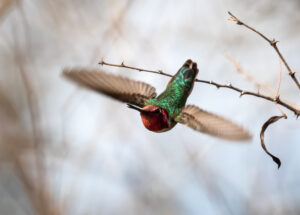 The Preserve's Visitors Center is comprised of a couple picnic tables positioned for optimal hummingbird viewing. As of today, we've had 4 species show up—3 new ones joining a couple rambunctious Anna's males that apparently live here year-round. Every so often, a Violet-crowned hummer shows up, apparently taking a break from its residency at the Audubon Hummingbird Center just down the road. Additionally, a Rufous Hummingbird (that we're familiar with back home) joined the group along with a beautiful Broad-billed species whose bill is not only broad but fiery red that complements the shimmering blue-green of its body. Absolutely gorgeous. All of 'em.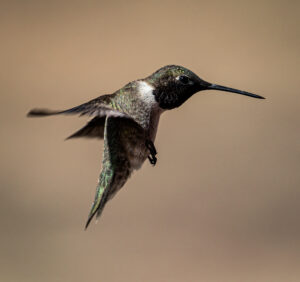 For those of you unfamiliar with "birding," it's one up from the more common activity of bird watching (🎶 Let's go birdin' now, everybody's learning how, come on bird safari with me…). In addition to being relaxing, there are many avenues one may choose to delve into what is allegedly the fastest-growing hobby around. It's my theory this may be one of a few silver linings attributed to COVID isolation. By studying the behavior of winged creatures, you can find out a lot about nature, trees, and shrubs. Combine my passion for photography with Sooney's phenomenal capacity for remembering bird sightings, locations, songs and behavior and you've got a recipe for a genuine life-long learning experience.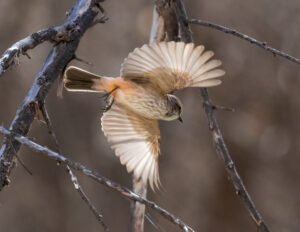 Here at the Visitors Center, the striking Vermillion Flycatcher frequently alights on nearby shrubs and it's tough not to love watching them. Hummers are often buzzing about as well, constantly running off competitors to the two feeders. Temporarily exhausted, they occasionally perch and display their remarkable colors. Hummingbird feathers are iridescent—light bounces off them like a soap bubble—resulting in shimmering hues that shift as you look at them from different angles. If one is lucky, capturing a photo of a posed bird is extremely gratifying. Capturing them flitting about, however, is more challenging and those photos, in photographic jargon, are called "takeoffs" or flight pix.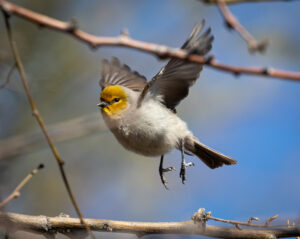 As I mentioned earlier, our responsibility is to welcome TNC visitors and provide them with information to fully appreciate what the Nature Conservancy is attempting to do. From our perspective, most visitors choose to hike, contemplate the beauty of the year-round Sonoita Creek, and observe wildlife during their walks. We provide them with trail maps and possible locations for optimal sightings. First and foremost, the Visitors Center provides an environment that both educates and entertains visitors and, more important, keeps one of US entertained (remember, we're birding here nearly all day long).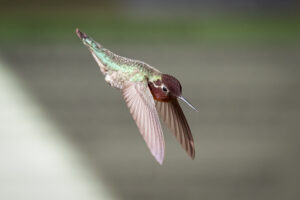 When visitors are out and about, it can become very quiet at the VC. As if to entertain us, hummingbirds constantly alert us of their presence. Regardless of species, they rocket around the open spaces of the breezeway and intimidate other species from "their" sugar water. When not drinking from the feeders, they'll fly to nearby shrubs or trees to strategize their next trip to the diner. With little else to do, I'm learning to patiently wait for their sometimes acrobatic departure from those temporary perches.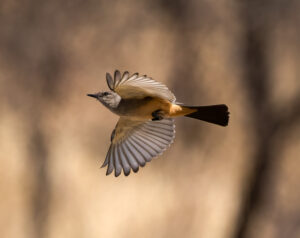 This watch and wait behavior is not unique to hummingbirds. Another category of birds are called "flycatchers." Their technique is to perch with a clear view of a potential food source. Our condolences to the unsuspecting insect that arises or flys within their range; in an instant they've captured their prey and often return to their previous branch. I hope these illustrations provide a look not commonly seen and portray yet another opportunity for exploration. We're certainly not bored, and are continually entertained by the arrival of new species as they migrate through the Preserve. Since our arrival in early February, 66 species have been confirmed and the number continues to increase.
At last count I have listed (in a .pdf document) 135 unique sightings of both wildlife and botanical species and compiled them—along with some representative landscape images—into a photo gallery. These photographs taken by both Sooney and me document our nearly 3-month visit to the Patagonia-Sonoita Creek Preserve and other hotspots during the journey. The chronological range of the gallery is from when we left Ashland, Jan. 26, 2022 through our return midl-April (and include a few from previous Arizona roadtrips for documentation). All photos have been offered to The Nature Conservancy to use freely in any way they wish. Here is a link to that gallery.