On March 4, 2019 (my 74th birthday!), we ordered our Escape 21C travel trailer. It took several months to build, and we spent the July 4th holiday driving up to BC to pick it up. Our Camper Log has been reset to reflect travels pulling our Escape with our wonderful '19 Chevy Colorado pickup.
242-43 Juanita Lake, Klamath Nat. Forest, CA – 6/2-6/3/2022
Our friends have camped here and it has alway been on our radar. Understandably! This is a sweet little spot although (free) day use brings up festive partiers on weekends. Every Friday the host fires up the leaf blower to remove flammable material from the asphalt. Highly recommend sites 8 & 6 (in that order), and Monday and Tuesday are generally quieter.
240-41 Disperse Camp near Cabin Lake Blinds – 5/30-6/1/2022
We had originally planned to follow the Field Station stay with several nights at Page Springs. Sadly, we (and everyone else, evidently) were discouraged by the mosquitos so we settled on filling our bottles with the wonderful water and fled back to the bird blinds at Cabin Lake. 8.7 miles from the Fort Rock Day-use entrance.
237-39 Malheur Field Station – 5/27-5/29/2022
Following an emergency replacement of all 4 of our trailer tires, we settled into the Field Station for a few days of car birding. The mosquitos were quite bad; the birding was glorious.
235-36 Summer Lake Wildlife Preserve – 5/25-526/2022
Alicia and Leo joined us for a couple nights. Beautiful weather, and while our "favorite" spot wasn't available on the canal, we enjoyed wide-open spaces on the lawn..
230-34 Wax Myrtle Campground, Florence, OR – 9/11-15/2022
Gorgeous campsite #8 right on the Siltcoos River. Kayaked 3 days, upstream to Siltcoos Lake, and downstream to sea. Best kayak to mouth of Siltcoos 1 hour after low tide to assure paddle depth.
227-29 Pacific Coast RV, Westport, WA – 8/12-14/2022
Our campsite that served as our base of the pelagic birding event on 8/14.
224-26 Lake Sylvia State Park, Montesano, WA – 8/9-11/2022
Small, clean campground with access to town. Appears to be a popular site with families. Put our kayaks on the water and explored a bit.
222-23 Ike Kinswa State Park, Mossyrock, WA – 8/7-8/2022
Very popular campground with motorized boating community. We hit the day use area first thing in the morning and kayaked up the Tilton River. A magical experience.
220-21 Dispersed Campsite, Packwood, WA – 8/5-6/2022
Didn't know what to expect up that forest road, but it all ended up nicely. Plenty of huckleberries to keep me satiated. Saved some for pancakes the following morning.
219 Wilridge Winery, Yakima, WA – 8/4/2022
Our final Harvest Host campsite on this journey and it was a beauty. We parked on a ridge overlook a beautiful canyon that surprised us the following morning with a healthy coyote working his neighborhood.
218 Hamilton Cellars Winery, Benton City, WA – 8/3/2022
A short drive from the previous night, and this HH site included power and water hookups. So we splurged and  bought an extra bottle of wine. Win, win.
217 Smokey Rose Winery, Walla Walla, WA – 8/2/2022
Their first HH visitors. No vines so we parked in the shade of their winery. One of MANY in the Walla Walla area.
216 Knapp Family (Lavender) Farm, Elk, WA – 8/1/2022
Our first HH site that wasn't a winery. Turned out to be lovely, private, and the hosts were very friendly.
208-215 Yaak, MT with the Hoster Family – 7/24-31/2022
We spent a great 10 days goofing off with Jon and Karen.
207 Fruitland Valley Winery, WA – 7/23/2022
After a long drive, we didn't know what to expect. Turned out to be wonderful. Good pizza, tasty wine, and a large freshly-mowed field to park.
206 Portteus Winery, Zillah, WA – 7/22/2022
Our first Harvest Host camping experience and an easy drive from Bend.
203-205 Bunker Hill CG, Lemolo Lake, OR – 6/19-21/2022
We're camping with Alicia and family for a couple days of kayaking.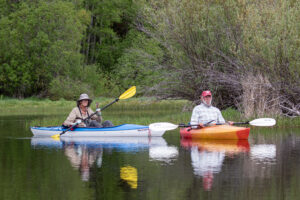 200-202 Rocky Point Resort, Ft. Klamath, OR – 6/1-3/2022
We camped in site #26 overlooking Klamath Lake. Kayaked the 4-mile canoe trail from Malone Springs back to the resort.
198-99 Ashland, OR – 5/29-30/2022
We moved into our trailer and freed up our house for Alicia, Michael, Mark, and Ani. They performed a short set in our backyard during the Peace Corps 52nd Anniversary gathering in Ashland.
197 Rolling Hills Casino, Corning, CA – 5/15/2022
Basic overnight with full hookups. Can stay here next time (?) as part of the the Harvest Host disperse camping project.
196 Peter & Lee Clark's Home, Merced, CA – 5/14/2022
We camped in their driveway and enjoyed their friendship as always.
195 Orange Grove RV Park, Bakersfield, CA – 5/13/2022
One of our most dependable layovers. Did laundry and showered in very clean and spacious facilities.
193-4 Death Valley National Park, Oasis CG, CA – 5/11-12/2022
Nearly full when we booked online. Ended up staying in a disperse lot as part of the Oasis Hotel. Really terrible; windy, no bathrooms nearby. Good news is we had access to walking/birding the golf course and resort grounds.
191-92 Cattail Cove State Park, Lake Havasu, AZ – 5/9-10/2022
Got one of the last spots available. Great memories of walking the barren desert adjacent to the CG. Very clean and affordable. Too windy to put boats in the water.
190 Gilbert Ray County CG, Tucson, AZ – 5/8/2022
This visit was much nicer than the one at the beginning of our journey. We reserved earlier and got space #71 that backed into the desert. Water & power at the site, sewer dump elsewhere in the CG.
124-189 Patagonia-Sonoita Creek Preserve, AZ – 2/1 – 4/7/2022
Our home for nearly 2½ months. Posted an entry in our journal about the experience.
123 Gilbert Ray County CG, Tucson, AZ – 1/31/2022
After the ridiculously long drive across California I'd hoped to have a nicer campsite. Sadly, we'd gotten one of the last and it was tiny, slopping, and the power & water was on the other side of our trailer. Also, made a note to reserve early and get an outside site because the site is otherwise very nice.
121-122 Salton Sea State Recreational Area, CA – 1/29-30/2022
After an earlier visit several years earlier, we looked forward to our return. This place is weird; well off the water and in disrepair. Destined to be a ghost resort of its heyday in the 50's. Beautifully maintained trails. We opted for the "newer" CG and sites were more or less on a parking lot and very close to each other. Mature mesquite trees were very birdy.
120 Buena Vista Aquatic Recreational Area, CA – 1/28/2022
We'd camped camped here years earlier and opted for it because of its access to I-5. OK for one night but in the future will choose Orange Grove RV Park in Bakersfield.
119 Colusa Landing, CA – 1/27/2022
We're on the road again, beginning our multi-month trip to Arizona. As in an earlier visit with the Karlins, we chose a riverside site and were very pleased. Birding the area is always a pleasant surprise.   began our Arizona Adventure.
115-118 Lagoon CG, Siuslaw National Forest, Florence OR – 9/29-10/2/2021
This is a lovely campsite and we'll most likely return. Great kayaking although not necessarily directly from the CG. Will consider camping in the Waxmyrtle CG where sites #8 & 9 are right on the estuary, have a suitable beach, and provide access all the way out to the ocean.
112-114 Carl Washburne Memorial State Park, Yachats OR – 9/26-28/2021
Very nice forested CG with walking path out to the dunes. Easy drive to Yachats for some interesting restaurants.
110-111 Mo & Stacey's Driveway, Bend OR – 9/2-3/2021
We camped out for a couple nights at Mo & Stacey's. On Friday, we kayaked with Alicia, Michael, and Cassidy on the Deschutes River above Dillon Falls. Later that night, we saw Alicia, Mark, and Pete perform at Brasada Lodge, NE of Bend. Great show and meal at the Range Restaurant.
108-109 Creekside CG, Sisters, OR – 8/31-9/1/2021
After a long drive to Sisters from Ashland, we set up camp and drove to Suttle Lake (15 miles west of Sisters) to check out the venue for Alicia's gig the following night. The next day, we kayaked calm water on Suttle Lake and later enjoyed Alicia and Mark's performance at Suttle Lake Lodge.
105-107 Bunker Hill CG Lemolo Lake, OR – 8/1-3/2021
Had entire Bunker Hill CG to ourselves (we booked sites 1&2, and folks at #3-5 never showed up). Kayaked couple days with Bob & Bev, and it was very birdy with Hermit Warblers. Especially fun birding & photographing from our boat. As expected, very calm in the morning. Sadly, very smoky as well.
102-104 Bullards State Park, Bandon, OR – 7/21-23/2021
Stayed at site B61 (full hookup w/sewer). Connected up with John B and explored Port Orford (Redfish restaurant) and next day, Coos Bay (Shore Acres State Park). In afternoon, attended Claire's and Pepper's collaborative show at the Coos Bay Art Museum. Birded Milicoma Marsh for a spell; best in am.
99-101 Union Creek CG, OR – 6/28-30/2021
Booked site #80 early in the season. Across the road (site #81) were Linda and Dave Y.. Their site is right on the Rogue. There's was a very nice spot with the resemblance of a beach. Drove to Prospect for a meal at the hotel, and on another evening visited Crater Lake and hiked the Rim Trail for a while.
95-98 Page Springs CG, OR – 5/3-6/2021
Shared site #3 with Karlins. Hiked all local trails up stream. Terrance & Sarah were here, too.
93-94 Malheur Field Station, OR – 5/1-2/2021
Took advantage of their hookups. Actually used the shower for the first time.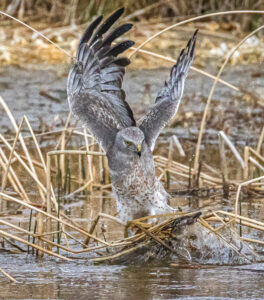 91-92 Summer Lake NWR, OR – 4/29-30/2021
Camped in our favorite site on the "Island." Very birdy but most notable for the Northern Harrier episode on the canal right out our trailer door.
89-90 Selma, OR – 4/9-10/2021
Siskiyou Field Institute for 2 nights. Easy access to showers and creekside photography.
87-88 Ashland, OR – 4/9-10/2021
Camped out in our backyard for a couple nights while the house was filled with Alicia and friends.
84-86 Brookings CA – 3/21-23/2021
Returned to Harris Beach State Park for a solo campout while Sooney was helping a neighbor in Salem. Booked online into B31, a nice spot not far from the trail to the beach and right around the corner from where we camped in December. Snuck in a round of golf at Salmon Run Golf Club, about 3½ miles up the Chetco River.
80-83 Colusa CA – 2/21-24/2021
Hooked up at the Colusa Landing RV park right on the Sacramento River. Easy access to the Colusa NWF, Sacramento NWF, Gray Lodge Preserve, and many more great birding sites.
78-79 Harris Beach State Park, Brookings, OR – 12/7-8/2020
Very nice camp site (A03) quite close to trails to the beach and good afternoon sunlight.
76-77 Irelands RV Park, Gold Beach, OR – 12/5-6/2020
A substitute for our first choices (Cape Blanco and/or Boice Cope County Park) due to their being closed. Irelands is close to the beach but has no bathrooms or showers. Clean and efficient.
73-75 Bullard State Park, Bandon, OR – 12/2-4/2020
We arrived without a reservation and had no problems. Lesson learned: ANY available spot is OK (fill out paper form) for the first night, and then you must go online to reserve additional nights. That was a pain using our phones; I ended up calling. There ARE, however, several sites where online reservations are NOT required and you simply use the forms provided at the kiosk. Clean hot showers, good birding in our sunny site, C45. We spent a day hiking/birding the trail to the beach that begins on the west side of Loop B. After arriving at the beach, we headed over to the horse camp, lunched there, and walked back to camp along the bike path. Good ride to the Vintage lighthouse and jetty.
68-72 Summer Lake National Wildlife Area – 9/29/20-10/3/2020
A short drive to Summer Lake from Bend, we arrived in the afternoon and camped the entire 5 nights at Ana Creek Campground (on a place locals call "The Island." Karlins and Heyerman's joined us on different nights. Great birding (had a 6-American Bittern day on Sunday morning before departing for home – and TONS of ripe figs).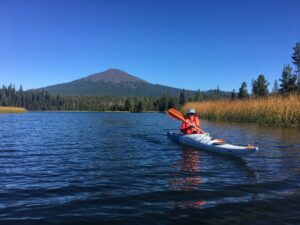 64-67 Bend, OR (@ Alicia's) – 9/25-9/28/2020
We spent 4 nights parked in Alicia's driveway and had long-awaited visits with friends. Ashley & Beth (Fri.) while Alicia played a gig, Michael & Cassidy (Sat.) Mo, Stacey, and Rowan (Sat.), and Michael & family (Sun.). Kayaked w days: Above Dillon Falls and Hosmer Lake using Jay & Rachel's hard-shelled kayaks.
60-63 Lemolo Lake, Douglas County, OR – 8/23-8/26/2020
Returned to Lemolo Lake due to smoke at original destination, Juanita Lake (in Shasta County, CA). Site #5 for two nights (large space but so-so beach for launching kayaks). Site #2 for two nights and enjoyed beach (that's probably site #1) but no problem because Heyermans camped there.
59 Chiloquin, Klamath County, OR – 8/22/2020
Parked in driveway at Brain family residence in Chiloquin, OR.
56-58 Hyatt Lake, Ashland, OR – 7/28-30/2020
Site #11 that has deep, shady area in the afternoon. Very birdy (saw 4 different warblers not far from our campground). Water was significantly lower than just a couple weeks ago, and the boat ramp at Loop C of the Hyatt Lake CG was completely out of the water. When you're paddling, however, it all feels the same.
54-55 Hyatt Lake, Ashland, OR – 7/12-13/2020
Site #6 with the Karlins in #2 and Heyermans in #4 (#4 is shady in the afternoon with nice view north. We launched our boats from their beach as well. We'll be camping the 27th and 28th in site #11 and will compare.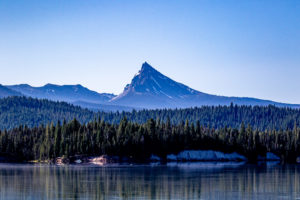 51-53 Lemolo Lake, Douglas County, OR – 7/5-8/2020
Bob & Bev Reeves joined us for 3 nights of kayaking, hiking to Lemolo Falls, and catching up. We returned to Bunker Hill CG and reserved Site #1 that offered a combination of shade and a great beach for launching our boats. Not particularly flat (as are #4 & 5), but be leveled just fine and a good place for groups and multiple vehicles (Laura joined us the last night). We checked out Inlet CG and East Side CG (both on Lemolo) but found them more fishing camps. Poole Creek is another CG on the lake with more amenities (e.g. water).
50 Rolling Hills Casino, Corning, CA – 12/6/2019
The final night on our journey to Tucson. This place is right on I-5, cheap, clean, and for some reason the bathrooms (and for-fee showers) are in a "clubhouse" that's way too far from our site.
49 Orange Grove RV Park, Bakersfield, CA – 12/5/2019
We stopped here about a month after our first visit, and this time the oranges were sweet and free for the pickin'. Clean, easy access when on old-99 outside Bakersfield. Rather noisy with nearby truck traffic so possibly quieter in the "overflow" lot farther from the highway.
48 Cottonwood CG, Joshua Tree National Park – 12/4/2019
A pretty long stretch from Tucson, but the weather was good and we really wanted to cover some ground. Arrived at dusk and a dense fog shrouded the campground (where we thankfully had a reservation). We barely fit the pull-through and need to be careful reading site descriptions even though we're only 34′. Short hike through the beautiful, colorful desert to Cottonwood Canyon before continuing on our journey the following morning.
43-47 Catalina State Park, AZ – 11/29-12/3/2019
Near Tucson on the Oracle Highway, Catalina State Park Catalina offers 120 campsites with electric and water, and requires reservations because it's always packed. Great bathrooms/showers. NOTE: in subsequent visits try to book A Loop sites 2, 3, 4, or 5 for best awning orientation with setting sun on the nearby peaks.
42 Picture Rocks, Tucson, AZ – 11/28/2019
We spent one additional night at Phil's before heading to Catalina St. Park. Saw a Harris Hawk perched on a neighbor's satellite dish across the street.
38-41 Bogs Springs CG, Madera Canyon, Green Valley, AZ – 11/24-28/2019
Great location just up from Madera Canyon trail. Connected to the canyon by both road and a .6 mile hiking trail to the amphitheater. Old fart multi-agency pass good for $5/night camping and free parking throughout the canyon.
34-37 Tucson, AZ – 11/20-23/2019
After a horrendous drive, we arrived at Phil's and camped for 4 nights in his driveway.
29-33 Anza Borrego State Park – 11/15-19/2019
Our final California destination en-route to Tucson. We luckily reserved Site #90 in the upper canyon that turned out to be one of the best with privacy and nearby access to canyon trail (1.5 m). Really preferred the dry camping site (with nice bathroom) rather than crowded loop with hookups. (Maybe when hot the power for our AC would be appreciated.)
28 Orange Grove RV Park, Bakersfield, CA – 11/14/2019
We drove here following our 3-night visit with Peter and Lee in Merced. Oranges weren't quite ripe on this visit but the showers were hot and included.  Good place to catch up news as the WiFi was good. Some truck noise rumbling up and down old '99 nearby.
26-27 Colusa National Wildlife Refuge – 11/9-10/2019
Our first California stop on our late-autumn journey. A pretty short drive from Ashland down I-5, just past (and east) of the Sacramento National Wildlife Refuge, we drove to Colusa and the campground ( Colusa-Sacramento River SRA "State Recreation Area"  ) was right in town. Call the camp host before visits to make sure there's no flooding. Hookups worked but the shower didn't.
20-25 Great Basin National Park and Home – 9/25-30/2019
Fun to camp in Baker Creek CG during the dark night gathering. Enjoyed eating at Kerouac's Restaurant and Bar a couple times.
18-19 Ruby Lake National Wildlife Refuge, NV – 9/23-24/2019
We wanted to hang out in the Refuge so headed toward Jiggs, NV and took the Harrison Pass that leads directly to the Refuge. After a couple nights in much warmer (lower elevation) campground, we drove 40+ miles south on dirt to pick up Hwy. 50 to Ely, NV.
14-17 Lamoille Canyon, NV – 9/19-22/2019
Not far from Sheldon, you first get on I-80 east, take the Elko offramp, and drive 20 or so miles to tiny Lamoille, NV. From there drive and camp up the beautiful Lamoille Canyon. We dry-camped in Thomas Canyon CG.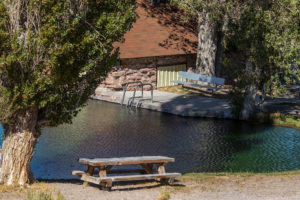 11-13 Sheldon National Wildlife Refuge, NV – 9/16-18/2019
A long day from Ashland that included a beautiful drive through Warner Canyon (Lakeview)with late sun at our backs. Free camping in the refuge and much, much more. Click the photo for more info.
8-10 Sisters Folk Festival – 9/6-8/2019
We were too late for a spot in the campground, and settled happily in the High School Parking lot. A short bike ride from the events, we found the camping very nice and quiet. While total disperse camping (with porta-potties) provided, next year they're going to try to provide showers.
4-7 Lemolo Lake – 8/18-21/2019
In Douglas County, we accessed Lemolo Lake on Hwy. 138 outside Diamond Lake. Took Hwy. 62 and then headed up the North Umpqua river. Inflated our tandem kayak for a really good look at a Belted Kingfisher.
1-3 Doe Point CG, Fish Lake – 8/11-13/2019
After making it home safely pulling our new trailer from Canada (via Washington State and Portland, we were itching to try out our newly outgassed rig. Campsite #11 backs right up to Fish Lake although others are available with reservations.
So long, pop-up truck camper. Hello, 2019 Escape 21 travel trailer…and a new log.
We purchased our Four-Wheel pop-up camper early in 2006, ready for a summer of camping. The sticker price was around $14,000, and when you divide that by the number of nights we've spent in our 8′ Grandby model, the PPN (price per night was: $34.50. We sold it (with our trusty '98 GMC 2500 pick-'em-up) for $15,850.
405-6 KOA, Lynden, WA – 7/2-3/2019
Just picked up our Escape21 travel trailer from ETI in Chilliwack, BC. They drove the trailer across the border at the Sumas, WA crossing and we connected up there and drove to the KOA. Our 2 days were spent checking out every feature of the trailer and, oh my, there were many new to us. Very nice rig and wonderful people to work with. As for the KOA, it was convenient, clean, and filled with people. Because it was also a national holiday, there were fireworks and guns going off all night!
403-4 Summer Lake National Wildlife Preserve – 5/21-22/2019
1st night camped with Karlins, and stayed over for an additional night. No rain and billowing clouds inspired us to ride our bikes all the way around the refuge.  Don't recommend the loop route because riding on the highway is necessary.
402 Page Springs Campground, Frenchglen, OR – 5/20/2019
Arrived late and camped overnight in site #27 (right on the creek beneath the bluffs). Great birding and late-afternoon sun illuminated the pond.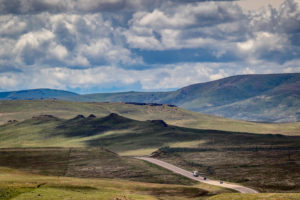 400-401 Alvord Hot Springs – 5/18-19/2019
Long, well-maintained dirt road beneath the Steens Mtn. range. Funky setup but clean baths and changing rooms, lots of birds, and an isolated campsite with 360° panorama.
399 Farewell Bend St. Rec. Area  – 5/17/2019
After leaving Joseph and Enterprise (Rooster's Cafe for breakfast), we gassed up in La Grande, OR and intended to bird the Ladd Marsh Game Mgt. area but missed the offramp due to road construction. Highly recommended so will check it out next time. Continued along Hwy. 84 nearly to Ontario and found this large area (with free showers) very accommodating. Bullock's Orioles nesting in tree behind our site.
398 Park at the River (Joseph, OR) – 5/11/2019
Finally reconnected with the Karlins at a clean commercial campground right on the Wallowa River.
397 Spool Cart Campground (BLM)– 5/10/2019
Drove to to Hwy. 51 just west of La Grande and headed south about a mile. CG was clean and pretty quiet although right on the road (relatively unused). Most sites back right up to the Grande Ronde River. Scads of Yellow Warblers served as camp hosts.
396 John Day National Monument (Painted Hills Unit) – 5/9/2019
We returned to the same dry camp that we found after our Alaska trip. Drove through the Painted Hills unit on (unnamed) Bear Creek Road toward the Red Hill attraction. Continued past that, across cattle guard, and camped farther up the road at a hunters camp. VERY quiet and birdy.
395 Chief Timothy Park on the Snake River – 9/16/2018
After leaving Enterprise, found this clean campground with optional hookups on the Snake River (just outside Clarkston, WA and Lewiston, ID). Following day we beelined it to Spokane and picked up Carol at the airport.
393-94 Joseph, OR – The Wedding Venue – 9/14-15/2018
The gang moved to a parking space adjacent to the wedding venue. Easy access to the Wallowa River, the wedding festivities, and good birding.
390-92 Wallowa Lake State Campground -9/11-13/2018
Camped with the gang (including Alicia in a tent). Oh, and the dogs. Rode bikes, plenty of rain.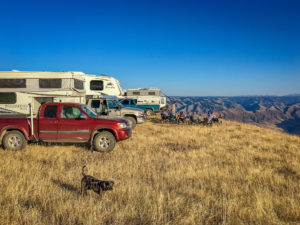 388-89 Buckhorn Campground Overlook – Zumwalt – 9/9-10/2018
Originally planned on camping in the Buckhorn Campground but some jerk left a couple deer skins & entrails in one of the sites that stunk the place up really bad. We continued a mile or so to the overlook and camped there with the Heyermans, Bryants, Karlins, Alicia and Lee. Simply fantastic overlook with views galore. Some wind the second night. Be prepared on subsequent campouts there.
387 Frazier Campground (LaGrande) – 9/8/2018
Frazier Campground is between Ukiah and LaGrande, OR. Hunters Camp, no water, off the highway a bit.
385-86 McKenzie Bridge – 7/16-17/2018
Revisited the beautiful Horse Creek with a great group of campers. Reserved Horse Creek Group Campground for 3 nights (stays first two). Great deal, good fishing, room for 40-50 people in 10 campsites (some right on the creek.
384 Crane Prairie Reservoir – 7/14/18
Camped one night outside LaPine, OR with Alicia, Mo, Stacey and Mo's folks (Jeff & Donna). Oh, I forgot Leo and 4 more doggy buddies. We had 2 campsites on the Blue loop (no hookups and spacious). Reservoir heavy with algae and warm. Put in boat for kayaking and punctured the hull.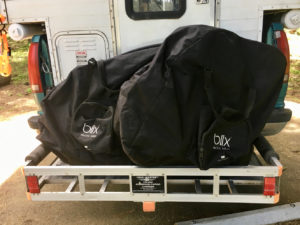 381-83 – Hyatt Lake 5/31-6/2/18
Celebrated Sooney's birthday at campsite C38. Kayaked, biked, and on Saturday we were joined by Karlins and Heyermans for a music fest.
379-80 – Bandon, OR 5/14-5/15/18
Camped in the rental house driveway. Played 3 days at Bandon Crossings with the Cinco family.
377-78 McKenzie Bridge – 8/21-23/17
Mo and Stacey got hitched and we celebrated with the best of 'em.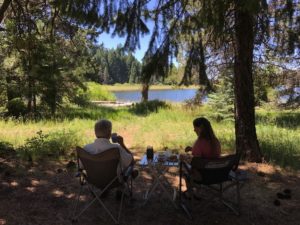 375-76 – Wild Cat Campground, Hyatt Lake 7/12-7/13/17
Camped in site #9 with Bob, Bev, the Heyermans and the Karlins. Great fun. We also had site #10 which paralleled #9 so it made for a camporee feeling. Booking #11 and #12 and you have the entire point to yourself. #11 is the optimal site with a private beach.
372-74 Samoa Campground, Arcata CA 5/20-22/17
Samoa campground is right on the spit, way to the south end of "North Spit" of Arcata Bay. On day 3 continued to the end of the spit and walked to the end of the jetty.
371 Ferndale Fairground, Ferndale CA 5/19/17
Hookups and quiet until 4am when a bunch of travelers used the "campground" as a parking lot for gathering. Got into the fairgrounds and saw Barn Owl above the bleachers. Owl pellets all over the seats!
370 Big Lagoon, Humboldt County, CA 4/18/17
Camped with Marty & Terry on site 25 – right on the water of the lagoon. Saw Snowy Plover (life bird) on the spit in a protected area.
369 Parking Lot Mt. Bachelor, OR 1/3/17
WAY too cold even though I had heat, shelter, and bedding. Most annoying was listening to snow removal machinery working all night cleaning the parking lot due to excessive snow.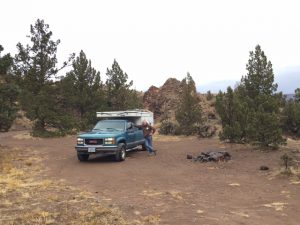 368 (80) Stealth camped just outside Painted Hills 10/4/16
Part of John Day Fossil Beds National Monument, the Painted Hills Unit is west of the town of John Day. We drove through the unit and just after leaving (crossing the cattle guard), we camped in a BLM pull-out .5 miles from the monument boundary. Absolute silence for the only time on this trip.
367 (79) Depot Park RV, Prairie City OR 10/3/16
On Hwy. 26 en-route to John Day Nat. Monument. Clean site with hookups, showers, and a RR museum. The beautiful Hwy. begins in Vale, OR and continues all the way to Prineville, OR. Stunning autumn colors.
365-66 (77-78) Celebration Point along Snake River 10/1-2/16
Snake River Birds of Prey National Conservation Area, Kuna, ID. Camped along the Snake River in primitive campground. Beautiful canyon with historical Guffey bridge nearby.
364 (76) Island Bar primitive CG, Riggins, ID 9/30/16
4 miles off Hwy. 95 along Salmon River. Quiet and beautiful canyon where we parked on rocky surface. Canyon Wren was our closest neighbor.
362-3 (74-5) Hawley's Landing CG (Heyburn St. Park) 9/28-29/16
Rode the Coeur d'Alene rails to trails bike path.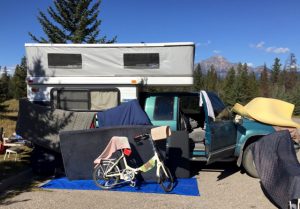 361 (73) Jasper National Park (Wapiti CG) 9/21/16
Moved to sunny Wapiti CG with hookups. Dried all cushions, rode 15 miles in sunny weather on our bikes.
360 (72) Jasper National Park (Whistler CG) 9/20/16
Arrived to dark campsite, very cold and rainy.
359 (71) Dave's RV Park, Vanderhoof, BC – 9/18/16
Appointment for Tuesday in Prince George for RV repair. Spent day in Prince George.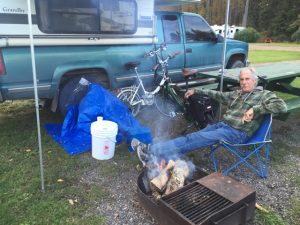 357-8 (69-70) Riverside Municipal Park, Smithers, BC – 9/16-17/16
Very clean and quiet. Free firewood, wifi, and right on the Buckley River. Rode bikes to Farmers' market.
356 (68) Bear River RV Park, Stewart, BC – 9/14/16
Showered & laundry. Saw bear and spent day before it started to rain. Stayed in Ripley Creek Inn 9/15 (Rained all night)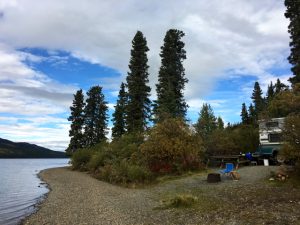 355 (67) Fox Lake Provincial Park on Stewart-Cassiar Hwy. 9/13/16
Lovely lake side campground, mirror-like surface in the morning inspired a campfire to accompany our coffee.
354 (66) Boya Lake Provincial Park on Stewart-Cassiar Hwy. – 9/12/16
Walked both trails on either side of campground.
352-3 (64-5) Liard River Hot Springs Provincial Park 9/10-11/16
351 (63) Teslin Lake CG – 9/9/16
Site #19 where Karlins camped day before; visited with Ted Murphy-Kelly of Yukon Bird Observatories. Rained all night and mist net activity cancelled.
350 (62) Wolf Creek State CG – 9/8/16
Farmers' Mkt., Alpine Bakery
349 (61) RV Park in Whitehorse – 9/7/16
RV park south of Whitehorse past the airport.
348 (60) Fox Lake CG on Klondike Hwy. – 9/6/16
Site #28 right on the lake; morning campfire with coffee to mirror-like lake surface. Passed on Twin Lake earlier on the drive south due to wind.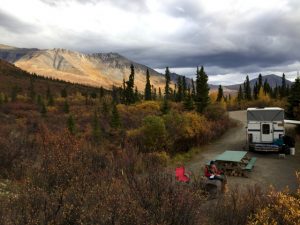 346-7 (58-9) Tombstone Provincial Park – 9/4-5/16
Up the Dempster Hwy., Met Stephanie Ryan & Arik, drove up highway to Chapman Lake.
345 (57) Dawson City RV (outside town) – 9/3/16
1st Nation campground, clean. Visited Farmers' Mkt. and then up Dome Rd. for overlook of the city. Sooney biked Dawson City.
344 (56) City RV Park (downtown Dawson city) – 9/2/16
Noisy although right downtown; easy to walk to restaurant.
343 (55) West Fork Campground on Fortymile River – 9/1/16
Stopped in Tok for showers, groceries, & gas before heading up to the Yukon. Aurora Borealis.
342 (54) Moon Lake – 8/31/16
Camped with Karlins, buggy through a.m. walk; beautiful sunset.
339-41 (51-53) Delta Junction CG 8/28-30/16
Fished for Graylings in Delta Clearwater River; Aurora Borealis first night. Sooney and Terry bike ride.
337-8 (49-50) Denali Hwy. (part II) Tangle River CG BLM – 8/26-27/16
Camped with Karlins in beautiful tundra meadow.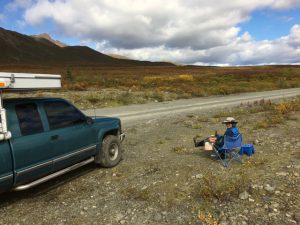 336 (48) Denali Hwy. (part I) Brushkana River CG BLM – 8/25/16
335 (47) Sven's Base Camp Hostel – 8/24/16
Birch Hill Cemetery, Farmers' Mkt., Lane's Quickie Tacos. Met Maggie early in morning for museum visit and then hit the road south for dinner at 229 Parks Hwy.
334 (46) River View RV (along the Chena River) – 8/23/16
Camped with Karlins 8 miles out of town; hookups
333 (45) Fairgrounds RV, Fairbanks, AK – 8/22/16
Creamer's Field Walk
329-32 (41-44) Teklanika CG, Denali NP – 8/18-21/16
All-day shuttle bus to Wonder Lake. Biked along the Denali Hwy.
326-8 (38-40) Savage Creek CG, Denali NP – 8/15-17/16
Site #29 with view of Denali. Hiked Alpine trail.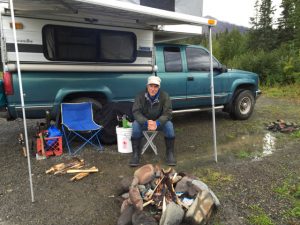 325 (37) Disperse camped on Chilitna River wayside – 8/14/16
Camped the night before meeting up with Monster Truck.
323-4 (35-6) Byers Lake State Campground – 8/12-13/16
Site A7 – kayaked on lake with Swans. First view of Denali. Great birding.
321-2 (33-4) Talkeetna RV Park – 8/10-11/16
Rode our bikes to Talkeetna Lakes Trail and brewery in town.
320 (32) Eagle River CG (just north of Anchorage) – 8/9/16
Spent day in Anchorage, enjoyed Tony Knowles bike path.
319 (31) Bird Creek CG (near Girdwood, AK) – 8/8/16
Between Turnagain Hwy. and RR – noisy but close to Potter Marsh.
318 (30) Williwa CG near Portage, AK – 8/7/16
USFS site #39 – strong winds.
317 (29) Halibut CG on Anchor River – 8/616
Spent the night after an overnight in Seldovia (across bay from Homer)
316 (28) Karen Hornaday CG – 8/4/16
City-owned CG on hillside of Homer, right above the Pratt museum. Birding excursion by Sooney and visit with Art at Pratt Museum.
315 (27) Mariners' RV Park, Homer Spit – 8/3/16
Muddy, potholed unpaved area right on the beach. Lovely sunset but windy.
314 (26) Russian River CG – 8/2/16
Site #2 in beautiful campground right near the Russian River
312-3 (26-25) Upper Skilak Lake – 7/31-8/1/16
In Kenai. Hiked to overlook.
310-11 (24-25) Seward City RV Park – 7/29-30/16
Camped one night after our visit to Glacier Fjord NP. SeaLife Museum.
309 (23) Seward City RV Park – 7/26/16
Arrived late and dry-camped with Karlins right on the water.
308 (22) Valdez, Bear Paw RV Park – 7/24/16
Wet soggy and did laundry. Saw Pink Salmon at hatchery.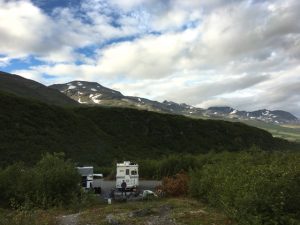 307 (21) Blueberry Lake State Recreation Area – 7/23/16
Beautiful spot on top of ridge. Just downhill from Worthington Glacier.
306 (20) Liberty Creek Falls CG – 7/22/16
Drove to Chitina, AK and decided not to continue to McCarthy & Kennecott. Camped with Karlins en-route back to Richardson Hwy.
305 (19) Gakona RV Park – 7/21/16
Drove Nabesna Rd. all day in rain and decided to turn back. Needed shower, laundry and hookup to catch up.
304 (18) Porcupine Creek St. Park (5 mi. before Slana) – 7/20/16
Passed through Tok and south en-route to Nebesna Road. Buggy.
303 (17) Snag Junction CG – 7/19/16
Late night arrival. Saw Red-throated Grebe with young on lake. Buggy.
302 (16) Dezadeash CG (approx. 25 miles S of Haines Junction) – 7/18/16
Nice campground with firewood provided. Swam in the lake.
301 (15) Chilcoot Lake CG, Haines AK – 7/17/16
Spent one night before heading on long road trip to next ferry in Valdez.
299-300 (13-14) Mendenhall Glacier CG USFS – 7/15-16/16
Returned to Site #15 after our visit to Glacier Bay National Park.
297-298 (11-12) Mendenhall Glacier CG USFS – 7/10-11/16
Site #15 right on the lake. Good view of what's left of the glacier. Sooney and Nick hiked to the glacier.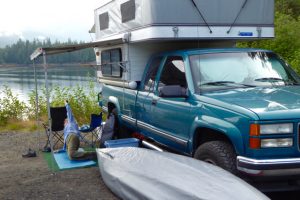 294-6 (8-10) Earl West Cove boat ramp, Wrangle AK – 7/6-8/16
Disperse camped with all 4 campers parked right on the lake. Good kayaking and peace & quiet.
293 (7) Shoemaker Bay City RV Park (Wrangle, AK) – 7/5/16
Our ferry arrived quite lake and we camped overnight for free.
291-2 (5-6) Prince Rupert RV Park – 7/3-4/16
Arrived from Port Hardy late and spent a couple nights before catching the Alaska Marine Ferry to Wrangle.
290 (4) Port Hardy RV Campground – 7/2/16
Northern Vancouver Island prepared for ferry to Prince Rupert to join friends driving up through BC.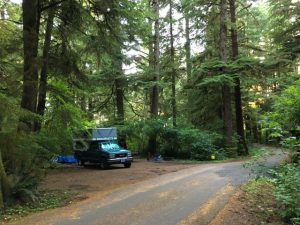 287-289 (1-3) Cascades National Park – 6/25-27/16
Beginning of 3-month Alaska Adventure (# in brackets). Traveling initially with Bob & Bev Reeves. The 4 of us camped in Mora CG. 1.4 miles to Rialto Beach.
284-286 – Metolius River Family Camp – 5/28-30/16
Canyon Creek Campground
283 – Steve Pool's Cabin, Redman, OR – 4/9/16
Nick and Alicia spent a glorious sunset on Steve's balcony overlooking the canyon. Alicia returned home while Nick spent the night before returning to Ashland.
282 – Mt. Bachelor Ski Resort Parking lot 4/8/16
Nick camped in parking lot and Alicia & friends joined him. Early morning groomer runs.
279-81 – Butte Lake, Lassen Volcano National Park, CA – 7/13-15/15
Four families camped together in B46 & B47. Hiked, kayaked, and summited the Cinder Cone—finally!
278 – Near Butte Lake, Lassen Volcano National Park, CA – 5/11/15
The campground was still closed, so we hiked to the Cinder Cone and free camped on a side road a couple miles from the park. And thus ended our nearly 8-week road trip that covered 8 states. Whew!
277 – Carson City, NV – 5/10/15
Comstock Country RV Resort (5400 S. Carson St.). Noisy, clean and only RV park on Hwy. 395 (business) with trees. When we arrived, windy conditions blocked out the nearby traffic.
276 – Lahontan Lake, Nevada State Park (on Hwy. 50 near Carson City) – 5/9/15
Enter from Hwy. 50 near Carson City to site away from highways. Even better we were only campers in River Campground (9 spots). Level, nature trail, quiet and birdy.
275 – Maple Grove Campground, Scipio, UT – 5/7/15
At 6,400′, we were comfortable the second time around. (See also night #52). We do suggest staying in the the group site if not reserved. Consider free camping ¼ mile before campground along on creek. The one closest to ranch was empty when we checked it out. Visited Spencer hot springs  en-route to Lahontan. Hwy. 376 south off of Hwy. 50 for ¼ mile, the east on road going to Cave.
273-4 – Capitol Reef National Park, UT – 5/5-6/15
Arrived late and host thoughtfully gave a reserved site to us. Hiked canyon right from Fruita campground and drove to Paradise Ranch/Creek morning of our departure. Purchased pies & cinnamon rolls available right in the campground!
272 – Disperse Camp Hwy. 95 (Milepost 187) near Natural Bridges – 5/4/15
Nat. Bridges has a small campground (13 sites) fills quickly, so again opted to disperse. This time on the highway that quiets down at night. We also dispersed on nights #68-9 logged below.
270-1 – Delores River RV Camp, Delores, NM – 5/2-3/15
Lower elevation served us well, with a spot very close to the Delores River about 4 miles north of town. Good folks with a dream working hard to make the place special. Birding the "dog" path was fun.
269 – Disperse Camp, No. West Delores River, Delores, NM – 5/1/15
Layover due to repair work on truck (C. Converter), we searched out 2 state campgrounds on the West Fork of the Delores River, and both were not yet opened. So up we continued up just beyond Dunton Ranch (several buildings) and camped on a wonderful bend on the river that treated us to a night. Biked 5 miles of the "Boggy Draw" trial up on the bluff above town.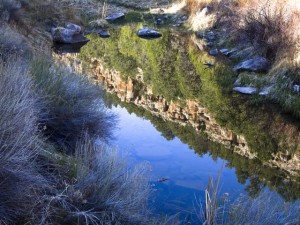 266-8 – Bluewater Lake State Park, Gallop, NM – 4/28-30/15
Little did we know that a revered lake for Tiger Musky fish has a 2-mile riparian canyon beneath the lake's dam. We camped on the "Canyon" side and hiked it daily from either of 2 trailheads.
265 – Ten Thousand Waves Parking Lot, Santa Fe, NM – 4/26/15
Easily survived a mild dusting of snow while overnighting in their parking lot. Very gracious.
263-4 – Santa Fe KOA, NM – 4/24-5/15
Called for advanced reservation (Fri.) with option to lay over on Sat. Good idea because of inclement weather. Clean and a bit noisy as its right on Hwy 25 to Albuquerque.
261-2 – Palo Duro Canyon State Park, TX – 4/22-23/15
Arrived with a tornado. That makes us the Tornado Kids. Deep canyons, bike rides along stream paths.
260 – Abilene State Park, TX – 4/21/15
No easy access to a greatly diminished lake so biked & caught up in quiet campground. Texas State Parks are great.
258-9 – So. Llano River State Park, TX – 4/19-20/15
Ditto of night #255. Texas State Parks are great.
257 – KOA outside Stonewall, TX – 4/12/15
Edit
256 – Fredricksburg, TX: Ladybird Johnson Municipal Park, TX – 4/11/15
Emergency overnight when our Austin reservations were cancelled.
255 – So. Llano River State Park, TX – 4/10/15
A total of 3 nights on 2 visits, we enjoyed the biking & birding opportunities. Texas State Parks are great.
254 – Amistad National Recreation Area, Del Rio, TX – 4/9/15
Remote camping with great birding.
251-53 – Big Bend NP: Chisos Basin CG – 4/6-8/15
Gorgeous setting and wonderful hiking.
249-50 – Big Bend NP: Cottonwood Campground – 4/4-5/15
Lots of birds and hiked Santa Elena Canyon.
247-8 – Davis Mountain State Park, TX – 4/2-3/15
Close to McDonald Observatory.
245-6 – Guadalupe National Park, TX – 3/31 – 4/1/15
Windy campsite in a parking lot atmosphere.
243-4 – Hueco Tanks State Park, TX – 3/29-30/15
Climbing on the rocks near El Paso.
241-2 – Chiricahua National Monument: Bonita Canyon CG – 3/27-8/15
Phil Miller joined us for hiking and fun.
240 – Oak Flat Campground, Superior, AZ – 3/26/15
Good location for early visit (opens @ 6 a.m.) to Boyce Thompson Arboretum.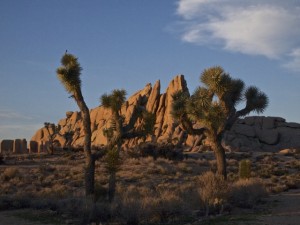 238-239 – Joshua Tree National Park, CA – 3/22-23/15
Simply gorgeous. Reservations accepted for Black Rock campground. Following day drove into the park and found a spot at Ryan CG. No water and plenty of hiking trails.
237 – Buena Vista Aquatic Recreational Area, Kern Co., CA – 3/21/15
Our first camping event on our spring TX road trip. Full hookups with reservable sites and close to I-5. An early departure will get you to LA midday (less traffic) if driving to points south.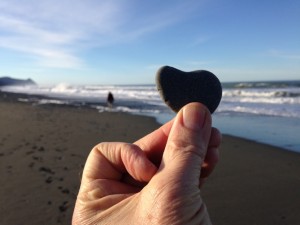 235-36 – Ireland's Beach RV Park, Gold Beach, OR – 2/14/2015
Always clean, affordable hookups, and easy access to a great walking beach.
234 – Rolling Hills Casino, Corning, CA – 10/9/14
The RV park associated with the casino is affordable, clean, and there's a special "stay-and-play" deal for golfers at a very difficult John Daly signature golf course at Sevillano Links.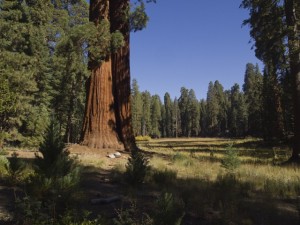 232-3 – Mineral King National Park, CA – 10/7-8/14
Next door to Sequoia NP, Mineral King is the home of Kings Canyon where the John Muir trail shares the Pacific Crest Trail. We dream of a backpack on that trail to Yosemite NP.
231 – Sequoia National Park, CA – 10/6/14
After a couple days in San Diego and Irving, CA, it was back into the natural world. This was a wonderful reintroduction to a destination my family visited back in the 1950's.
230 – Valley of Fire State Park, NV – 9/26/14
We'd heard of this super camping area from a resident of Las Vegas. An hour away, I drove to Prescott watching a caravan of cars leaving Las Vegas for the natural world.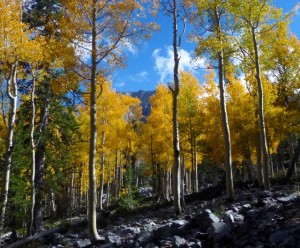 227-9 – Great Basin National Park, NV – 9/21-23/14
The last time Sooney and  I visited Great Basin National Park, we had to camp in the lower elevation campground because the Wheeler Peak campground (elevation 10,000'+) was snow bound. The campground was open this trip and the fall colors were stunning. Particularly significant was hiking the 4-mile trail into the glacial moraine to awe at the 3,000-year-old bristlecone pine.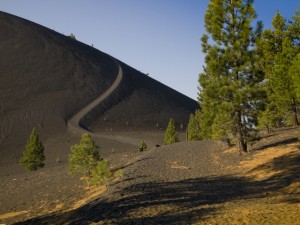 226 – Butte Lake, Lassen Volcano NP – 9/19/14
A short drive from Ashland. Arrived in the late afternoon off of Hwy. 89 on the road to Susanville, CA. While only an overnight, the hike up to the cinder cone was really difficult and a great way to embellish a sunset.
223-5 – Allen Springs Campground, Metolius River – 8/7-9/14
Family Camp assembled just outside Sisters, OR, this year. A bunch of us gathered our wagons and ate, hiked, and generally rested at campsite #1 – by far the most beautiful spot on the gorgeous Metolius River.
221-2 – Green Valley Music Festival (Dean Fest) Green Valley, OR – 7/26-27/14
We couldn't miss an opportunity to see and hear Alicia performing live. Along with several of her friends from throughout the state, we camped on the property of Jessie & Rachel Dean and enjoyed 2 days of great music and laughter. Great inaugural trip for our camper in 2014. Photos are available at "Photo Galleries: 2014" (on the right).
220 – Timberlake RV Park, WA – 9/13
After a long drive and lunch in Hood River, we found this place for a bit of peace & quiet before assaulting Portland over the next few days. Clean, senior discount, and WIFI provided.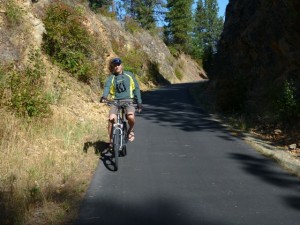 218-19 – Hawleys Landing Campground, ID – 9/10-11
One of 3 campgrounds in Heyburn State Park, we drove all day from our Kennewick WA motel and arrived via Plummer. Power hookups and a perfect location for accessing the Trail of the Coeur d'Alenes rail/trail bike route. The following day we rode 10 miles to the small community of Harrison (20 total), and the following day broke camp and drove to the Springston trail head and rode 6 miles from there (12 total).
212-217 – Whitefish, MT – 8/30 – 9/5
Parked in the driveway at the Lion Mountain house and hooked up.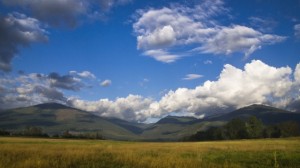 212 – Boundary – Smith Creek National Wildlife Mgt. Area, ID – 8/29
Sooney spotted a wildlife refuge outside Bonners Ferry, ID, and we birded there for the afternoon (after a tasty lunch at the brewery). After birding, we were advised that better birding was 30+ miles north on the dirt access road so off we went arriving after dusk. There was nobody around so we dry camped on the upper Kootnay River with a view of the Canadian Border Crossing/Customs across the river. The next morning, we birded and and had a leisurely drive to Whitefish.
211 – Springy Point, Sandpoint, ID – 8/28
We drove from Beaver Creek CG on Priest Lake into Sandpoint without any clear destination, simply a place to camp for the night. We inadvertently found Springy Point after crossing the long bridge and I saw a sign on the immediate right. About 4 miles in, it honored our NP Senior pass for a discount and, while cozy, was a bit noisy in the morning with commuter traffic.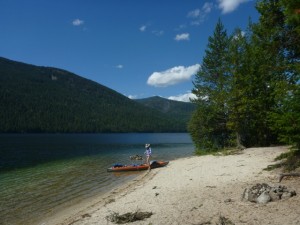 207-10 – Beaver Creek State Park, ID – 8/25-27
George and Linda suggested this great campground on Priest Lake in Idaho. Not far from their lovely home in Colville, WA, we arrived later in the afternoon and were pleased they honored our NP senior pass. We spent 3 nights there, and on separate days used both our kayak and bikes to visit Upper Priest lake. The narrow channel is a sweet kayak trip and the occasional power boat never proved a problem due to the no-wake regulation. We were forced to evacuate the afternoon of our 4th day due to impending weather and danger from falling tree debris.
206 – Wanapum State Park, WA – 8/22
Our first night on the great '13 Summer NW tour was spent in a motel in Redmond, OR, due to our dealing with propane problems. The next day, we drove like crazy and made it through Yakima, WA, before tiring at the Vantage, WA, offramp. Not sure what was available and being so dark, we followed the camping signs for several miles and settled on a nice, level spot with hookups. The next morning we discovered we'd camped on a dammed section of the Columbia River. This spot gets pretty windy and hot in summer months and is most likely more suited for power water sports. Clean, however.
203-5 – Hyatt Lake – 7/17-19
We headed out of town for a couple days and enjoyed using our kayak on our local lake. Visited with neighbor Kate who was camping over at Wild Cat CG.
202 – Paradise Lane – 6/19
Alicia and bandmates were in Ashland for the gig at Oberon's Tavern and needed extra beds. We accommodated by camping in our driveway.
198-201 – McKenzie River, Core Cabin  – 5/23-26
Steve arranged for the whole extended family to stay on the McKenzie river in the Core Cabin. We fished, floated the river, hiked, biked, and sang just about every song we could in front of an on-going fire.
197 – Crystal Crane RV Hot Springs – May 22, 2013
Very clean soak pool, showers, and hookups for an affordable price. Saw burrowing owls.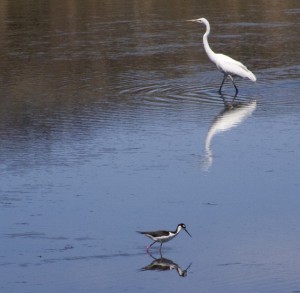 195-96 – Malheur Field Station – May 20-21, 2013
Basic hookups without easy access to bathrooms and showers. The good news was the birding, and we spent two entire days exploring the Malheur Wildlife Refuge and day tripped the nearby fields looking for the reclusive Bobolink. Easy drive to Diamond Hotel for a scrumptious meal.
191-94 – Page Springs State Park, Frenchglen, OR – May 16-19, 2013
Camped in a glorious environment with Bob & Bev. Nearby hikes up the Blitzen River and up a bluff to sage-covered high dessert. Easy biking to "P" ranch and 3 miles to Frenchglen for a wonderful meal.
189-90 – Kimball State Park, Ft. Klamath – Sep 23-24, 2012
Floated in the a.m. and it took us 1.5 hours to float the Wood river from Kimball ST to Wood River Park where Nick left a bicycle for shuttle back to camper.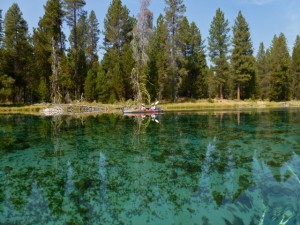 Next day, rendezvoused with John and Susan and put kayaks in Wood River on Weed Rd. Left a shuttle vehicle at Petrick Park. Sooney flipped Susan's kayak and took a bath with the ducks at the dock at Petrick (she got the first shower at their cabin at Jo's in Ft. Klamath).
187-8 – Spring Creek Klamath Day-use Area – Sep 21-22, 2012
Campground was in poor condition (abandoned?) so we camped at the day-use area at the headwaters of Spring Creek. Great access to water for kayak and we had the place to ourselves. Spoke with Joel Brain and learned more about the Mare's Eggs.
186 – Loeb State Park on the Chetco River  – Sep 13, 2012
Spent the day hiking the more remote Lefler Trail along Walker Road (in J. Smith State Park). Headed north on 101, birded Ship Ahoy and St. George Point, and then drove up the Chetco to A. Loeb (site 33 on water with power hook-up). Morning on water with Chat, common yellow throats and a song sparrow.
Ranger (year-round) said June is a really good month for kayaking on the Chetco, especially if there has been rain. Look into 7-tenting campsites at Ludlum House for us to use. En-route home, lunched at Panther Flat campground/day use area on the Smith.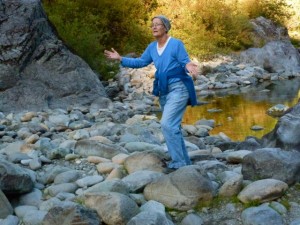 183-5 – Jedediah Smith State Park (Redwoods National Park) – Sep. 10-12, 2012
A short drive from Ashland, we camped in site 77 (Gay was waiting in this lovely campsite and spent the night camping with us). The next day we explored Lake Earl and rode bikes from office of Tuwalo State Park along the Peninsula Trail.
Wednesday, Sooney birded the Hiouchi Trail (across the seasonal bridge from the campsite). In the afternoon, we walked our bikes over the bridge and through the Stout grove and cycled Highland Hill road to the trailhead of the Boy Scout tree trail.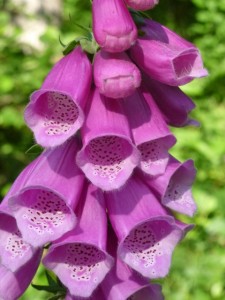 182 – Iron Creek Campground – Gifford Pinchot State Forest – Aug 10, 2012
This great campground is a short distance from the eastern entrance to Mt. St. Helens Volcano National Monument. We would try for C-64 the next time we visit (large, private, and close to river trail).
181 – Mt. Rainier National Park – Ohanapekosh – Aug. 9, 2012
Arrived late afternoon and lucked out by snagging E-9 for a night. The campsites are large and private, and ours featured easy access to the Silver Falls trail from both sides of the loop (close to hot springs as well).
178–180 – Mt. Rainier National Park – Paradise– Aug 6-8, 2012
Camped in Cougar Rocks but found driving and popping up at the Paradise Picnic area a better value each evening. Also popped up at the picnic area directly across from Cougar Rocks. Hiked all over so worked up a good appetite.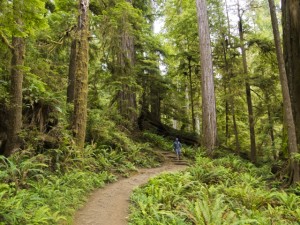 177 – Redwood State Park, CA – July 15, 2012
Chris and Nick spent a couple days in the Redwoods, played bocce, and ate fish tacos in Crescent City. Combined with Crater Lake and Mt. Lassen Volcano National Parks, this is one of the major stops on the So. Oregon Triathlon.
175-6 – Hyatt Lake, Ashland, OR – July 11-12, 2012
Shared Hunter's spot at T-3 with Christopher Richards.
172-174 – Rose Canyon State park– May 20-22, 2012
Mt. Lemon east of Tucson in the Catalina Mts. – Hoped to meed Eric Amundson and had sporadic cell connectivity. Future visit should take loop trail from Summerhaven (post office) through the woods.
Visited with Phil Miller for an overnight before leaving the anticipated heat in Tucson (107°) versus the wonderful climate in the "sky islands" to the east (70° at 6,000′ in the Catalinas).
171 – Madera Canyon State Park – May 18, 2012
Bogs Spring campground. Hiked to Kent springs > Bog Springs loop. Plenty of shaded canopy in early morning, then shaded on easier switchback route down to campground.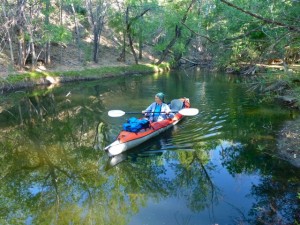 169-170 – Patagonia Lake State Park – May 16-17, 2012
Got in late and almost got skunked because this was the weekend for the annual mariachi band camporee. Park has good kayak water, and has paved sites, can reserve in advance, and has lost some of its charm.
168 – Bisbee, AZ – May 15, 2012
Camped in commercial Queen's Mine RV in old town. Centrally located, showered, laundry, and easy walking to Santiago (lunch), Bisbee Brewery, and Screaming Banshee Pizza for wonderful salad and appetizers.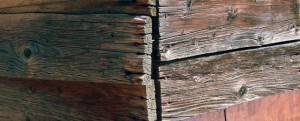 166-67 – Chiracahua National Monument – May 13-14, 2012
Bonita Campground site #20. After securing campsite, drove to Echo parking lot and walked the Echo Canyon loop (approx. 3 miles. Best in late afternoon, and after completing hike, drove to Masai Point at sunset for a cold beer and view.
Day 2 took free shuttle from Bonita campground up to Echo Canyon trail head and walked to heart of Rock Loop and on to Visitor's Center and then campground (aprox. 8 miles).
162-165 – Sunny Flat Campground – May 9-12, 2012
Coronado National Forest. In the Chiracahua Range, 1/8 mile (easy bike ride) from S. Fork of Cave Creek; very good birding and easy access to Portal, AZ. Drove a loop through Paradise, AZ, and wrote a post with a link to photos.
161 – Gilbert Ray State Park – May 8
Very near Phil Miller's in Tucson. Very remote and that's its main attraction.
160 – Oak Flat Campground – May 3
Off Hwy. 60, 15 miles west of Globe and a couple miles before Superior. Good location if planning on visiting Boyce Thompson State Park/Arboretum just west of Superior.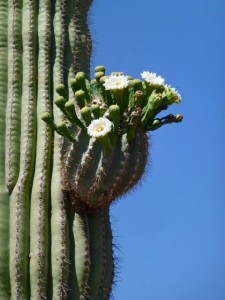 159 – Burnt Corral Campground – May 2
Tonto National Forest. Good birding on Apache Lake. Burnt Corral is on the Apache Trail through the Superstition Mountains. Traveling from Apache Junction along the Apache Trail, series of 3 lakes (Apaches Lake was the second lake). Many primitive spots along lakes to boat/kayak.
Pass required in advance (no pay stations in campgrounds). We purchased our pass after the fact at the Nat. Forest Visitor Center at Roosevelt Lake. If heading from the west (Phoenix), purchase your pass at Marina on Apache Lake.
157-58 – Prescott, AZ – April 30-May 1
Tom & Carol Glover let us camp in their driveway for our inaugural visit.
156 – Canyon RV – April 29, 1012
Yorba Linda with Jon & Karen Hoster
154-55 – Juniper Lake Campground, Lassen Volcano National Park – 9/28-29/2011
14+ miles (mostly unpaved) from Chester, CA. Camped at Site #14 with Lynn Ledbetter and John Warden. Hiked first day to Crystal Lake (.5 miles from campground). Next day explored south shore of Juniper Lake and continued to Indian Lake for lunch. RT 7 miles. Final day hiked up to Mt. Harkness lookout (1,250 vertical elevation). Gorgeous hike and had fun visit with Lorenzo, the fire lookout. Drove home on Hwy. 36 toward Red Bluff and chose a "shortcut" on Paynes Creek (Lane Valley Road < A6 > Wildcate Road < Black Butte Rd. > Hwy 44) to Redding. Turned out to be a long-cut but beautiful country (particularly in the spring when the grasses are green). Ate in Redding and arrive home late.
Birds: belted kingfishers, common mergansers, red-breasted sapsuckers, black-backed woodpeckers, clark's nutcracker, red-breasted nuthatch, mountain chickadees, juncos, white-crowned sparrows, grouse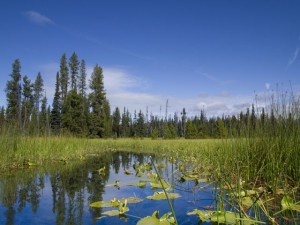 152-53 – Hosmer Lake, Cascade Lakes, Bend, OR – 9/17-18/2011
Mallard Marsh campground, site #3. Access to water via trail across from camp host. All electric motors and paddles only. Fab. kayaking. Paddled to waterfall and all the way around the lake on two separate days. Our next-door neighbors was fishing there and caught (and released) 30 land-locked Atlantic Salmon in 4 hours.
Birds: 3 sandhill cranes, flickers, mountain chickadees, juncos, gray jays, stellar jays, creepers, yellow-rumped warblers, robin, raven, red-breasted nuthatches, red-tailed hawk, osprey.
Left Hosmer and drove along east shore of Elk Lake. Checked out Little Fawn Campground but a bit close to Hwy. 42 (?). Other than visiting the lodge for ice cream, we probably wouldn't return. Continued to Sparks lake and drove several miles on dirt road to the boat launch. Stunning views of Mounts Bachelor, South Sister, and Broken Top. Paddled south to wonderful inlets. Campground near Sparks was unremarkable; dusty and close to the road.
Birds: bald eagle, osprey, American pipit, yellow-rumped warblers, gray jays, common mergansers.
151 – Lava Lake, Cascade Lakes, Bend, OR – 9/16/2011
Site #19. Southwest of Bend, good site for kayaking because near the boat launch, but in noisy in the a.m. due to power boats and bait fishermen. Departed at 10 a.m.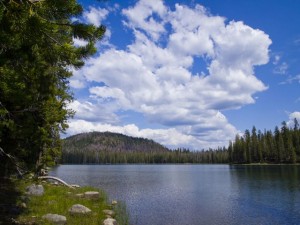 148-50 – Crags Campground, Lassen Volcano National Park – 9/6-8/2011
Site #2. Hiked from King's Creek Picnic Area to Bumpass Hell (3.5 miles each way) with beautiful flowers. After hike, drove to Bumpass trailhead in the shadow of Mt. Lassen and plan to do this route another time. Next day, while driving to North Summit Lake campground trailhead, our odometer changed from 99,999 to 100,000. Hiked to Twin Lakes and swam in Upper Twin in a private cove. Rained on us on the hike out and glistened off the Pinemat Manzanita in the afternoon light. Final day hiked to King's Creek Falls and had a wonderful visit with a dipper. Saw the video at the Manzanita Lake visitors center and weren't impressed with the campground or the cabins.
146-47 – Willamette University, Cycle Weekend – 7/15-16/2011
Joined Tim and Jane Hartfield and Bob and Bev Reeves to participate in the Cycle Oregon Weekend. Rode 43 miles on Saturday but opted out on Sunday due to rain.
143-45 – Hyatt Lake – 7/6-8/2011
Nick camped solo in T10, and Sooney joined the next day. Sooney called Nick about receiving 3 phone messages from Jane Cook that turned out to be informing us of Julianne's departure from Jordan (and from Peace Corps. We were joined by the Hunters and returned mid-day Friday to begin the saga of Julie's return.
140-42 – Hyatt Lake – 6/20-22/2011
Nick camped solo in site T10 the first night and Sooney caught a ride up with Susan and John. We hiked a portion of the Brown Mountain trail off Hwy. 37 > road 3705. We rode around Hyatt both days.
Birds: western tanagers, mountain chickadees, white-breasted nuthatches, gray jays, stellar jays, western wood peewees, killdeers, spotted sandpipers, juncos, song sparrows, osprey, red-tailed hawk, cormorants, mallards.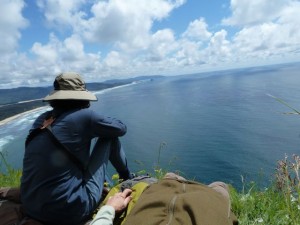 138-39 – Cape Lookout State Park (near Tillamook, OR) – 5/31-6/1/2011
Part of Sooney birthday camping trip. Site #B30. Walked on expansive beach. Took the "north" trail to Cape Lookout trailhead. Walked a short distance on the the lookout trail and opted to sit and enjoy the southern view rather than walk on the muddy trail. Birds: lots of white-crowned sparrows, song sparrows.
137 – Umpqua Lighthouse State Park – 5/30/2011
Part of Sooney birthday camping trip. We were in site #57 overlooking Lake Marie. (A bit dark but quiet without the crowds).
Birds: osprey, stellar jays, black-capped chickadees, white-crowned sparrows, juncos, song sparrows, herd wrens.
134-36 – Senator Wash, Imperial Dam Nature Preserve – 12/3-5/2010
Camped right on the water along the north shore of Senator Wash. Kayaked extensively and had some marvelous birding experiences, including one 30-minute session with a Great Egret – produced wonderful video of that magnificent bird hunting.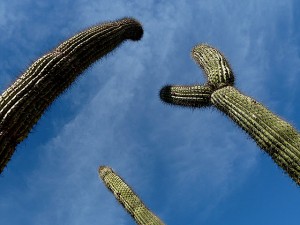 133 – Organ Pipe National Monument, AZ – 12/2/2010
Changed campgrounds and overnighted at Visitor Center Campground. Nearly empty! Drove the 17-mile loop road through some majestic country.
132 – Organ Pipe National Monument, AZ – 12/1/2010
Camped in Alamo Canyon, 3 miles off main road and had quite a sky to enjoy.
130-31- Catalina State Park, Tucson, AZ – 11/26-27/2010
Walked the Sutherland trail and enjoyed clear weather (and cold nights!)
129 – Buckskin Mountain State Park, Colorado River – 11/25/2010
Hiked around and saw a vermillion flycatcher. Bummer that no campfires are permitted.
126-128 – Cattail Cove State Park, Lake Havasu (just south of Havasu City – 11/22-24/2010
With Cattail as our base, we kayaked in the Bill Williams nature preserve.
125 – Hole-in-the-Wall, Mojave National Preserve – 11/21/2010
Mighty windy. Hiked the 1-mile Ring's loop trail where we climbed through narrow and steep passage aided by iron rings attached to the rock face.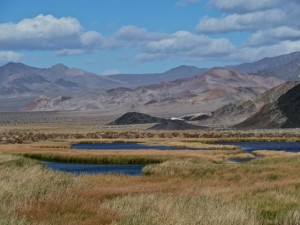 124 – Saratoga Springs, Death Valley National Park – 11/20/2010
Dispersed camping at its very best. The evening winds got the best of us, however, and we headed south after a lovely morning.
123 – Furnace Creek, Death Valley National Park – 11/19/2010
Drove from Beatty, NV, through Titus Canyon and survived a windy night in our trusty camper.
122 – Kimball State Park, Klamath County – 10/2/2010
Features the headwaters of the Wood River. Met and sang with the ukelele ladies Shirley, Sylvia, and Madeline around there campfire. They shared the secret of Spring Creek behind Collier State Park on Hwy. 97.
119-21 – Hyatt Lake, Southern Oregon – 8/22-24/2010
Camped in site T9 with kayak and next door to Paul and Goly.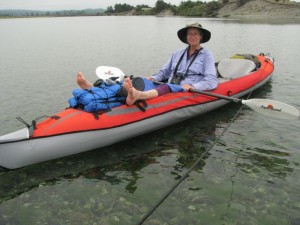 117-8 – Ship Ashore RV – 8/16-17/2010
Camped in the RV park located on the mouth of the Smith River (California).
115-6 – Hyatt Lake, Southern Oregon – 8/4-5/2010
Camped at T-1 for a couple nights, enjoying our inflatable kayak in the early morning light. Tried fishing with it and all proved successful…except the fishing part. Maybe next time.
113-4 – Canyon RV Park, Yorba Linda, CA – 12/26-27/09
Camped with Jon and Karen Hoster. Good fun biking and seeing how they survive in their huge RV (compared to ours).
112 – Joshua Tree National Park – 12/25/09
Camped in White Tank campground, small and situated amidst beautiful rocks. Pinto Gneiss meets granite there.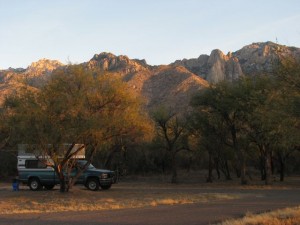 109-111 – Catalina State Park, Tucson, AZ – 12/22-24/09
$15 w/o hookups. Great trails into lovely Catalina range. Really close to Tucson (and busy highway).
108 – Percha Dam State Park, New Mexico – 12/21/09
Great birding place. Sandhill cranes flew overhead both to and from feeding south of us. Ate at Array Cafe where locals eat.
107 – Bosque del Apache RV Park, New Mexico – 12/20/09
$20 got us power and close proximity to Bosque del Apache National Wildlife Refuge. Great biking. In nearby Socorro, NM, had fabulous juevos rancheros at Sofia's cafe. Truly exceptional (and hot) salsa verde.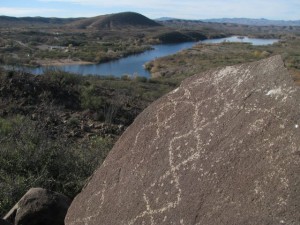 103-106 – Patagonia Lake State Park – 12/15-18/09
Adjoins Sonoita Creek Nature Park a 1-mile bike ride from our campground. Great birding, lots of informative volunteers, and will bring kayak on return visit.
Patagonia Mountain Foods in Patagonia, and Green Fields bakery and cafe in Sonoita. South of town abut 1/4 mile and features fabulous breads, pastries, and other delights.
102 – Cattail Cove State Park, AZ – 12/11/09
North of Parker Dam on Lake Havasu. On a return visit will bring kayak and camp and explore coves with boating camps.
Checked out River Island State Park (quieter because no market/services) and Buckskin Mt. State Park (and trails). Both are south of Parker Dam and on Colorado River and get busy after Christmas.
Check out nearby Emerald Canyon Golf Course.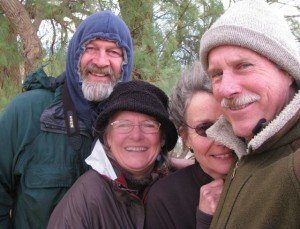 99-101 – Death Valley National Park – 12/6-8/09
Furnace Creek Campground. Between Thanksgiving and Christmas is least-visited time, so there were many sites available. We witnessed both storms and a rainbow.
98 – Hyatt Lake – 10/10/09
Shakedown cruise with our new Advanced Elements kayak. Camped at Wild Cat Campground, site #4.
96-97 – Silver Falls State Park (east of Salem, OR) – 8/11-12/09
Site B 12 & 14 (complete with hookups). 8.7 mile Canyon Rim Trail provided us ample time to walk and talk with Alicia, who found time to camp with us. Directions: from Salem, take Hwy. 22 > 214 > park.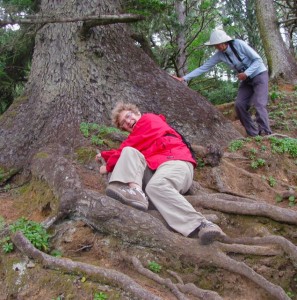 94-95 – Harris Beach (north of Brookings, OR) – 7/22-23/09
Terribly noisy on the 101 side. Spaces along the cliff with ocean views (and sound) would be better (A20-A25) and have power and cable tv hookups. The good news is we were camping with Julianne.
We traveled on the north side of the Chetco River to A. Loeb State Park and found that to be delightful. Cool from the shady trees, quiet, and all have power hookups $12-16 per night. Best spots on river are 27-29, 32-34, all first-come-first-taken. There are 3 log cabins [42-44 $35 per night] that may be reserved (no water or toilets but great spot on river and perfect for family gathering). Truck could possibly be parked in cabin vehicle park and be raised for another sleeping option (w/o power, etc). We walked 3/4 mile Riverview trail that connected with Forest Service Redwood Nature Trail. You may drive to shady spots on river for day use (set up camper OK).
Swimming in the Chetco River

From the Loeb campground, drive up the Chetco via Forest road 1376 to the "Chetco River Gorge trailhead for some good swimming. You may also access Vulcan lake by taking Forest road 1909 up the south fork 15+ miles to the trailhead. The hike to the lake is another 2 miles and the plant diversity is stunning.
The big story are the pools beneath the Gorge and generally inaccessible to vehicles. The trick is driving up 16+ miles to the bridge just past the Elbow Bow River Access. Across the bridge is a "T" intersection; keep left on Forest Road 1376. (Turning right puts you on Forest road 1909 and 15+ miles later drops you at the Vulcan Lake trailhead.) Continuing up 1376, pass the driveway to the Chetco River Inn and, further up, several options for dispersed camping (primitive $2.50/night right along the river). One place right on the river (we checked it out) is "Lower South Fork River Access" where several people were camping. Totally primitive, and pretty good distance from each other. Some shade. Also popular with ATV crowd.
We continued on 1376 past the turnoff to the Chetco River Inn to the sign for "Chetco River Gorge trailhead." The road to the river is pretty rutted and there's parking at the remnants of an old wooden bridge. Great place for a swim, so we did. A group was setting up their annual family camp another 1/4 mile up the Chetco, but the road wasn't passible for traditional vehicles. They used a ATV "quad" to transport their equipment the 1/4 mile up the river on the damaged road, and then dumped everything into an old aluminum boat that was hauled up the river like a sled the rest of the way. From their camp on the pools, they then drag their inflatable kayaks (Advanced Elements with aluminum frames) up river and ride the rapids back to camp.
If you drove 4-5 miles up the road, you'd come to the "steel bridge" that provides access to the river above the gorge. I think there's a trail down through the gorge, but attempts to raft it (or ride down on an aluminum boat) can be troublesome because of rocks "the size of house" and very fast water. Sounds like a great hike. Floating from the Gorge River Access down to Loeb Park would be tedious due to winds.
92-93 – Hyatt Lake – 7/15-16-09
Camped at T11
91 – Dispersed Camping – 7/9/09
Found one of many good spots east of McKenzie Hwy. south of Clear Lake.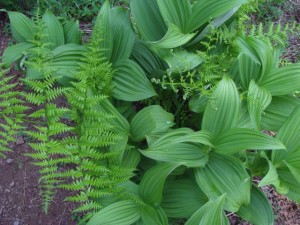 89-90 – House Rock Campground – 7/7-8/09
Campsite #5, off S. Santiam Hwy #20, 26 miles east of Sweet Home via Brownsville, stayed at campground 2 nights.
Day 1: Hiked S. Santiam Wagon road for a couple miles and returned to campground. After lunch, drove to Iron mt. lookout trailhead (2.5 miles north off Hwy. 20) and summitted Iron Mt. Lookout and then explored 1/2 mile of loop trail to the north.
Day 2: Hiked Browder ridge trail (4.5 mile each way) and took forest roads to McKenzie River Hwy 126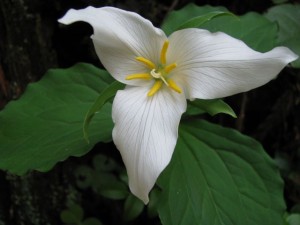 88 – Redwood State Park, CA – 4/6
Gold Bluffs Beach Campground, #12, right on the beach. Walked on the beach to Fern Canyon (where they filmed "Jurassic Park") and returned on sandy road.
86-87 – Redwood State Park, CA – 4/4-5/2009
Elk Prairie Campground in Redwood State Park, campsite #65. Suggest camping in meadow because it's warmer and sunnier in morning.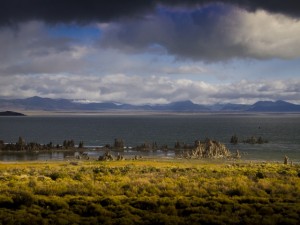 85 – Lone Pine, CA – 3/24
Turtle Creek campground. Drove to Lone Pine Campground where the trailhead to Mt. Whitney Portal is located, hiked 3 miles to impassible snow. Nearby is Mono Lake that provides critical nesting habitat for two million annual migratory birds that feed on the brine shrimp.
84 – Death Valley NP – 3/23/2009
Following visit with Phil Miller, dispersed camp way out Cottonwood Canyon Road near Stove Pipe. Next day did 26 mile one-way drive through Titus Canyon. Sure wish we'd ridden that on bikes!
83 – Delta Campground on McKenzie hwy – 9/12
81-82 – Hyatt Lake – 8/17-18
With Hunters at campsite T10
Wildcat Campground T3 and T4 are great on quiet cove.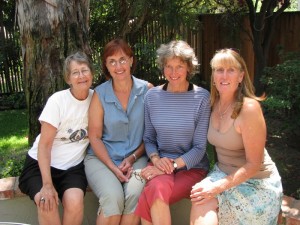 78-80 – Lindy Russell's (Pasadena, CA) – 6/24-26
Sooney's 30th HS Reunion
Michael and Ann Menzies – 6/27-29
Mike and Clarene McCartney – 6/30-7/1
Note: Spring Fling Stats – 50 days on road, 4,764 miles
77 – Cedar Breaks National Monument – 6/22
Raven Show
75-76 – Bryce NP – 6/20-21
Queen's Garden, Navaho Loop trail, The Rim Walk, Astronomy Walk and Geology
74 – Kodachrome State Park – 6/19
73 – Deer Creek (Burr Road) – 6/18
72 – Capital Reef NP – 6/17
Note: After leaving Capital Reef NP, we attempted to camp at Calf Creek but full. Advised to try Burr Road and found terrific campsite at Deer Creek. 6 miles from Boulder on Burr Trail Rd. From campground, drive east to wonderful canyon and lookout into Capitol Reef.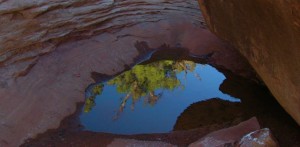 70-71 – Natural Bridges National Monument – 6/15-16
Story of Kachina Daisy
68-69 – Natural Bridge National Monument – 6/13-14
Dispersed camping first couple nights near White Canyon. Directions: 1.6 miles on Deer Creek Flat Rd. Entrance to Nat. Bridges is 2.7 miles.
67 – Hovenweek, UT – 6/12/2008
Gnats!
65-66 – Mesa Verde NP – 6/10-11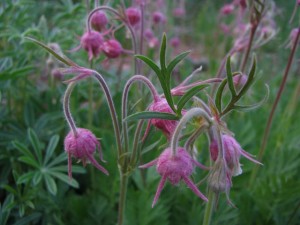 63-64 – West Fork of San Juan (NE of Pagosa Springs) – 6/8-9/2008
Hiked to 8 miles to Rainbow hotsprings and found the water unsatisfactory
62 – Black Canyon of the Gunnison NP – June 3, 2007
Drove along the Gunnison, exited at Pine Creek and walked a mile or so down river to a jet-boat launch spot. Camped later at Black Canyon of Gunnison.
Drove to Durango to stay at Holly and Ben's guest house. Had photovoltaic panel onto camper roof.
60-61 – Crested Butte, CO – June 1-2
With Honeydew Murray, friend of Laurie Heydon
59 – Sooney's Birthday – Joyful Journey Hot Springs – 5/31/2008
26 miles south of Poncha Springs, Hwy 285 > Hwy 17.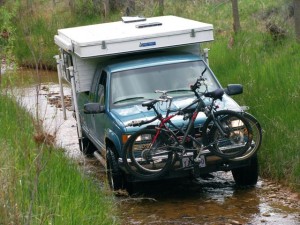 56-58 – Canyonlands NP – 5/23-25/2008
Campsite #19 on "B" loop in the Needles part of the park
Day 1: All trails along paved road (Park Ave?)
Day 2: 4-wheel adventure to Peek-a-boo
Day 3: Chesler Park 8.6 mile loop
Note: 1 week in Breckinridge with Jim and Carol Richards. Visited Rocky Mtn. NP, Vail.
55 – Dispersed Camping – 5/22/2008
East Canyon Road (105) off Hwy 211 near Needles entrance to Canyonlands NP
53-54 – Arches NP – 5/19-21/2008
Reserved campsite #38 was not so hot, but next day moved to #13 (#14 & #7 good also). Try for #46 & #47 in reserved section next time.
52 – Maple Grove Campground, near Scipio, UT – 5/18/2008
Neat campground suggested by Mel and Al Jason. Birding was fabulous (waterfall, red rock butte, different environments creating varied bird habitat). Stayed in Organizational group site because campground wasn't officially open (free)
51 – Baker Creek Campground, Great Basin NP – 5/17/2008
Upper Wheeler Campground closed (snow) and great birding on meadow area near Baker Creek Campground. Visited Lehman Caves at 1 p.m. and saw "Shield Parachute" formation (only speciman known in world). 3rd most formations in world caves.
50 – Great Basin NP – 5/16/2008
Upper Lehman Campground, hiked part way up to Wheeler campground (closed due to snow)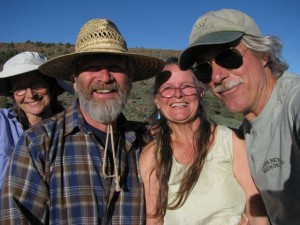 49 – Hickison Petroglyph – 5/15/2008
Spent day birding at Fallon at bird refuge. Then continued to Hickison (22 miles east of Austin, NV on Hwy 50 "The Loneliest Highway in America") where we met Bob and Barbara Heyerman. Check out nearby hot springs for next time.
48 – Prosser Recreational Area, off Hwy. 89 – 5/14/2008
47 – Woodson Bridge Recreational Area, Corning, CA – 5/13/2008
Recommended by Rick and Julie Howell and beginning of Spring Fling.
45-46 – Metolius River, Bend, OR – 8/7-8/2007
Drove with John and Susan and drove to "99 Bridge" along Metolius River. Sooney hiked from Wizard Fish Hatchery 5 miles along Metolius to where water enters from underground springs. John and Nick parked at Canyon Creek Campground and hiked from other direction to spring source. 8/8/ we hiked from Camp Sherman to headwaters of Metolius.
Traveled to Japan with Jane and Tim
44 – Camp Sherman, Metolius River – 8/6/2007
Campsite 107
43 – Sun River – 8/5/2007
Karlin's Family Reunion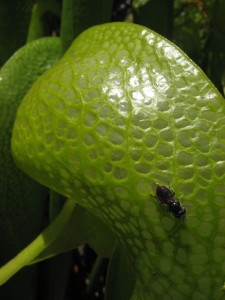 41-42 – Oro Grande Campground, Hurdy Gurdy – 7/25-26/2007
Took 16NO2 ("Ship Mtn. Road") past unique roadside bog where we photographed Darlingtonia Californica (kind of Pitcher Plant) and lunched at Big Flat on the Hurdy Gurdy. Found a sweet spot called Oro Grande Campground. On the 26th, drove to Middle Fork of Smith River, turned south to McClendon Ford Trail (off South Kelsy Trail). Swam in Middle Fork, then drove north en-route to 199. Water is available at Steven Memorial Bridge on Middle Fork.
37-40 – Siskiyou Field Institute Botany Program – 7/21-24/2007
Arrived early evening to Patrick Creek Campground just off Hwy. 199 south of Cave Junction. Met group following morning and drove to Bear Basin Butte Lookout (13.5 miles) and spent 2 days with Institute hiking and looking at flowers at Bear Basin Meadow. Directions: east on Little Jones Creek Rd ("Jawbone Rd") onto Forest Service FS16 (17NO5) turn left on 16NO2 at sign for Doe Flat trailhead. Lookout is .4 mile further (then left through gate .6 miles). Pierson Cabin is below lookout, and our campsite was below cabin.
Little Jones Creek 3+ miles north of Patrick Creek Campground off Hwy. 199. (24.5 miles south of Cave Junction)
Directions to Doe Flat Trailhead: continue on road, walked 1.5 miles to Buck Lake junction (.2 to good swim)
7/24: Continued past Buck Lake to Devils Punchbowl and returned to Buck Lake for well-deserved swim. Total walking distance 9.4 miles. Dispersed camp at Bear Basin Meadow.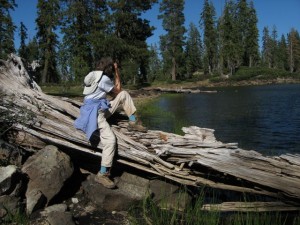 36 – Gunboot Lake, CA – 6/21/2007
Off Hwy 26 in Shasta Trinity Forest. Hiked on PCT with John and Susan Barker.
34-35 – Trout Creek – Deshutes River, Madras, OR – 6/7/2007
From Redmond, continue on 97 to Madras (not 26). About 2.5 turnoff on left to Trout Creek Recreational Area. At next fork, keep left toward Gateway, cross RR, turn right 2 miles of bad road to Trout Creek Campground and good fishing.
32-33 – Deer Creek Center – Selma – 5/18-19/2007
Siskiyou Field Institute birding class.
31 – Prosser Recreation Area, CA (Tahoe National Forest) – 4/1/2007
Dispersed camping because campground was closed. Camped 5 miles up Hwy 89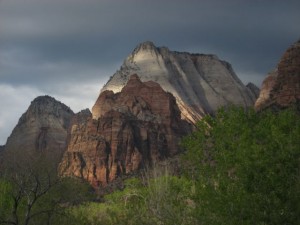 27-30 – Zion NP – 3/27-30/2007
South campground with view of Watchman and sounds of Virgin River off Pa-rus hiking/bike trail. Rode bikes up Zion Canyon Scenic Drive, and hiked Riverside. Hiked Watchman and hiked Observation Point on last day. Internet available at Zion Canyon Coffee Co.
26 – Stateline Campground (free) on the Arizona/Utah boarder – 3/26
4 sites, clean, pit toilets, begins the AZ trail that travels across Arizona down to Mexico. Founded by a teacher. One mile south of Wire Pass trailhead that leads to Buckskin Gulch via slot canyons. Campground is 9.7 miles south of Hwy. 89 on House Rock Valley road (before milepost 26). Hwy. 89 connects Page, AZ, with Zion NP.
Note: bikes would be great if road dry (when wet pretty slippery on clay soil)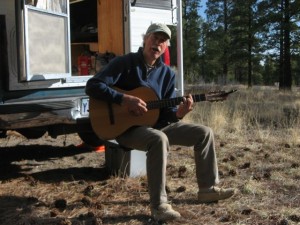 25 – Sunset Crater – Dispersed camp near Crater National Monument – 3/25
Elevation 7,000′ off highway 89 north of Flagstaff (below ski hill)
24 – Imperial Dam – 3/17
Squaw lake. next time, go first South Mesa on left before Squaw lake so you can camp along the water. Proceed north to the shore for better camping. From 95, travel 7.2 miles to Senator Wash Rd. turn right.
Note: Tucson with Phil (2/18-24/2007)
23 – Pictograph Trailhead – Dispersed camp – 3/16
Bike ride was 5 miles from previous night's dispersed campsite (got a flat biking off sandy road and paid the price from riding among the Prickly Pear)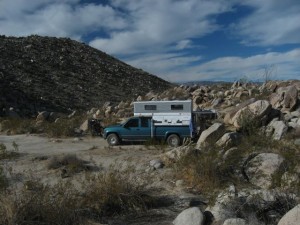 22 – Blair Valley – Anza-Borrego State Park – 3/15/07
.8 mile from Road S2 to dispersed camping
21 – Richardson Grove State Park – 11/9/2006
Rainy, cold, and we decided rather than driving up through Cave Junction, etc. we drove to Redding (via 299) to I-5 and rode home.
Visited Joan Peachman, Bill Micaelsky (Stone Brewery at Escondido, CA) en-route to Anza-Borrego Desert.
20 – Wright's Beach Campground (Jenner) – 11/8/2006
19 – Olympic NP – Heart of the Hill Campground – 8/18/2006
5 miles from Port Angeles, WA. Up toward Hurricane Ridge. Campsite A11 (east loop is closer to trailhead).
Note: 8/19-21/2006 – Gary and Agnes and attended Tali Sanvik's wedding. Rode into Snohomish to visit wedding site and later hiked to a converted fire lookout with Gary.
Note: 11/6-7-2006 – visited Gay and Tim at Wood Acre, Marin
Note: visited Julianne 3/9-10/2007, Joyce Pratch 3/11-12/2007, Annie and Michael Menzies 3/13/2007, McCartney's 3/14/2007
17-18 – Olympic NP – Kalaloch Campground – 8/16-17/2006
16 – Olympic NP – Hoh Campground – 8/15/2006
26 km from Hwy 101. Hiked the Moss trail from visitor center (3/4 mile loop) then walked 2.9 miles along river to Tim Meadow along Ho River. Met Nathan, a pianist from Indiana who had hiked without water far longer than we had. Saved his life by hiking with him back to Ho visitor center.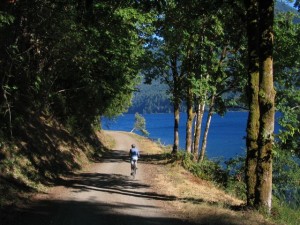 15 – Olympic NP – Fairholm Campground (Lake Crescent) – 8/14/2006
One step above primitive camping. 5-mile bike ride to access Spruce RR hiking/biking trail. Highway 101 is really noisy and too close to campground (truck traffic at 4 a.m. no fun). Mouse snuck into camper through sliding door at base board.
14 – Goldstream Provincial Park – 8/13/2006
13 – Miracle Beach, BC – 8/12/2006
Expansive sandy beach, went to ranger show that was great. Avoid Saturday evening due to nearby auto race track. That's where we learned from a first-hand source that farmed salmon are released directly into a net; the 1-2′ distance from the farm to the net qualifies them as "wild"
12 – Dispersed Camping – 8/11/2006
After leaving Port McNeil, BC, we drove toward Mt. Cain Ski area (Lake Shoen Provincial Park) and learned from a passing vehicle that it was full, so we opted for a rock quarry that was pretty cool.
9-11 – Comox, BC – 8/4-6/2006
Driveway camping at the Howels en-route to Cunnard Island, BC, near Sullivan Bay where we spent the 7th – 10th of July with Trisha and Larry Mullinnix.
8 – Goldstream Provincial Park – 7/31/2006
20 km north of Victoria, BC. En-route to Cortez Island visiting Laurie Heydon. We slept in her rental.
7 – Quinalt Lake National Forest – 7/30/2006
Just outside Olympic National Park on coast
6 – Ilwaco, WA – 7/29/2006
Private campground chosen because Cape Disappointment campground was full.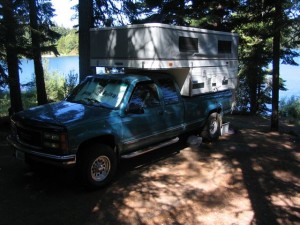 5 – Hyatt Lake – 7/17/2006
Camped with Alicia for one night at T10 campsite
2-4 – Hyatt Lake –
Camps T10 and T3 are good campsites
Night 1 – Ashland – 12/4/2006
View photos of Viani's Camper: www.viani.us/pix/camper