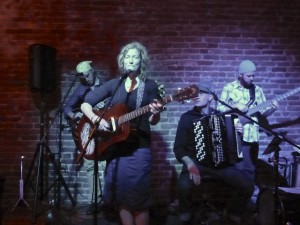 Alicia Viani and her Portland-based quintet, Oh Bruni, paused their Oregon tour in Ashland on Wednesday, June 19, to rock and serenade the crowd at Oberon's Three-Penny Tavern with their unique musical style where jazz, folk and bluegrass meet.
Ashland native (since 1989, at least), Alicia (vocals/guitar) and her band of great friends, Jordan Muller (bass), Steve Pool (accordion), Steve Eggers (vocal/guitar) and Noah Axe (drums), mixed it up for a boisterous and truly memorable evening. Ashland resident Craig Hase opened the show, accompanied by another member of his alt country rock band, The Waltz.
Nearly all the tunes were written by Alicia, and we were thrilled to observe the birth of her newest song, Eliza Blue, when she wrote it this past Memorial Day at family camp. It honors the soon-to-arrive child of her dear friend who spent some time with us that wonderful weekend.
Recordings of the entire evening are available below and will play sequentially from wherever you click. To hear 'em all, simply click the play button.
Follow the career of Alicia Viani <aliciaviani.com> by visiting her website. Better yet, catch their shows in person because they're a hoot to be around. For a vicarious pleasure, I've published the YouTube video captured by drummer Noah Axe in which Alicia and I are singing her song, Sandpapered Hills, that captures some memories of growing up in Ashland. Enjoy the show.