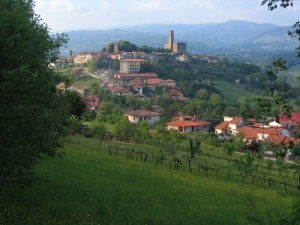 In an earlier entry, I referred to the journey we took from Florence to our accommodation in Poppi, located in the Casentino region of Tuscany. The more we learn about this marvelous place, the more I feel compelled to expand on recent learnings. After all, the primary reason for our maintaining this blog is to document recent discoveries while they're fresh. (There's nothing worse than looking at a million photos after a trip and desperately trying to remember the precise situation that made the photo so significant). So, with that focus, here's a brief synopsis about where we are, what we're seeing (when not in class), and where we're going in a mere three days (Yikes-bikes!).
Most travelers, especially those visiting or planning a trip to Italy, are familiar with the major stops in Italy. Rick Steves places them in this order: Florence, Venice, Rome, Cinque Terre, Siena, Assisi, Lake Como (and a bunch in between). Well, about 2 hours east of Siena is a relatively quiet series of valleys that is usually accessed either from Rome (from the south), or from Florence (preferably from the north). This area is called the Casentino, and the nearest major city is the lovely Arezzo located just south of the Casentino but worthy of a visit.
We were introduced to this area entirely by accident – my sister's friend studied Italian in Poppi and liked it. Our friends and (soon-to-be) traveling companions, John and Susan, were here on a previous trip and loaned us maps with a few key places circled. (We now know why!)
The castle town of Poppi is located on a hill above Ponte-a-Poppi, a mere 10-minute walk (down) from Poppi, the location of the only Internet spot within miles, and, most important, the location of the bridge (ponte) that crosses the Arno River as it begins its meandering descent through Florence to Pisa on the coast. Ponte-a-Poppi also hosts the Casentino's best gelatto shop, so we have incentive to ply the medieval road several times a week. The hills protecting this area were once covered by massive trees that long ago were felled, transported via oxen to the Arno, and when the water was flowing sufficiently, were floated down (actually south, then west, and then north) to Florence in the 12th and 13th centuries to assist in the construction of magnificent structures most travelers aspire to see, and for good reason.
The area is now a national park with some spots designated as wilderness areas, and we befriended a lovely couple who both fed us and (he) took us on a walk into the park last Saturday. The forest in which we walked consisted almost entirely of Beech trees, many quite old. We walked for an hour or so, and saw little diversity as far as trees go; a solid canopy of green with surprisingly clean forest floor. I learned that the current position by park officials about the reintroduction of natural species (e.g. a "sustainable" forest plan), is basically a "wait and see" attitude with regard to developing a sustainable forest that's more conducive to the reintroduction of native plants and animals. Interestingly, at one point on our walk, we paused and listened furtively for ANY sign of songbirds. Alas, I'm sure St. Francis rolled over twice at the silence.
Mind you, this forest is gorgeous, and apparently glows in late September with reds and brilliant yellows. In fact, just yesterday, we were taken on another excursion into a second drainage (read: valley, or another headwater of the Arno). This place is called Camaldoli, and was founded by St. Romauldo, a Benedictine monk. Romauldo sought to create a community of hermits, and, in 1012, the kind count Maldoli (hence Camaldoli) gave him the forest I'm gazing at from our bedroom in Poppi. It was, like, "Here you go, Padre, and in your prayers remember me…" Anyway, the place became popular for pilgrims and visitors, and clever Romauldo created another monastery lower down in the forest with more relaxed rules and whose sole purpose was to entertain the guests, sell herbs and homeopathic potions in the apothecary, and maintain the forest. To this day, the Romauldos plant 5,000 new trees every year. Perhaps some day national park officials will share his wisdom.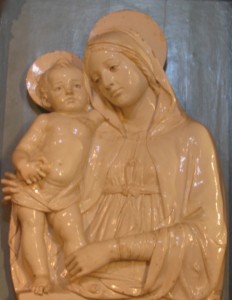 The Casentino provides guests with endless opportunities for recreation and is clearly an unexplored gem. Virtually every church contains a couple (often several) artistic wonders attributed to the school of Giotto, della Rabbia (terracotta porcelain), and Piero della Francisco, and it's hard to believe that in such a pastoral setting such historical and artistic importance lies waiting to be enjoyed. So here we are, by "hook or by crook" as my Mom used to say, having a great time.
As for Sooney and Nicola, we depart our new friends and language school on Saturday, and take a combo bus – train to Arezzo and proceed to Cortona for the beginning of our new adventure: cycling through Umbria. For perspective, the time between Poppi and Cortona (ncluding a 45 minute layover in Arezzo) is only 2 hours using local transportation. For planning down the road, I'd set aside a month or so in Arezzo (to get a real Casentino experience) and a car or familiarity with public transportation. By the way, plan on gaining a few pounds in the process of savoring the scrumptious local cuisine.
Saluti di Casentino (soon to be Umbria: Cortona, Perugia, Assisi, Turni, and Spoleto).