Nearly a hundred friends and many new fans of Alicia packed Ashland's Public House on 12/26. It may have been frosty outside but the warm reception of the crowd was radiant, with everyone attentively awaiting her next poetic line. On more than one occasion, with Alicia serving up a gorgeous finish to a perfectly-crafted tune, soft utterances were heard—in that instant before applause—with variations of, "Whoa! What was THAT" before  joyful whoops filled the crowded room.
It was really great; imagine a house party where you don't have to clean up. Mark Karwan (upright bass), both masterful and subtly whimsical as a player, is effectively adding a vocal part that complements their sound with texture and variety. As for Alicia's singing, one guest thoughtfully wrote:
The remarkable thing is that she is able to play and sing slowly and with control. She respects the nature of the song and is able to let her voice be a vehicle for the emotion.
But decide for yourself. Here is a video by Y. Fried that speaks to that respect:

Wounded Healer (Alicia Viani)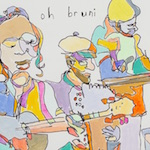 A year ago Alicia, accompanied by her band Oh Bruni, recorded 6 songs at a studio in Portland. You may enjoy listening to their songs because that band had SO much fun together.
We can't quite figure out how the newspaper elevated their show to a "Best Bet" for the weekend (not bad considering your competition is Santa Clause) but it certainly drew in some new faces to the Public House. (Sadly, it's currently closed and looking for a new owner). The owner at the time was thrilled and admitted, "We never expected this!" Now to figure out how to have Mark & Alicia open at Britt next summer. No sense stopping here.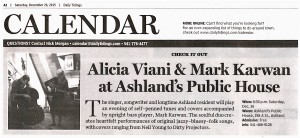 You may follow Alicia'a & Mark's musical journey on her website..