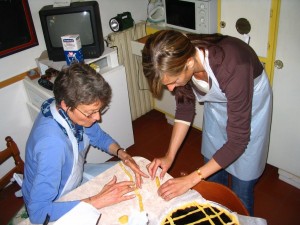 Vorrei scrivere in italiano, ma avrei bisogno di scrivere in englese, anche. Una volta e basta! Quindi scrivero in englese.
Scuola Di Italiano Per Stranieri is located on the third and top floor of a building whose large and heavy green wooden entrance door has spingere on it.
There were eight students the first week and six the second. Alexandra drove from Svizzera (in her black, two seater, convertable BMW). Heinz and Brigitte drove from Sinsheim, Germania and Angelika and Werner drove from Escheburg, anche in Germania. Debbie came from Los Gatos, California via Roma. Heinz and Brigitte traveled the second week and reconnected with the group a few times.
After a written test, two groups were formed for the duration of our stay. We arrived for lessons a few minutes prior to our 9:00 starting time. Conversation about what we had experienced the day before preceeded the hour-plus grammar lessons. Homework was given daily. Una pausa at 10:30 for cafe e qualcosa da mangiare. Per me, una trecina con frutti di bosco! Class reconvened at 11:00 with a different teacher from the morning. who was our consistent teacher for the two weeks. This part usually centered around un racconto that we'd read together, then discuss and practice using the new words and phrases. In a group, in turn, we'd retell the story and time usually allowed for a general discussion of the story and related ideas. Our homework was to use the new words and phrases in sentences. At 12:30 we finished and lunch was on our minds.
Two days a week, instead of fixing lunch at our homestay or grabbing i pannini at a bar, we went on outings with one of our three teachers. We'd drive to a location or go by train, ususally to lunch first, followed by un giro on some aspect of the Casentino's rich history and culture. Etruscan, Roman, early Christian, …….layers upon layers of cultures, battles, destruction, rebuilding and always incredible expression through art…….
All excursions were talked about beforehand and all talk there was conducted in italian. English was rarely, if ever, spoken. Even during le nostre pause we all spoke italian, on some level.
Our teachers were exceptional. They spoke with good articulation at an understandale pace. All were originally from different regions of Italy and at the school for different lengths of time. Their unique style with the infinite grestures, sounds and facial expressions that are SO ITALIAN, mixed with their emotions and humor made our classes and excursions delightfully entertaining.
Our second night at school we all met at Grazia and Mario's home, next door to school, where we enjoyed preparing a meal together (I was on crostata di marmelata detail while Nicola was helping to prepare three different dishes of carciofi, pollo and salsa). We sat for a couple of hours and chatted between bites in the seemingless never ending flow of food. Nick and I returned once again for a cooking class which meant a full afternoon and evening, this time at the kitchen table with the TV in the nearby background, using just one plate for the courses and doing clean up with Mario.
Our second to last night in Poppi, the students and a few staff members were invited to taste Alexandra's torta dolce, but it ended up being another full meal beginning at 8:00 and finisheing at 11:00! Mario and Grazie make digestivi and of course he gets them all out at the end of the meal for us to try. Here in the Casentini, lemon crema is popular. Just like lemoncello, but with milk. Basta on the food!
–Sooney