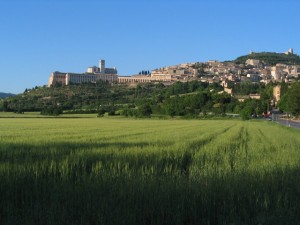 We left Perugia following the same route on which we arrived, only this time it was all downhill. There IS justice in the world. Our destination was Assisi, only a short ride. The weather is holding up, we're taking Alicia's advice and stopping frequently for pastries and espressos (Sooney fondly refers to these as "fuel stops"), and we pulled into our accomodations in the early afternoon. Only we're not actually staying in Assisi but in an agriturismo just below and outside the walls. The Country House TreEsses is only a short walk up the hill to the main gate to the city, and we were blessed to be billeted in an apartment owned by a neighbor – Giancarlo. We're not really sure of his relationship with TreEsses, but he operates a hotel in nearby Maria de Angeli and the apartment we're using is on his property. Furthermore, it's simply beautiful, with a fully-equipped kitchen, a salon with satellite TV, and separate bedroom suite with a beautiful view of Assisi. We're going to live the life of Riley here for a couple days.
Shortly after unpacking, we hiked into town. Our first stop was the Basilica to see the frescos by Giotto. This is an amazing place, and there is a crypt where we were able to visit the actual chapel that existed on this holy ground before the Basilica was built. But hold on – there isn't just ONE basilica here but another one built upstairs from the first. No joking. Two enormous (and beautiful) cathedrals built one upon the other. All of this, of course, is attributed to the fact that St. Francis is the patron saint of Italy and since his death in the 12th century, much has been done in adoration of his saintliness. The frescoes adorning the walls of the upstairs basilica depict the life of St. Francis. It's curious that such ostentatious buildings were built over his modest chapel more consistent with his love of nature and a simple lifestyle.
From nearly any location in the valley, the view of walled Assisi is stunning, and the two basilicas command a majority of the view. They're huge, and the town meanders up the hill toward the fortress built way before St. Francis's time as a defensive structure. What remains is mostly rubble, but that wasn't the focus of our visit to the city. In fact, aside from a wonderful meal provided us by our Italian tour folks, we found Assisi rather sterile, a white-washed and sandblasted tourist town. The vicinity around Assisi is another thing, and we happily explored away.
We were scheduled a couple nights in Assisi, and a ride was arranged for us the next morning to Spello, about 10 Km. away and a couple other towns. We met some other cyclists from Utah who were also setting off in that direction, but they sped away on their own racing bikes shortly after we departed, and that suited us just fine. Our pace on the cycling component of our trip has been as fast or slow as we want, and to begin our day's journey, we opted to visit the quiet chapel (San Damiano) where, centuries ago, St. Francis rebuilt the initial crumbling chapel that became the home of the poor Claires. Claire was enamored by Francis's piety and, like him, shunned worldly possessions, abandoned the comfortable lifestyle of wealthy parents, and lived her life in (what was then) a secluded section of the forest. Other women were impressed by her religious vocation and joined her growing community. Her followers are called the Poor Clairs and, like Franciscans, are a viable religious order today. San Dimiano is now only a short bike ride down a steep path from Assisi, and yet maintains much of the serenity I'm sure Francis found close to godliness. Personally, I'm glad we were able to experience places the real St. Framcis must have favored, visited, and preached as opposed to the double-decker monuments up on the hill.
After visiting San Damiano, we rode to Spello via a quiet route among the olive trees that delivered us to this quaint town bullt on a ridge and overlooking the entire valley. From a wonderful vista, we saw and felt the emminent arrival of a tempest, so we headed down the narrow streets only to discover a bar that opened onto a beautiful patio with yet another glorious view. We forced ourselves to have a gelato and, when the rains came, just opened our umbrellas and carried on. That's been the tone of this trip, and we're feeling great about it. The weather didn't appear to be easing up, so we rode down to the station and took a local train back to the Assisi station and the short ride to our apartment.
With the rain behind us, we chatted with Giancarlo and he invited us to join his family and a couple friends for a meal later that evening on their veranda. What a great opportunity to use the language, and more significantly, this was the first time we'd been honored by new Italian friends to suppper. The evening was a delight, and Giancarlo and Rita (and their sweet daughter Elena) hosted us to a delightful three hours of laughter, sharing friends, and Umbrian culinary delights. A highlight of the meal was a dish called (scafatto?) made with onions, a little pancetta, tomatoes (a couple with juice cook off) fava beans, and chopped up swiss chard. The thickish mixture was spooned right onto our plates to be scooped up with bread or eaten straight. Delicious and memorable.
–Nicola