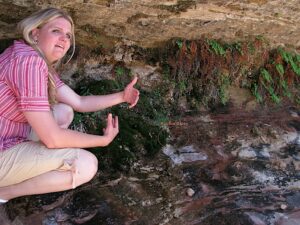 The following announcement was taped to the door of the vaulted toilet in the Natural Bridges campground.
Dr. Loreen Allphin Woolstenhulme, professor of botany at Brigham Young University, will lead an interested group to her study plot of the Kachina Daisy. The theme of her field study is The Importance of Being Earnest About Plant Conservation. Meet at 10 a.m. at the Kachina Bridge trailhead.
Sooney and I didn't have much trouble deciding to stay another day at this wonderful National Monument. We'd already spent 2 lovely days of dispersed camping outside the monument exploring pristine canyons, and had intended to spend an overnight IN the monument to catch the sights, top-off our water, and then head on to points west. The announcement on the toilet door made us pause and reconsider…for a millisecond. That's been the tenor of this holiday, and we're far better for it. We also figured that a specialist in canyon botany might help us identify some of the lovely wildflowers we'd photographed.
The next morning at the prescribed time, we rendezvoused with Dr. Woolstenhulme and her chauffeur, Monument Ranger Rick. After a brief introduction, she led us down to her study site where the hopefully soon-to-be listed flower, the Kachina Daisy, were most likely to be in bloom.
She hadn't visited this particular study site for 6 years, and had a child-like excitement to be reconnected with her dear daisies. She knows the area well since she'd spent 3 summers hiking the canyons and documenting the flora. While still an undergrad at BYU, she proposed the focus for a masters' study of the Kachina Daisy, appropriately named after the location of its discovery—Kachina Bridge right there in the Monument. She returned repeatedly to live among the rangers and learn all she could about the fragile flower and its environment. She hiked the canyons extensively, always on the lookout for hanging gardens located in alcoves with seeps, creating optimum growing conditions for this tiny white beauty and its companions in this lush environment: Alcove Columbines, Maiden-Hair ferns, and an orchid that had not yet blossomed.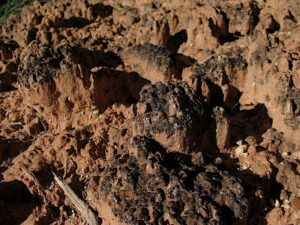 We carefully descended into the canyon, being particularly careful to avoid stepping on the rich, black crypto-biotic soil that fixes nitrogen in the sandy pinyon-juniper. We first learned about this fragile groundcover while in Arches National Park, and unfortunately saw too many instances where a careless visitor walked off trail and left a destructive footprint—often years earlier—wiping out decades of growth. It's comparable to carving one's initials on trees or scraping them on canyon walls—a momentary amusement transformed into a permanent scar. The relatively easy solution when trekking in the sensitive soils is to walk on slickrock, follow a natural wash, or scramble over boulders. It merits pointing out that the development of canyons and "bridges" in Natural Bridges were created by flowing water, as opposed to "arches" created by the steady flaking of rock from stratified layers of canyon walls. Millions of years of water seeping into crevices, followed by the freezing and expanding of the water weakened vulnerable sections and, after a couple more thousand years, a section would break off. Flash floods then complete the process by sweeping rubble down the canyons. It's this wet/freeze/expand/break off procedure that has created the damp, seepy alcoves that's perfect habitat for the Kachina Daisy.
After about 45 minutes, we arrived at a seepage where water was slowly surfacing after a ten-year journey through the porous Mesa Verde sandstone. It turns out that the Mesa Verde sandstone, once a seabed like practically everything else on earth, was long ago petrified by the weight of 250 million years of volcanic eruptions, new sea beds, river bottoms, decomposed sand of many different colors (also petrified) creating layer upon layer of mixed media now displayed in all their glory due to geologic uplift. And Mesa Verde sandstone is the ONLY environment where the Kachina Daisy can propagate. Miss Daisy, named affectionally by the Monument's rangers, presented us with a strong case for the importance of studying rare and endangered plants. It's clearly her passion and her enthusiasm was contagious.
Throughout her graduate studies in the Monument, she attempted to learn why this delicate flower failed to cross-polinate as similar species did with success. She photographed, collected seeds, transplanted (under duress when a road project dissected one of her study sites), and kept copious notes from her visits to these secret locations she shared with us on our walk. Feeling like we were part of the evaluation team of an endangered species committee, it was when we eventually saw the delicate flower, and learned why it was unique from other similar-looking flowers, that we learned how naturally a graduate student could make compelling arguments to a university (e.g. BYU) to pursue a doctorate degree of studying this elusive plant. She was successful, completed her PhD, and is one of 2 professors in the state currently studying endangered plants. She lamented about how slowly the process is to have a species listed, and she receives assistance from her graduate students and colleagues in monitoring experiments in the campus green house.
Later that night, she shared a PowerPoint presentation on the importance of respecting endangered species and, understandably, the focus was on her study of the little white daisy. Her data was presented in an informative manner, her methodology focused, and the results of her studies provide information on the high abortion rate of the plant—a disproportionate percentage of seeds fail to accept pollination. Since these daisies rely on self-polination, seeds taken from one plant in the field were raised in the greenhouse and surprised everyone by demonstrating a high rate of succes at self-polinating. She planned on visiting the seeping alcove where that particular stud was growing, and hoped to see considerably denser propigation.
An incidental result of her 16 years of study in the Monument was being consulted about trail location by the Monument administrators. She understandably directed tourists away from both her daisies and some ancient Puebloan archeological sites she'd discovered during her explorations. It's clear that, under the guidance of a botanical specialist such as Dr. Woolstenhulme, we experienced a walk in the woods that many park or monument visitors could only dream about.
While we don't have links to her studies at this time, we DO have photos to share from our wonderful couple hours in the shadow of Kachina Bridge. And no, we didn't pick any daisies to weave into chains. Check out the images at www.viani.us/pix for a visual (albeit silent) tour with Dr. Daisy.