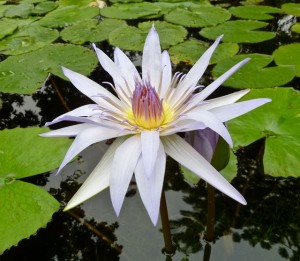 The Kampong of the National Tropical Botanical Garden, is located on Biscayne Bay in Coconut Grove, Florida, and contains a fascinating array of tropical fruit cultivars and flowering trees.
The garden is named for the Malay or Javanese word for a village or cluster of houses. Some of the first plantings there came from Indo-Malaysia, brought there by the renowned explorer/horticulturist, Dr. David Fairchild, one of the most influential horticulturalists and plant collectors in the US, who introduced these species to the United States. He and his wife Marian, daughter of Alexander Graham Bell,  purchased the property in 1916. David died in 1954 and Marian continued living at the kampong until her death in 1963. The collections were expanded and diversified by the next owner, who eventually gifted the garden to the National Tropical Botanical Garden.
As Head of the Office of Foreign Seed and Plant Introduction of the United States Department of Agriculture (1897-1928), Dr. Fairchild introduced some 30,000 varieties and species of plants into the United States.
Sightings for Feb. 8th
Coral Gables, southern Florida, 7:30-8:00
European Starlings! House Sparrows, Blue Jay, White-winged Doves, Eurasian-collared Doves, Mourning Doves, Red-bellied Woodpecker, Mockingbird, American Robin, American Kestrel
Kampong Botanical Garden, 10:00-1:00
Coconut Grove, southern Florida
Turkey Vultures, Doubled-crested Cormorants, American White Pelicans, Brown Pelicans, Great Blue Heron, <Royal Tern>
Manatees!
First time sightings: 1 (surrounded by <> brackets)