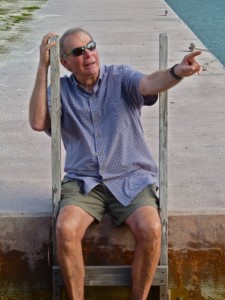 About 15 miles south of Miami is located the former home of Charles Deering, industrialist and first CEO of International Harvester (one of the bigger names in farm machinery over the years). In addition to being a keen businessman, Charles amassed an art collection that, at its time and consisting of more than 4,000 pieces, was the largest in the world.
After a life of travel, collecting, and painting (quite accomplished himself), he spent his final 5 years in the in the stone house he built on the site of the former community of Cutler, and many of his favorite paintings were hung there. A granddaughter recalled running through the immense rooms trying futilely to find a place for her small hand on the walls–paintings covered them, ceiling to floor.
Upon his death, much of his collection was donated to the Art Institute of Chicago and the rest relocated to family residences elsewhere. Good thing, because hurricane Andrew (1992) all but totaled the adjacent wooden structure and waves were cresting deep into rooms on the second floor of the stone house.
The state of Florida and Miami-Dade County purchased the property in 1985, and in the examination of the basement discovered a secret room protected by a bank vault rusted shut after the 1945 hurricane. Its contents turned out to be an extensive wine collection totaling more than 8,000 bottles–none of which survived the severe marine environment. The bottles look interesting, however, and you can't beat the story.
The Deering Estate at Cutler is growing in importance as a creative studio for local artists and art, and several installations were placed throughout the estate-turned-park. Contrasting with the manicured, art-strewn grounds is the nearby coastal mangrove estuary, the latter perpetually littered with ocean debris that the groundskeepers will most likely never get the upper hand on.
Sightings for Feb. 9,
Coral Gables, 8:00-8:30
European Starlings, Red-bellied Woodpecker, <Yellow-bellied Sapsucker>, N. Mockingbird
Deering Estate at Cutler, 11:00-5:00
southern Florida
Great Blue Herons, Double-crested Cormorants, <Little Blue Heron>, <Yellow-crowned Night Heron>, Brown Pelicans, <Ruddy Turnstones> (2), Spotted Sandpipers (2), Killdeer (4), Great Egret, Osprey, Belted Kingfisher, Mockingbird, <White Ibises>, Turkey Vultures
First time sightings: 5