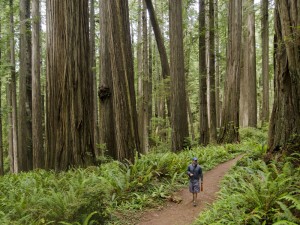 Well, hey. Where else can you visit 3 National Parks within 3 hours of your front door? And so what if we only got to two of 'em (Redwood & Crater NP's)?
Nephew Chris had a window in his crazy work schedule and flew in from Philly to rendezvous with Alicia traveling back to Portland on her WeeEP tour. During his 10-day stay, we added biking and boating in/around Hyatt Lake, wild-flower viewing up on Mt. Ashland, and visiting some favorite hotspots in the Ashland vicinity.
So now we've had 3 of our nieces/nephews take us up on an extensive visit together (Greg Amundson and Chris in Ashland, Catie in Finland). We treasure those visits, and hope there are more of them. Add an Alicia presence, some music, and it doesn't get much better than that.