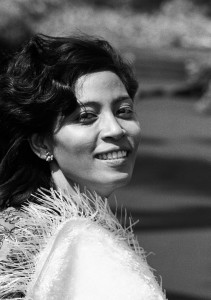 When Alicia was attending Butler University in Indianapolis, Sooney and I had several opportunities to visit Indiana. During one visit in 2002, Alicia had a busy rehearsal schedule so I pointed my rental car north to Valparaiso, Indiana, the home of Allen and Lilia Schlorff who were dear friends during my Peace Corps assignment in the Philippines.
Lilia Rodriguez was my Philippine "sister" and we taught together at Tabaco South Pilot Elementary School in Tabaco, Albay. Tabaco is one of the 3 principal cities (along with Legazpi City and Ligao City) in the province of Albay in the Philippines, and it was my home from 1970-72. I lived with the Rodriguez family the entire time, and during the 2 years was lovingly integrated into the family as a son. As a family, we shared a wide variety of experiences, both festive and terribly sad with the death of Lilia's father, José, shortly after my arrival.
During my final months in the Bicol region (yet another descriptor of this area based on the local dialect), Lilia and another Peace Corps volunteer, Allen Schlorff, were a'courtin' and married after I returned to Los Angeles to resume my teaching career at Breed Street. We didn't communicate for years, and my visit to their home in Indiana after 30 years was quite a reunion, albeit brief. We did our best to catch up, shared photos and a wonderful meal, and away I departed for what turned out to be another lengthy hiatus.
Fast forward to my recent project of revisiting negatives (and slides) from years past, carefully scanning and spotting favorites with the intent of sharing the images with the subjects (and families) of my many portraits. Now I'm talking about a drawer full of developed rolls of black and white film in their sleeves and attached to the convenient contact sheets. It's likely that many of these black & white images were never printed, so it is with nostalgia that I pour over the thumbnails with a magnifying glass, reflecting on the "shoot" and looking for nuggets to revisit. There's more than a little nostalgia for those late nights, stereo blaring, that I spent in my darkroom on Arlington St. in the '70s. Those nasty chemicals have been replaced by my Mac laptop, and the time spent spotting away all the dust spots allows me considerable time to reminisce.
Allen was an agriculture volunteer and lived just down the road from me in Tiwi. Because of his involvement with local farmers all over a huge service area, Allen was permitted to have a motorcycle (of which I was terribly envious). He was a gracious host, and on occasion I would visit his quiet barrio and enjoy the tranquility not characteristic to larger Philippine cities. Quite the organizer, Allen successfully commandeered PCV's from around the Bicol region for some back-breaking work clearing fields for cultivation. I recall that the combination of severe heat and humidity had us wimping out far earlier than our Filipino co-workers.
Working with this current collection of photos made me curious about Allen and Lilia, so I Googled the family and connected with their Son, Daniel Rodriguez-Schlorff, who's in public service in Connecticut. He thoughtfully forwarded my message to Allen who updated me on the Schlorff family. I was saddened to learn that Lilia died in a tragic auto accident in 2009 and the photos he attached to his email were a wonderful encapsulation of her beauty, vibrancy, and love of her family. In her memory I'm posting this gallery of portraits, not only of Allen and Lilia but of her siblings Junior, Hector, and Amelia. I also found a photo of her mother and tossed in a couple of me of which there aren't many (not unusual as photographers don't often end up on the other side of the lens).
I also wrote a memory piece about "My First Day as A PCV" that was submitted to Peace Corps Washington during the 50th reunion celebration. Pretty amazing story, supported by the actual letters I wrote to my parents describing the devastation of 175 mph winds destroying everything in its path.
For more information about bringing family negatives and slides back to life, check out my essay "Archival Scanning: Not If but How."