We'd heard about the 72-mile Trail of the Coeur d'Alenes from a number of bike friends, and can finally say we've covered about 20 miles of it. It was quite an adventure getting here, so I'll rewind to our departure from the Sibling's rental in Whitefish, Montana, and let Sooney take over.
Nick and I finally got out of Kalispell around 3:00 Tues. A stop for supplies, lunch (Borelli's Bistro) and the library (to purchase a Mileage Plus ticket for Alicia to get to Finland to participate her book signing) took some time. I was out scouting out the bakeries while Nick was white knuckles on the arm of the library chair booking the ticket. We arrived at Heyburn State Park around 8:00. A chocolate shake and a continuation of the audio Book, Freedom, by Jonathan Franzen, were our major companions on the road along the Clark Fork. Birds seemed non existent—no sightings compelling enough to stop for, especially at 55 mph!
This morning we visited the small visitors center at Heyburn State Park and snagged maps and riding suggestions for the Trail of the Coeur D'Alenes. With lunch in my bike pannier, we rode the mile past the Plummer Creek Marsh and jumped on the trail at milepost six toward the Chacolet campground and small community of Harrison. Could hear blackbirds, marsh wrens and saw a distant Osprey. Crossed the Heyburn Trestle, all 3,100 feet of it. On it we met a cyclist who has cycled 13,000+ miles on the trail after quitting smoking. We did the math and determined he's on his third trip across the continental USA!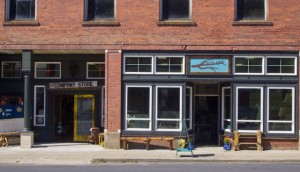 We continued to Harrison where we walked out our bike butts and enjoyed a carrot muffin with the Bike Shop's cold brewed ice coffee. From their porch, we took in all the interesting events one can in Harrison: the bustling couple of intersections from across the street from the lake, a few people talking in front of a store, cyclists going by on their way somewhere on the trail, an unruly car alarm with a seemingly endless scream that had everyone onto the street looking for the clueless owner. That sort of thing. Also went into the collectables store and found a handmade baby's bib for Berkley & Jamie's sweet Espen.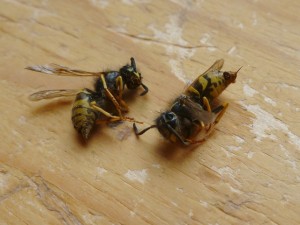 After snacks, we pedaled about three more miles to the Springston Trailhead that made our one-way ride out about 11 miles. That was enough for the day, we had our departure point figured out for the next day's ride, and the sun was getting high. We returned to Harrison to lunch in the City Park. A local Bar and Grill was an option, but we'd brought sardines and rye crisps that didn't, for some reason, attract the ubiquitous storm of yellow jackets. (Oh, yes, Nick had an introduction to those carnivorous critters in Whitefish- look at the stinger on the bugger). We've been plagued by wasps and yellow jackets throughout the northwest, and we learned there's a reason for their abundance. Last year the yellow jackets really weren't a problem until September. So why are they such a problem so early this year? Well, it's all about how long the queens have to reproduce. A combination of warmer winter (killing) freezes and a dry spring allowed them out of the hive early this year and their numbers have just exploded. That's why it's important to set your traps out in April and capture as many queens as possible.
On the return to our campground, we stopped for a number of looks and had a nice visit with a Pileated Woodpecker working on a telephone pole. Once home and following a tasty G&T, we enjoyed the hot shower and dinner prep.
Our final morning was, indeed, a visit to the marsh. We packed up and drove to the Springston Trailhead where we'd ridden the day before, allowing us an additional 10 miles without duplicating our route. We made it as far as the Medimont trailhead. While there, we learned from some experienced bikers that the Black Rock near Rose Lake trailhead (near Rose Lake off Hwy. 3) is one of the better sections of the trail: that's why we keep this journal to refer to down the road. Continuing on our journey, we opted to head north on Hwy. 97, a slow windy road that parallels Lake Coeur d'Alene and put us on I-90 a short distance east of the city. After a great morning ride, it was put on as many miles as you can en-route to Portland. We made it as far as the brewery in Kennewick, WA, and snagged a motel for a shower.
8/2/2017 Note: We revisited (and re-road) much of the same area while returning from our Alaska blast. Here's the link to the story and photo album of that visit.