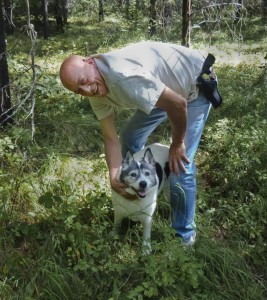 We were walking Issa in the woods near Jon and Karen's house in the Yaak. As always, Jon was packing his powerful revolver with Karen covering his back with the bear spray. Sooney asked Jon how effective a shot from his pistol would be on a Grizzley.
"Honey, a bullet from this pea shooter wouldn't even penetrate the thick skull of a Grizzley," he explained.
"Then why do you you carry it?" she asked.
"The reason I carry this this gun is if we see a bear, I'll shoot Nick in the thigh and we'll run like hell," he reasoned.
The scope of his wisdom is incalculable.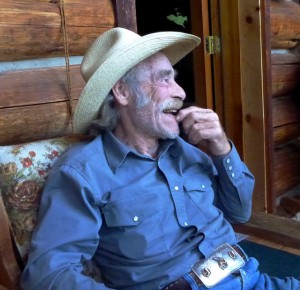 Then there's Tom and Nancy  living up the road a couple miles. Tom has been featured for a couple years on the History Channel's Mountain Men and  remains a dear friend and neighbor to everyone in this small Montana town. Totally unpretentious, Tom stopped by the house on his way home from the dump, sporting his signature western hat and a MRRA (Midwest Region Rodeo Assoc.) belt buckle holding up patched jeans on his lean frame.
When his notoriety came up in the discussion, he laughed and said his best fan is his 95-year-old mother who skinnies twice-daily in her Palm Beach, FL, pool. She still can't get over him and his older brother (both are in their 70's) being featured on a syndicated television show and, from the way he describes her, she may be a strong contender for a "Super Granny" reality show herself. He added that, in addition to his mom, 4.1 million viewers saw the show last week. With those numbers, I'd hope that his healthy, unassuming lifestyle may positively impact more than a few impressionable viewers.
Not far from where Tom and Nancy perform their magical transformation of rawhides into buckskin leather suitable for clothing, a couple of their friends were preparing teepee poles for sale at an upcoming Mountain Man Rendezvous.
Will and Claire live in Idaho and visit the Yaak regularly due to the availability of uniform lodgepole trees used in making poles. It's not that EVERY tree is suitable, however, and Will spent the better part of a morning and found only 5 worth harvesting. He and his partner, Claire, showed us the whole process of preparing the logs for drying and subsequent oiling, and both Sooney and Karen became pretty confident using draw knives to peel the logs. During our brief visit, I learned about 99% more than I thought I knew about teepees and feel confident that I found another retirement project to cross off the list.