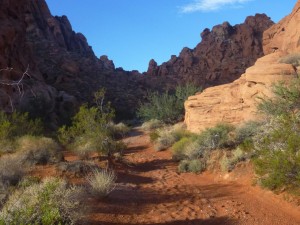 Unusually severe weather had passed through southern Nevada and Phoenix when I was enjoying the height of autumn colors in Great Basin national park. I'd been warned to be aware of possible debris on highways, so when I arrived at the Valley of Fire State Park an hour or so NE of Las Vegas (on I-15), overcast weather didn't surprise me. The temperature was perfect and the geology stunning. The colors, however, were flat and evening activities prevailed. That night, the floodgates reopened and it poured. Thank heaven (again) for a cozy pop-up camper.
The next morning, sun slowly reappeared from the shroud of the receding storm and provided just enough contrast to see why Valley of Fire is a favorite destination for Las Vegas residents. The park features beautiful eroded sandstone rocks with protected campsites—some even had power hookups if one preferred. My drive for that day was a long one, but I made sure to familiarize myself with the park in the event we stop by again. Behind the walk-in campsites are trails into nearby canyons, and my footsteps in the red sandy soil were the first on those trails since the storm. The reddish soil was pock-marked with craters of raindrops that must have been the size of marbles—my footprints somehow violated the pristine crust of the drying surface.
When I arrived in Tucson (after an overnight in Prescott visiting Tom and Carol), the light was warming in synch with the temperature. Phil and I took a late-afternoon walk into a nearby nature sanctuary and I was surprised to see the Sonoran desert's version of fall colors. The ocotillo plant displays a foliage of short green leaves following the summer monsoons, and shortly after my arrival, evening temperatures dropped into the 60's. That was the ocotillo's signal and green became yellow. While not lingering, autumn had arrived in Tucson. And with such wonderful weather and company to enjoy it.