Posts whose titles begin with Escape will serve as an on-going journal of traveling in our new Escape 21 travel trailer. Searching our site with the keyword "escape" should generate posts describing the myriad escapades with which we hope to continue filling our lives.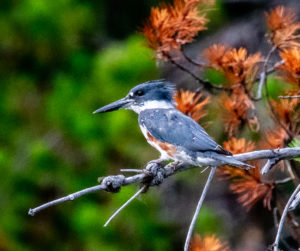 One of the more challenging birds to examine, much less photograph, is the Belted Kingfisher. Its diet ties it to fresh water—streams, rivers, and larger bodies. Their loud rattling call often precedes them as they patrol shorelines looking for a snack of fish or crawfish. Lemolo Lake, about 3 hours from Ashland and located on Hwy. 138 near Crater Lake,  is characterized by convenient perches and dense firs and pines along its shores—particularly suited to the Kingfisher. While enjoying a gorgeous sunset from our campground's beach, a Kingfisher sped by, momentarily considering a nearby perch before it saw us and promptly moved on. It was only when we approached the bird from the water in our inflatable kayak that we really had a chance to visit with the elusive bird.
Our strategy is to position our kayak up-wind from the bird and let the current drift us into close proximity of a bird—they seem less skittery for some reason. On two occasions we approached a Kingfisher using our stealth technique and the bird hung out long enough for a memorable visit. On both occasions it was a female with the chestnut band across the chest. I speculate she dismissed us as simply another log on the water and went about her business.
Birding from a boat is liberating—there's nothing in the water waiting to trip you up while you gaze lazily into the canopy. Hiking with uplifted eyes can be treacherous: life-threatening obstacles await to trip you up and break your bones. Birding from a boat is relatively risk free; binocular at the ready, camera safely protected, and only the water's rippling surface between you and your item of interest.
To offset the motion generated by inflatable kayaks, I increase my camera's ISO ("film speed") that permits faster shutter speeds. The trade-off was increased "noise" (AKA "grain" in the days of film). Because I'm shooting wide-open (F/8 and lower) the intentionally shallow depth-of-field generally creates a soft bouquet of background colors. The trade-off, however, is that when shooting at higher ISO settings images become annoyingly noisy. Glenn Bartley's excellent Photoshop Post Processing tutorial instructed me how to reduce the noise. I downloaded his book to my iPad using Hoopla, yet another wonderful service available from our wonderful Jackson County library system.
With the original photo opened with the PhotoShop app, I learned to select the subject (in this case the Kingfisher) with the magnet selection tool. The next step was to "inverse" the selection (Select Menu > Inverse) and then create a new layer with the selected pixels (essentially everything OTHER than the bird). Once created, this "adjustment layer" is then anointed with Photoshop magic using the many choices in the Filter Menu's numerous sub-menus. Now to perform that path dozens of times so it becomes automatic.
Just getting to Lemolo Lake was an exercise in patience. A Sunday departure was set back a day due to our truck being serviced. We booked campsites at Toketee Falls campground but Bob & Bev did some exploring the day before and wisely settled down in Lemolo Lake's "Bunker Hill" campground (# 1+2 are primo). There's plenty of room for multi-family gatherings with a beautiful west-facing beach and easy access to the water. Not particularly crowded probably due to the lack of potable water, Bunker Hill features a nearby pit-toilet and is a short 20 miles east of Toketee Hot Springs where we bathed early in the morning to avoid the crowds. Very nice experience visiting with a variety in interesting bathers. Our phones had connectivity, and I experimented with turning on the "hot spot" feature of our Verizon plan. That successfully permitted me to go online and connect with Reservation.gov to cancel our Toketee reservation and request a refund. You'd think these things would be simple, but I completed the task only after returning home and calling the reservation center.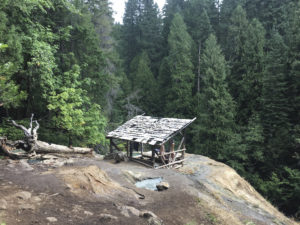 Not far from Lemolo lake (about 20 miles) are the fabulous Umpqua Hot Springs whose small parking area is shortly beyond Toketee CG off of Hwy. 138. The area requires a forest pass (satisfied by us using our Federal Senior Pass to offset the daily-use fee). An early-morning hike to the pools, at times quite steep (complemented by hand rails) avoided the ubiquitous crowds (and a wonderful August rain shower later that day). The pools are terraced and we enjoyed both private and social bathing bliss in a number of them (our choice of pool was determined by heat tolerance). Several featured "infinity" pools providing gorgeous panoramas of distant trees across the drainage.
Returning to camp without our trailer attached was exhilarating. After 13-years driving a pop-up camper with the added (in)convenience of a permanently-attached house on our backs, we're enjoying noodling about in just our pulling vehicle. In addition, our trailer's spacious floorplan is delightful and, in the welcomed afternoon rain shower, we chose to remain indoors and hosted a meal and games with friends in our newly-acquired space. A 24″ stool served as the fifth chair and fit easily in our 3′ galley. As anticipated, the tiny bathroom converted into a perfect repository for wet garments and umbrellas.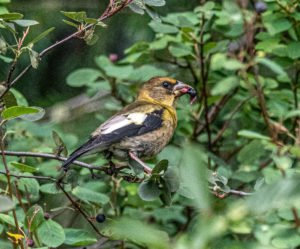 Prior to departing the following day, Sooney and I strolled the access road to Bunker Hill following some bird calls. Apparently the rainfall the day before and a return to warmer weather facilitated an insect hatch and the flycatchers and warblers were out in stunning fashion. We spotted Hermits, Wilsons', Yellow-rumps, Black-throated Grays, and Orange-crowned warblers within a quarter-mile walk from our campground. In addition, there were Brown Creepers, Cassin's Vireos, (female) Western Tanagers, Chestnut Chickadees, and noisy Nuthatches busily scavenging for tasty morsels.
Here's Sooney's complete eBird list of species seen during this leg of the journey: Mallard, Common Merganser, Spotted Sandpiper, Double-crested Cormorant, Turkey Vulture, Osprey, Belted Kingfisher, Pileated Woodpecker, Western Wood-Pewee, Cassin's Vireo, Steller's Jay, Mountain Chickadee, Chestnut-backed Chickadee, Violet-green Swallow, Golden-crowned Kinglet, Red-breasted Nuthatch, Brown Creeper, House Wren, Townsend's Solitaire, American Robin, Dark-eyed Junco (Oregon), Song Sparrow, Orange-crowned Warbler, Yellow-rumped Warbler (Audubon's), Black-throated Gray Warbler, Townsend's Warbler, Hermit Warbler, Wilson's Warbler, Western Tanager, Evening Grosbeak