Posts whose titles begin with Escape will serve as an on-going journal of traveling in our new Escape 21 travel trailer. Searching our site with the keyword "escape" should generate posts describing the myriad escapades with which we hope to continue filling our lives.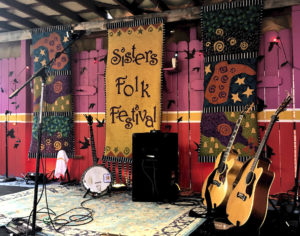 Mix family, great friends, perfect weather and stellar music and you've got a recipe for success. The Sisters Folk Festival encapsulated all those features, and more. Bob and Bev drove down from Gresham, Alicia participated in Song Camp and remained throughout the festival weekend, blue skies with billowy clouds provided a pre-autumn canopy that begged for summer garb, and the music was simply over the top. I'd say that characterizes a pretty-damn perfect weekend.
Perhaps even more auspicious about this trip is that our newish travel trailer (a Canadian-made Escape 21) is now being pulled by our new truck: a Chevy Colorado mid-sized pickup with a powerful 2.8L Duramax diesel engine. Capable of pulling upwards to 7,500 pounds, our 4,200 pound trailer was a piece of cake for this little rig. The test was how it performed summiting the Cascade range and it rarely exceeded 3K RPM for the entire journey to Bend. Even better was the 18 miles/gallon we registered while towing that embarrassed our former tug (the GMC 2500 carrying our Four-wheel pop-up camper) that couldn't get out of single digits. This was our shakedown cruise and it passed with flying colors. We'll soon depart in for Great Basin National Park mid-September and it's comforting knowing we've got the best ride for the buck—and a sweet little house not far behind.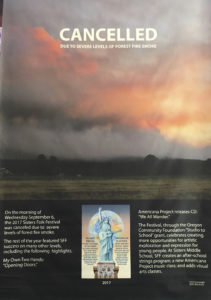 The Sisters Folk Festival is an event we've had on our radar for some time, and actually had planned on attending in the fall of '17. To our dismay, that festival was cancelled due to catastrophic forest fires throughout southern Oregon and the unhealthy smoke associated with them. Our intention was to camp in Sisters Creekside Campground but it was fully booked within minutes of campsite availability online. The festival wisely realized more RV space was needed and arranged with the school district to make their parking lot available for RVs interested in dry camping. A 1-mile bike path connected the HS to the festival, and porta-potties and huge Ponderosa Pines partnered up to make this a delightful birding environment. Even better, the HS is on the McKenzie highway that doesn't suit heavy trucking so it was really quiet compared to the Creekside campground bordering busy Hwy. 20.
The three-day event was filled with music distributed throughout 10 venues scattered about the small town of Sisters. The festival opened at 6pm Friday night for 3-4 acts performing well past midnight. Saturday and Sunday began at noon and they were able to pack nearly 50 performers/bands into the 3 days. Choreographing our way through the indoor, outdoor, and tented venues was a challenge, and we found that by paying attention to comments from other participants we happened onto some really special shows that slipped under our radar.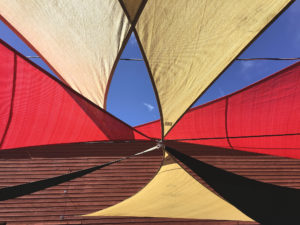 Friday night kicked off with a big-tent even featuring the Della Mae, a 4-woman vocal and instrumental group that set the tone for the rest of the evening. There's a 30-minute setup break between acts that permits visitors ample time to change venues so we hopped onto our bikes and rode to the Village Green for a 5-woman mariachi (influenced) performance. In addition to the Guitarrón, horns, guitars and electronic violin, these talented women from New York added vocal harmonies and finished their act with a 5-minute solo violin/vocal performance that had the audience on their feet. That remarkable act was a tough one to follow, and the Hamiltones, 3 black guitars/vocalists and 3 white male backups tore it up and had us dancing through to closing. Whew. The mile back to our trailer was dark, safe, and thankfully quiet.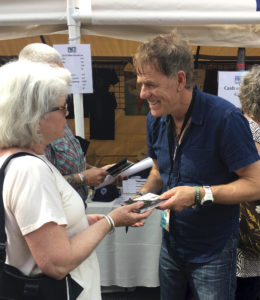 We connected with Alicia and learned about her fabulous time at the pre-festival "Song Camp." While there she had quality time with many of the festival performers and was inspired by the Welsh singer/songwriter Martyn Joseph. So we began Saturday's noon event at the Sisters Art Works in absolute awe at his poignant lyrics, masterful guitar skills, and tender melodies. For the remainder of the festival we moved in and out of shows enjoying highly-skilled performers taking risks from their day jobs to give show business a shot. Food and beverage kiosks were everywhere and the festival permitted no plastic disposable beverage containers so our water flasks became well-insulated growlers for the tasty Deschutes micros that flowed seemingly everywhere.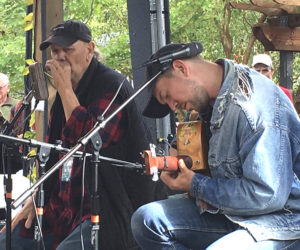 Sunday opened with a special Community Celebration for 1½ hours, and the host had a lineup of the very best sharing inspirational offerings to the packed Village Green. Since this was held in a huge tent, next time I'll opt to set up a comfy folding chair outside and let the various songs flow through the canvas and fill the hearts of bystanders. A great way to kick off the final day, we had chilly winds, darkening clouds, and periodic sunshine accompanying our final day. I finished the day at the Open Door outdoor venue featuring David Jacob-strain and Bob Beach. They'd appeared throughout the festival accompanying other artists, and their solo show was a series of original story songs about the interesting people who've punctuated their lives. During song camp David accompanied Alicia singing her original song "Are You A Good Man" and a festival-provided videographer captured their effort. That will be a treat to see!
Our Ashland neighbors Linda and Little George had a site in the community-run Creekside Campground, so we visited to see how it compared to the asphalt parking lot of the high school. While crowded, the atmosphere was musical and several campfires were surrounded by musicians and vocalists sharing their tunes. Our dear friends Bob and Barbara have been attending music festivals for years, and we got a sense of the community returning year after year to the delight of other visitors. We'll see how it goes for us returning to Sisters, and having other festivals on the horizon may see us checking them out as well.