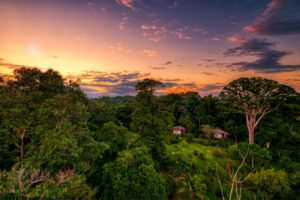 After a beautiful day of skiing fresh wind-blown powder on Mt. Ashland's 5′ base, all attention is now focused on our imminent departure to Central America.
We've chosen to stay in Eco-Adventure lodges that reinvest in their properties and support the local indigenous community (the Ngäbe live within the territories of present-day Panama and Costa Rica). Due to their prioritizing conservation, regeneration, and sustainability, staying at these lodges assuages our concern for the carbon footprint of us simply getting there. Furthermore, we're grateful for the ability to contribute to the preservation of natural areas for the enjoyment of future generations. It's a great way to be intentional and proactive while still enjoying the beautiful tropics.
Sooney and I have visited Costa Rica twice, both in lodges and in biological research stations. We were astonished by the variety of species we observed and how comfortably we assimilated into their birding culture. Adventure continues to flow in our veins, and we decided to explore the wildlife that populates Central America a tad farther south—the Republic of Panama.
Best known for its Canal, Panama is also a premiere destination for birds (and birders). We'll focus our travels on three geographical areas that will provide us a variety of experiences. The lowlands of Panama are known for their abundance of rainforest bird species, while the higher elevations are home to many species of hummingbirds and colorful tanagers. The coastlines and islands also offer great opportunities to view shorebirds and seabirds. We'll be kayaking among the mangroves and, after a hiatus of 40 years, will resume snorkeling among nearby colorful coral. This blog will be updated throughout the adventure with illustrated stories to share and help us remember the magic down the road.
Here's a map of the locations we'll be visiting during our (nearly) month-long adventure in Panama.
Click on a pin for more information. Our itinerary is a follows:
10 days in Florida traveling up and down the west coast as far as Tampa.
After flying into Panama City, we depart the following day for

Tranquilo Bay Eco Adventure Lodge

on

Isla Bastimentos

 near Bocas del Toro on the Caribbean side.
Our next stop is on the mainland: Canopy Lodge, where we'll participate in daily guided tours.
From there we will shuttle to its companion destination, the Canopy Tower.
Prior to returning home, we've set aside several days to explore Panama City, the Panama Canal, Metropolitan Park, and charming Casco Viejo (the old town).
In addition to journaling about our experiences, I plan to compile galleries of photographs illustrating each leg of the journey. The journal will be hosted here on viani.us, and the photos will be organized into galleries on nickviani.com.
We hope some of you may find these dispatches helpful in your trip planning. Don't hesitate to contact us with questions, comments, and suggestions.