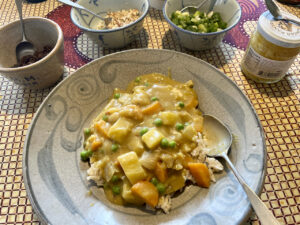 When we were teachers at the Canadian Academy in Kobe, Japan, we never prepared lunch on Wednesdays because that was the day the school chefs prepared Kare Raisu. We never tired of its spicy warmth; this is the food skiers ordered when leaving the slopes at ski resorts (similar to goulash in Europe or chili in the US).
Japanese curry, also known as  Kare Raisu (curry rice), is a dish of vegetables and meat—often chicken—in a thick curry sauce served with rice. Japanese curry was influenced by British and Indian cuisine and developed during the Meiji period (1868–1912). I recently learned that the "bricks" mentioned in this recipe were first developed in Japan at the request of the military. When their Navy seamen would return home from assignments in SE Asia, they longed for their favorite comfort food: curry! So Kare Raisu "bricks" were created with the capability of long shelf life.
Our recipe fortunately captures the wonderful flavor of the packaged varieties readily available in Asian stores but with healthy ingredients and no preservatives or MSG. Wrapped properly, they can be stored in the reefer for a week or so and, frozen, bricks can be stored much longer.
Ingredients:
Spices to be cooked separately (and ground)
1 cinnamon stick, (2-inch) pounded into small pieces – OR
2 teaspoons ground cinnamon, (tested in our coffee/spice grounder)
1 dried bay leaf, crushed
1 tablespoon brown mustard seeds
1 tablespoon coriander seeds
1 tablespoon fennel seeds
1 tablespoon cumin seeds
1 teaspoon fenugreek seeds
½ teaspoon whole cloves
2 cardamom pods, crushed
Ingredients added to cooked spices (and ground)
1 dried shiitake mushroom, broken into pieces
1 dried kombu, 1-inch strip cut into bite-size pieces – crumbled
1 ½ teaspoons whole black peppercorns
ingredients to be added to spice mixture (not ground)
– zest from an orange
1 tablespoon ground turmeric
1 tablespoon ground ginger
1 tablespoon sea salt
1 teaspoon sweet paprika
1 teaspoon cayenne pepper, or more to taste
Ingredients for the Roux
1 ½ cups unsalted butter, 3 sticks
2 ¼ cups all-purpose flour, can substitute rice or gluten-free flour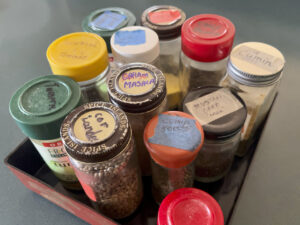 1. Preparing "cooked" spice mixture: In a large skillet, toast cinnamon, bay leaf, mustard seeds, coriander seeds, fennel seeds, cumin seeds, fenugreek seeds, cloves and cardamom pods over medium heat, stirring until fragrant, about 2 minutes. Be careful not to burn the spices. Transfer the toasted ingredients to a spice grinder.
2. Adding "un-cooked" items to the spice mixture: Add the mushroom, Kombu and peppercorns to the spice grinder, and grind at the highest speed for 30 seconds. Shake the grinder a couple of times as you blend to make sure the cinnamon stick is pulverized. (Tip: sift the ground mixture through a fine sieve to make sure to capture any notable pieces of cinnamon stick). Transfer the pulverized spices to a small bowl. Next, add the orange zest, turmeric, ginger, sea salt, paprika and cayenne pepper.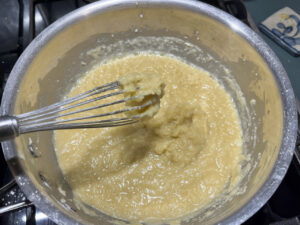 3. Preparing the roux To make the roux, melt the butter in a large saucepan over medium-high heat. When the butter is nearly melted, lower the heat to medium-low. Gradually whisk in the flour, and cook, stirring constantly, until the roux turns light brown, 10 to 15 minutes (or until "it smells like roasted peanuts"). Be careful not to burn the roux. Turn off the heat, add the spice mix and stir until well combined. (Note: the mixing took about 10 minutes to blend everything consistently.)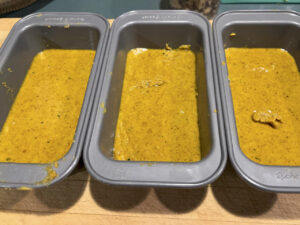 4. Preparing the bricks for future meals: Divide the mixture among three mini aluminum loaf pans, adding about ¾ cup per loaf pan, or transfer the entire mixture to a parchment-lined quarter-size sheet tray. Let cool for a few minutes at room temperature, then transfer to the fridge so the bricks can solidify. Once firm, empty the 3 loaf pans and cut each brick into 9 small curry brick cubes (or, if using a sheet tray, cut the mixture into 27 pieces total) and wrap tightly in plastic wrap. Store in the refrigerator for about a month or in the freezer for 3 months.
Recipe adapted from the NY Times Cooking
Yield: 27 small cubes (3 of which are used in a single meal for 4 persons)
5. Making Kare Raisu – Serves 4 persons Heat 4 tablespoons of sesame oil in a large pot over medium heat. Add 1 chopped white onion (cooked for a Very Long Time to add sweetness), 1 large chopped carrot, 2 minced garlic cloves and about ¾ pounds boneless chicken thighs cut into bite-size pieces (optional). Sauté, stirring occasionally, until the chicken is no longer pink, about 10 minutes. Add 3 cups chicken stock, and simmer for 10 minutes. Add 2 peeled and quartered Yukon-sized potato and allow to simmer an additional 5 minutes.. When the timer goes off, add 3 curry bricks and simmer gently until the curry has thickened, about 10 minutes. Remove from the heat and season to taste. Note, we combined a splash of Mirin, a teaspoon of light Miso, and a splash of Tamari/Soy Sauce in a separate bowl and added it to the pot. Yummy option.
Serve with condiments as you wish (e.g. chopped scallions, pickled ginger, raisins, shaved apples, sliced bananas, yoghurt) and ladle curry over hot rice.