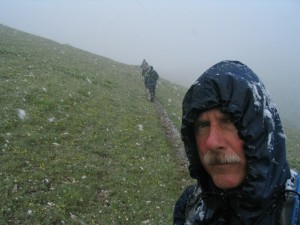 It's hard to believe we're in the 5th day of our HF hiking adventure in Norcia. And what an adventure it's been. Sure, we were prepared by our leaders Peter and Graham to dress warmly. They even suggested wooly caps and gloves, and we obliged. But taking our lunch break in a snowstorm at about 1,700 meters was more than any of us could possibly have expected. Yet that's how it goes in the mountains, and our leaders guided us safely through the storm to warm cappucinis and a toasty bus ride back to our hotel, the Grotta Azzurra located on Norcia, Umbria.
Norcia is a walled city of about 5,000 inhabitants and supports local tourism and agriculture in this high plain about an hour east of Spoleto. Norcia is also the gateway to the Parco Nazionale Dei Monti Sibillini, and two of our hikes have been in the hills around the Piano Grande and the lovely community of Castelluccio. This mountaneous area is known for its wildflowers that blaze the end of June. What we've seen have been hardy orchids holding their own, irrigated fields of high-elevation lentils, and the rolling hills surrounding this magnificant area all covered in primavera green—when it wasn't snowing.
We arrived on the 10 a.m. bus from Spoletto on Saturday afternoon, and had no difficulty locating our hotel. The Bianconi family owns Grotta Azzurra as well as several other tourist-related residences and services in the area. They're wonderful hosts. As always, HF Holidays has done their homework and provided clients with the best available guides and accomodations. Our Sunday hike was an 8-mile loop beginning and ending in Norcia that took us through the tiny communnity of Ospadeletto and gave us some familiarity with the local area. This proved useful on our day off (Wednesday) because we relied on local maps and headed off in the other direction for an afternoon hike celebrating (my wife) Soondy's birthday. The rest of the group had taken a sightseeing excursion to Spoletto, and (HF guests) John and Susan joined us for lunch at Trattoria dal Francese (Via Riguardti 16) for local cuisine – truffels!.
In addition to the two days hiking in "The Great Plain" (and its tempestuous weather patterns), we took advantage of an Italian version of "rails to trails" and walked along the Nera river on the bed of a former narrow-guage RR that serviced the Nera valley and provided rail service between Spoletto and Norcia. The Nera is a lovely stream, loaded with good-sized trout, and is a "No-Kill" area. We saw no anglers, but did see quite a few trout just waiting to be caught and released. The path was almost completely canoppied, and I demonstrated my best impersonation of a train whistle in the occassional tunnels. Aside from the downpour that caught some of us unprepared, the day was a joy and culminated with the typical multi-course meal and good fraternity with the other 25 guests.
I musn't overlook the meals provided us at Grotta Azzurra. HF guided hiking packages have many simularities. This is our third holiday with HF, with the others being Barga in Tuscany and Selva in the majestic Italian Dolomites. As on the other two hikes, we take a traditional European breakfast at 8 a.m. with coffee, fruits, cereals, cold cuts and cheeses, and yoghurt. Oh, yea, and more coffee. Any way you like it, and as much as you want. The staff is absolutely wonderful and speak just enough English. On those occassions where help is required, Sooney (a passionate student of La Bella Lingua) has intervened to make sure everyone in the group is satisfactorily accomodated.
We group up for each day's hike at 9:30 a.m. and leave the breakfast area to search out the day's lunch treat. Today we discovered a pizza place that sold by the slice. We learned that they mostly cater to children heading off to school, and for them, pizza is their breakfast. Our choices were 3: plain with rosemary, cheese and tomato sauce, and cheese and potato slices (now that was a new one for me!). As we were paying for our lunch, the proprietor was sliding in several new pizzas that looked far more interesting: zucchini, sausage, artichoke, onions – the good stuff that school children wouldn't want. So tomorrow we'll time our arrival a bit later and score a couple slices of adult cuisine.
Since we take our lunches on the trail, we're usually famished by dinner time. Following a meeting where we learn about the following day's hike, we head into the dining room at 7:30 for a multi-coursed feast. We've begun drinking the acqua frizzante (water with gas), and mix a bit with the house white for a refreshing substitute for prosecco. Our meals are thoughtfully written out and left on the tables, so we know what to expect. The soups have been marvelous, and an assortment of ante-paste, pasta dishes, meat dishes, vegetable dishes, and deserts have all played a major part in our accumulation of considerable fuel for the next day's hike. So much fuel that I've begun to actually request smaller portions of some items. Horrors!
Alas, our final day is tomorrow, and our inclimate weather gear is hanging all over our hotel room in anticipation of another gnarly day of crappy weather. But who knows? We're scheduled to explore the vast regions south of Norcia, and at a lower elevation (and protection from storms by the Mount Sibilinni range) we may return to wearing shorts for this final trek. Again, thanks to HF for putting this all together.
–Nicola