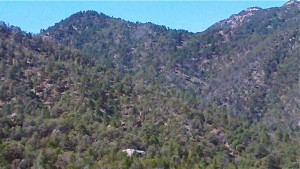 We'd been to Madera Canyon before, hiking with Phil and the virtual presence of his no-show sweetie. This time we were on our own, and camped at Bog Springs campground, arriving late in the afternoon. Our friends Jim and Laura had arrived the day before, and as we were arriving on a potentially busy Friday, they assured us a campsite by taking two. That's the kind of friends you want to follow.
We awakened early and began our hike to Bog Springs. This is a loop trail, and most travel in a clockwise fashion—up the switchbacks to elevation and down the canopied Kent Springs trail. Well, we hiked it in the opposite direction, and weren't disappointed. The hike up, via Sylvester Springs, was a grueling up, up, up on a scree-like roadbed. An early-morning departure made the terrain manageable, and we heard the Elegant Trogan calling from a distance.
It was on the descent, a nicely switch-backed and scenic trial, that we spotted a massive granite boulder across the canyon that we confirmed was the infamous Rogers's Rock. Several hikers we'd encountered mentioned Rogers's Rock and we were delighted to say not only was Chuck Rogers the father of our very dear friend, Marcia, but that we had a coffee date later that afternoon with his widow, Jane. Our pleasure was amplified with the realization that none of the 15-or-so hikers, most regulars to the canyon, had any idea of the lore behind Rogers's Rock.
Sadly, it's been forever mispelled. Chuck Rogers summited 9,456′ Mt. Wrightson 115 times and for this remarkable feat had a rock named after him. Sadly, his English-teacher daughter wasn't consulted when they laid the plaque and incorrectly wrote his name; it should read Rogers' Rock. Regardless of how it's spelled, he is honored and the story of his accomplishments will prevail. His family will add his ashes to the area in in a couple years that would have been his 100th birthday. So, in the spirt of his passion, others will celebrate his memory.