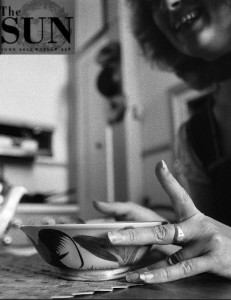 A year ago I submitted a great photo to Sun Magazine, thinking I had a lock on it being placed somewhere in a future issue of their wonderful publication. "Sorry, buddy," is my paraphrased version of their rejection letter. "There's no telling what we'll like until we see it," the letter added.
So, yesterday, I submitted another image. Since I see it as a cover, I cropped it to 11″ x 8.5″ and added a fake Sun magazine logo in the upper left. I included an original print (without the logo so they wouldn't take me as being overly pretentious) and eagerly await a positive reply.
Stay tuned. Meanwhile, here's what they didn't buy.