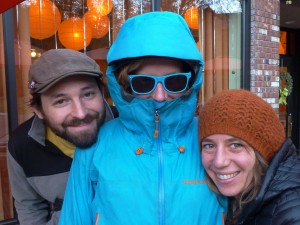 How wonderful to have a household of playful adults for the holidays. Especially with all the complexity of a cold (brr!) white (weeks of it) Christmas. Alicia and several dear friends joined us for an extraordinary event.
Mix together massive amounts of of music, family, dominos, music, food, cribbage, hikes, food, dog food, games, guests, music, vinyl, movies, visitors, genealogy, visiting, slide shows, outdoors, decorations, mochi experiments, caroling, the White Rabbit trail, Leo, children, selfies, eating madrone berries, yoga, reading, coffee, icy walks, starry skies, instruments, and an abundance of adults blessed with the hearts and souls of children.
Now that's a recipe worth repeating.