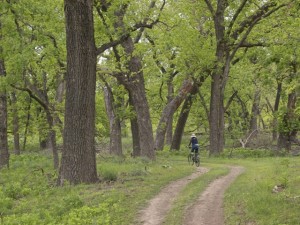 We're back into nature after a week in Austin—that's not to suggest Austin doesn't have its share of nature. Quite the opposite, but I'll get into that later. It's just that hiking or cycling behind Sooney has become such fun. She personifies Fishing for Birds, and approaches her sport with consummate skill. As an angler would work a stream, she walks silently down a path, ever so slowly, pausing at almost imperceptible movement in nearby foliage. Suddenly, she raises her binoculars to a nearby oak as if responding to a trout striking one's fly. She scans the area, using the bird's song to help identify it—her knowledge of bird types and their songs is vast. Small birds find safety in dense shrubs, and the ever elusive warblers hop around with an eye on us and the other on food. When birding in Texas, we've also learned to to keep an eye on where we're standing—a basking rattlesnake or mound of fire ants can ruin a good time in a hurry.
It's my assertion that anyone who is a birder would be a fine angler. And vice-versa. It's all about the prey. And, of course, the demeanor of the stalker. Trout live in protected areas that provide food in a timely fashion. So do birds. Chilling in the cold backwash of a large rock is perfect habitat for a trout, and our recent search for the Golden-cheeked Warbler in Balcones Canyonlands National Wildlife Refuge found it gobbling up insects in a particularly bountiful oak. And it wasn't alone. Dining in that same tree were 6 other species of birds. "If there's food, they'll be there." Fish? Birds? There's hardly a difference. Fish gather when there's a hatch of insects, salmon flies falling silently into the water. Suddenly, a small ripple indicates a fish surfaced for a tasty meal. I don't think it's a reach to say that fish rising in a quiet pool is theoretically comparable to the sound of a bird's call.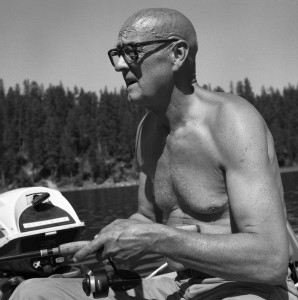 It shouldn't come as a surprise that Sooney birds like a fisher since she comes from a family full of 'em. Be it her brother wading up a stream near his home in Montana or her father spinning plugs on Whitefish Lake, stalking game runs in her blood and she's come into her own as an exceptional birder. That explains her sighting 11 new lifetime birds over the past 5 weeks. Oh, by the way, we've traveled roughly 3,000 miles through 2 time zones and 7 states along the way. Colorado'll be #8.
My last post found me gushing over the incredible beauty of Big Bend National Park, and the gallery of photos justifies my enthusiasm. We've learned, however, that Texas is not only huge but gracious in its offerings. A day's drive from Big Bend found us near Del Rio, TX, at the Amistad International Recreation Area that consists of the US portion of the International Amistad Reservoir on the border to Mexico. The area offered our first look at the scissor-tailed flycatcher, a bird we'd only seen in Florida. We were beside ourselves (until they became so common a week or two later that we relegated them to ho-hum birds). The same can't be said about the Yellow-breasted Chat or the Scaled Quail, both of which were spotted near our campground.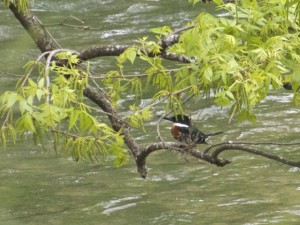 We were set to arrive in Austin in a few days for the 45th reunion of my Peace Corps training group, so we limited our initial visit to a single night in South Llano River State Park, a lovely birding and cycling environment. Sooney explored the area earlier and we returned on our bikes the half-mile to a shaded spot along the river that runs through the park. "There, right over the lip of that bank," she whispered. We crept slowly to the edge and there were a nesting pair of Green Kingfishers, posing on the limb of an overhanging tree. She just knows—and loves to share.
Texas parks have much to offer, and their tidiness can loosely be associated with Lady Bird Johnson. Johnson was a lifelong advocate for beautifying the nation's cities and highways ("Where flowers bloom, so does hope") and the Highway Beautification Act was informally known as Lady Bird's Bill. Signs along the road proclaim "Don't Mess With Texas." Lady Bird was a gentle person who outlived her husband by 34 years, and we learned how important she was to the state of Texas as he was in his single term to the state of our nation. On her 70th birthday, she and actress Helen Hayes founded the National Wildflower Research Center west of Austin, devoted to preserving and reintroducing native plants in planned landscapes. In 1994, the center was officially renamed the Lady Bird Johnson Wildflower Center, in honor of Johnson who had raised $10 million for the facility. She was also involved in the Town Lake Beautification Project in downtown Austin. A lake of significant size, created by damming a section of the Colorado River (Austin's got one, too), its shoreline was rapidly eroding, attributed in part to the wakes of power boats. Lady Bird spearheaded efforts to restrict boating to those with electric motors. It was on one of those that our reunion group enjoyed a sunset cruise beneath the Congress St. Bridge where mostly female, pregnant Mexican free-tailed bats migrate North to give birth. As the setting sun perfectly illuminated downtown Austin's gorgeous skyline, an estimated 750,000 bats departed their nests to consume nearly ⅔ of their body weight in insects. The city also recently finished the final boardwalk that completed a 10 mile cycling and biking hiking path around what is now named Lady Bird Lake in her honor.
Sightings along this leg of the journey:
Amistad International Recreation Area
Scissor-tailed Flycatcher, * Scaled Quail, Summer Tanager, Northern Cardinal, Red-winged Blackbird, Cattle Egret, American Coot, Killdeer, American Kestral, * Harris's Hawk, Vermillion Flycatcher, Cactus Wren, Bewick's Wren, Yellow-breasted Chat (12+) Western Kingbird, Brown-crested Flycatcher, Ash-throated Flycatcher, Hooded Oriole, Verdin, House Finch, Mockingbird, Chipping Sparrow, Black-throated Sparrow, Lark Sparrow (10) Bell's Vireo, Brown-headed Cowbird, White-winged Dove, Mourning Dove, Wild Turkey, Turkey Vulture, Cliff Swallow (200+), Great-tailed Grackle
Fort Clark, Brackettville, TX
Brown-crested Flycatcher, Summer Tanager, Vermillion Flycatcher, Blue-headed Vireo, Yellow-rumped Warbler, Yellow-fronted Woodpecker, Eastern Phoebe, Northern Cardinal, Harris's Hawk
South Llano River State Park
Black Vulture, Turkey Vulture, White-winged Dove, Mourning Dove, Inca Dove, Black-chinned Hummingbird, Belted Kingfisher, Ladder-backed Woodpecker, Downy Woodpecker, Vermillion Flycatcher, Ash-throated Flycatcher, Bell's Vireo, Yellow-throated Vireo, Western Scrub Jay, Carolina Chickadee, Black-crested Titmouse, Carolina Wren, Blue-gray Gnatcatcher, Cedar Waxwing, Orange-crowned Warbler, Yellow-rumped Warbler, Yellow-throated Warbler, Common Yellowthroat, Summer Tanager, Indigo Bunting, Chipping Sparrow, * Field Sparrow, Lark Sparrow, Black-throated Sparrow, Lincoln's Sparrow, Northern Cardinal, House Finch, Pine Siskin, Lesser Goldfinch
LBJ Ranch (near Fredricksburg, TX)
Osprey, Black Vulture, Turkey Vulture, White-winged Dove, Mourning Dove, Black-chinned Hummingbird, Ladder-backed Woodpecker, Scissor-tailed Flycatcher, White-eyed Vireo, Barn Swallow, Carolina Wren, Bewick's Wren, Northern Cardinal, Northern Mockingbird, Red-winged Blackbird
Town Lakes Trail around Lady Bird Johnson Lake in Austin
Pied-billed Grebe, Cattle Egret, Great Blue Heron, Yellow-crowned Night-Heron, Green Heron, Mallard, Northern Shoveler, American Coots, Rock Dove, White-winged Dove, Mourning Dove, Vermillion Flycatcher, Northern Mockingbird, Cedar Waxwing, European Starlings, Northern Cardinal, Great-tailed Grackle
Lady Bird Johnson Wildflower Center
Turkey vulture, Great Horned Owl, White-winged Dove, Bewick's Wren, Black-created Titmouse, Northern Mockingbird, Eastern Bluebird, Painted Bunting, Chipping Sparrow, Lesser Goldfinch, Northern Cardinal
Purple Martins at Eastside Cafe, Austin
Balcones Canyonlands National Wildlife Refuge
Black Vulture, Turkey Vulture, Northern Cardinal, Black-crested Titmouse, Cedar Waxwing 100 +, Scrub Jay, Black and White Warbler, * Golden-cheeked Warbler, Nashville Warbler, Orange-crowned Warbler, Carolina Chickadee, Bewick's Wren, Roadrunner
Headquarters of NWR
House Finch, Eastern Bluebird, Barn Swallow, Lark Sparrow, Mockingbird
En-route to (and at) Deerskin Ranch
Snowy Egret, Raven, Cattle Egret 12+, Red-shouldered Hawk, Canyon Wren, * Black-capped Vireo (at Doeskin Ranch in Burnet County)
Hornsby Bend (Biosolids Management Plant) SW Austin
Eared Grebe, Double-crested Cormorant, Wood Duck, Northern Shoveler, Blue-winged Teal, Black Vulture, Turkey Vulture, Red-shouldered Hawk, Crested Caracara, American Coot, Killdeer, Black-necked Stilt, Spotted Sandpiper, Franklin's Gull, Rock Pigeon, Mourning Dove, White-winged Dove, Monk Parrot, Chimney Swift, Ringed Kingfisher, Red-bellied Woodpecker, Scissor-tailed Flycatcher, White-eyed Vireo, * Red-eyed Vireo, American Crow, Barn Swallow, Purple Martin (100+), Carolina Chickadee, Black-crested Titmouse, Carolina Wren, Northern Mockingbird, Eastern Bluebird, Northern Mockingbird, European Starling, Black-throated Green Warbler, Yellow-rumped Warbler, Northern Cardinal, Red-winged Blackbird, House Sparrow, House Finch
Our second visit to South Llano State Park
Common Poorwill, * Green Kingfisher (pair), Golden-fronted Woodpecker, Black-capped Vireo, Barn Swallow, Orange-crowned Warbler, Nashville Warbler, Painted Bunting, Canyon Towhee, Spotted Towhee, White-crowned Sparrow
* Life birds in this posting: 7