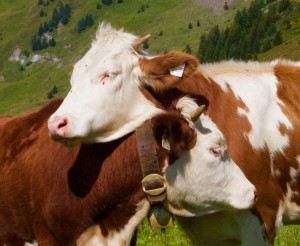 "If he goes for your neck, yank it off by its tail," Chris advised as Martin stealthily approached the Marmot from behind. We had earlier summited 8,013' Frauenwand in the rain with nearly zero visibility, so taking on a foot-long furry critter seemed hardly a challenge. Alas, somebody laughed at the ridiculous image of a Marmot leaping up and assaulting Martin—right out of a Monty Python sketch. The rascal scampered away. "I'd have gotten him, you know," Martin said as we continued down the valley to our awaiting taxis. It's not that we were rushed, however—we'd over an hour to descend the remaining 2,000' along a path featuring breathtaking alpine panoramas and stunning waterfalls most likely originating at the Hintertux glacier farther up the valley. In addition, and particularly fitting for Austria, the hills were alive with the sound of…cowbells? Yep, hundreds of them ringing merrily from nearby meadows.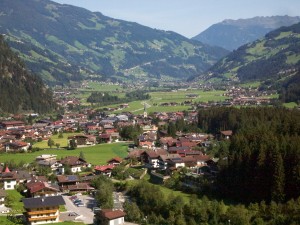 We are spending 5 days hiking in the Zillertal Alps and are based in the resort town of Mayrhofen. While the population of Mayrhofen is approximately 6,000, it features guest accommodations totaling over 20,000 beds.The area's scenic beauty and easy access to superb hiking (and skiing) makes this town a perfect destination for HF Holidays, the British firm that organizes recreational holidays all over the world. We've enjoyed five HF holidays over the years, with Alicia accompanying us on four of 'em.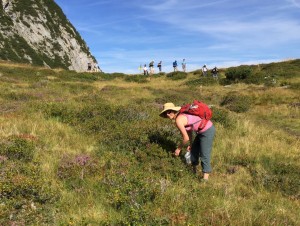 Mayrhofen is an attractive little town built on flat land and where many of the buildings are built in traditional Tyrollean style. It is approximately 1 1/2 hours from Munich (even less from Innsbruck) and is the final stop on the municipally-owned railroad that transport thousands of tourists into the valley year round. From Mayrhofen four major valleys fan out and head towards the Italian border, 3 of which feature reservoirs collecting runoff from snow fields upon peaks that stun one with their immensity. Regardless of where you stand in Mayrhofen, enormous walls of lush grass, huckleberries, and mixed forests scream skyward, topped with luscious feeding pastures for local dairies.
The broad and flat Ziller Valley swings east beyond Mayrhofen to form a narrow gorge and its upper reaches finally come to a head just beyond the Speicher Zillergrund (reservoir). The Stillup Valley, the narrowest and least developed of the four, is privately owned and yet accessible to the public and heads south into the high mountains of the Zillertal (we ate fabulous apple strudel at <link>Kesseler Hütte on day 2). The Zemmgrund Valley is also narrow and contains the attractive village of Ginzling. It eventually splits, with one of its arms holding the Schlegeis reservoir, which sits beneath dramatic glaciers and some of the highest peaks in this part of the Alps. Finally, the broad Tux Valley is the most westerly and includes the villages of Finkenberg, Lanersbach and Hintertux (this is where we began our trek from the alpine summit to our fateful confrontation with the Martin's Marmot). During our week-long visit to Mayrhofen, we will have hiked most of these areas. This HF program is unique because it's possible to stay 2 weeks and not duplicate a single walk. We tried to do the 2-week program but lodging wasn't available, so we rescheduled and will visit distant relatives in Hungary. But that will be another post in a week or so.

While on a lunch break on one or our incredible walks, I used my iPhone to capture a planographic image of the next section of our hike down to the lovely hütte down in the lower right (of the pano photo). Be sure to click on this image and the, when it opens, click AGAIN so you can see the detail as captured by this incredible phone.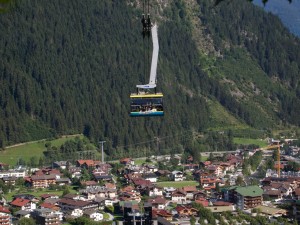 What's remarkable about staying here is that visitors don't have to drive anywhere to get about. The "Z" pass, costing about 60 Euros in the summer and approximately €230 in the winter, provides the holder unlimited use of ALL public transportation, gondolas, ski lifts, and busses in the valley for 6 days (We're talking $75/day to ski in most major US resorts). That $260 includes the narrow gauge train to Jenbach, the transfer stop on the major railway line linking Munich with Verona, Italy. One merely catches a local bus heading up a desired valley, gets off at one of many chairlifts or gondolas that transport visitors to the upper plateau, and begins walking (or skiing). Usually within an hour or two, you'll encounter a hütte that serves delicious beverages and hot meals. Some even provide accommodations for serious hikers. Well-planned walks often work their way down the steep valley walls to the valley floor, either back to Mayrhofen or to waiting busses or taxis. It's the 20 years experience planning these walks that keeps us traveling with HF.
While on our final walk of the holiday, we noticed how thoughtfully the trail had been maintained. Easily a meter wide, the ribbon of flat stones proceeded up hill with just the right rise—other trails made you feel you were climbing stadium steps that wrecked havoc on the knees. Grasses and huckleberries grew between and adjacent to the large steps, and the path paralleled the grey-blue water of glacial runoff flowing into the Schlegeiss reservoir. We reminisced hiking in Chiricahua National Monument recently and coming across a team of laborers, chisels & hammers singing, as they cut sections out of huge granite boulders to shore up trails along stream beds.
Expecting the same, we were astounded to come upon a remarkably skilled heavy machinery operator deftly making a new trail as we watched spellbound. Using a Swiss front loader, he first scooped out the grasses and set them aside, and then removed enough soil to receive the stone. He swiveled his tractor's arm to larger boulder and, using his bucket, whacked the stone and a step-size piece flaked off. Using the buckets claw, the stone was gently lifted and placed into position. He manipulated his bucket as if an extension of his arms, and in no time the huge, easily 2-300lb. rock was tapped, leveled, and swept clean. Finally, he thoughtfully replaced the grasses and huckleberries along side the path, tamping them down as would a gardner.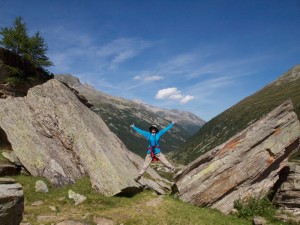 Of course, our destination was Refugio Passo Vizze (Italian version of a Hütte) where hikers can have a beer and lunch at 2,276m before descending down for another snack (there's no shortage of incentives for both climbing and descending in this part of the world). The obligatory photos on the Italian border were anticipatory for the real thing; in a week we'll be in Lucca researching Sooney's Granucci ancestry. But that will follow something even more exciting—our adventure with newly-met cousins in Budapest in just a few days. We'll be writing about that soon.
You may also enjoy perusing the routes of the hikes we took each day of our visit. From the "HF" page there are links to each day's snapshots.