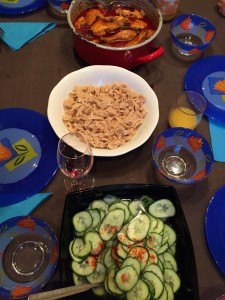 The argument that Hungarian paprika is unmeasurably better than any other is a matter of conjecture. My mother always had some stashed in the back of the refrigerator, and it was only recently that we discovered a jar in the back of OUR refrigerator (for all I know, it was my mother's). That supply has long been composted and we were happily gifted a good supply of the finest Hungarian paprika to be used (and not forgotten) for years!
This fundamental ingredient served as the base for our final meal of chicken paprikash as prepared by my grandmother over sixty years ago when I was a youngster living in Los Angeles. The amazing part was my instant recollection of the scrumptious aroma of the dish and the image of cutup chicken parts floating in the tangy red broth, its surface shimmering from oils released after several hours of cooking. Served with the paprikash were dumplings, cut into small 1" slices and dropped into boiling water. Similar to preparing gnocchi, the dumplings float to the surface after a couple minutes and were scooped onto a serving dish for the table. This culinary masterpiece was secretly prepared with love by Manyl, Péter's mother, and highlighted a perfect evening with the entire Téterek family. To finish everything off, Szilvi made a fabulous Italian plum cake and we eased it down with sips of a freshly-opened 1990 Tokaji desert wine.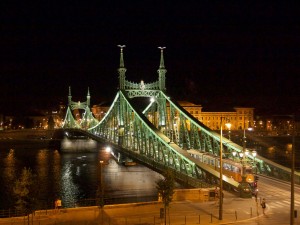 This was the culmination of 3 jam-packed days of getting to know our family, sightseeing, dining, and just wandering around. We slept at the home of Péter's mother, a short walk to our cousins' and whose work/school schedules allowed us the freedom to explore Budapest at our own pace. Péter is an electrical engineer for an American company that designs lighting systems and the consoles that control them. His recent projects have focused on theater and hotel lighting installations. When completed, he's responsible for training the local staff and then moves onto a new project. One evening we were treated to an astonishing glimpse of Péter's involvement with lighting nearly every major feature of Budapest's nighttime tour. We hiked up to the Freedom Monument on Gellért Hill, located on the Buda side, for a truly illuminating (pun intended) panorama of his brilliance at painting with light: the Parliament House, St. Stephen's Cathedral, and both the Chain and Freedom Bridges crossing the Danube and linking Buda and Pest are all part of his portfolio. An unassuming master of lighting, his 20 years in the field has left a luminary legacy for generations to behold and for which we're extremely proud.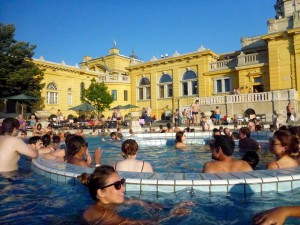 A 72-hour unlimited public transportation pass made getting around a breeze. Budapest has a terrific metro system with 5 lines running from downtown to suburban bus terminals that provide connectivity for distant residents. In fact, the M-1line is the second oldest underground in the world after New York city. A thing of uncommon beauty and workmanship featuring beautifully maintained wooden paneling and absolutely no graffiti on the tiled walls, we traveled on it several times to visit the gorgeous Budapest Opera House and then into the Széchenyi Thermal baths farther down the line. Throughout our visit, we relied on the metro and ancillary bus lines to access a variety of destinations: soaking in the public baths, exploring some of the most beautifully restored buildings in Europe, visiting the House of Terror Museum and, most importantly, connecting with the bus that transported us the additional 1/2 hour to our family's residence well to the east of Budapest. Of course, there were regular stops for pastries and coffee to keep us fueled. Each day, at the end of our adventures, we chilled out at Péter's lovely home where we played games, shared family photos, and practiced English with Péter's 3 delightful & talented children.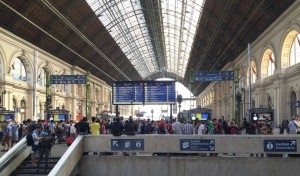 What we DIDN'T plan on using the metro for was accessing the airport. While still in Ashland, we'd purchased online tickets for our departure from Budapest to Florence (via a transfer in Vienna). After hugs and kisses on our final morning, we arrived at the Keleti station early with the intent of checking our bags and spending our final day sightseeing. As expected, the M-2 line took us right to the station and, upon entering, the situation radically transformed. We were literally transported into a middle eastern refugee camp with over 2,000+ stranded Kurds, Iraqis, Afghanis, Pakistanis, Syrians occupying every available space on the station's massive floor. Some had tents, others didn't, and cardboard carpets demarcated family units with children playing in the narrow spaces as only children will. Trash was piled here and there and, to the credit of the railway staff, we observed efforts to haul it off. There were puddles where some bathing appeared to have been attempted, and as children played with makeshift toys their parents lounged on towels looking morose. What is particularly sad is that most of these folks crossed into Hungary from Serbia, sometimes leaping over razor-sharp concertina wire and other attempts to slow the tide of immigrants making for Germany that, until recently, had opened its borders to all comers. The attraction of reaching Budapest is that it serves as the origin of the final train route through Austria to Germany, and Serbia proved to be the easiest border to cross for these impoverished former residents of a war torn middle east. Sadly, even those with tickets were prohibited by Hungarian immigration authorities from boarding the trains and many saw their scheduled ride depart without them. Imagine the frustration of being so close and having non-refundable tickets rendered worthless.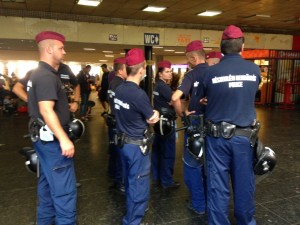 We pulled our bags through the huge station, ever aware of stepping on someone's "camp" in the process. We'd hoped to inquire at the station's Info Center about our options but Hungarian Police announced that ALL trains were cancelled that day, ours included. Furthermore, the information center was literally a waste of time due to the ridiculously long line of stranded tourists (of all nationalities and dispositions). We promptly surmised this wasn't OUR ride out of town, and returned through the crowded platform and rode M-3 (for the first time) to its final stop—the airport bus. On that we rode out of town, our unused train tickets pocketed away (and probably worthless), and immediately sought help upon arriving at the terminal. The guy at the information desk calmly said that we could have taken a bus to the Austrian border but, since we were at the airport and we had absolutely no assurance that Austria would keep their rail lines open, he suggested we visit a tourist office up on the far end of the mezzanine level. "They sell tickets for all the airlines," he assured us. He was right, and we snagged a couple one-way seats on an Alitalia flight to Rome, where I'm finishing this. It hasn't been the culmination of what we'd hoped to be a perfect visit to Hungary to meet cousins we'd never met, but meet them we did and every moment of that experience was the perfect realization of a dream begun years earlier.
Our departure adventure was, however, reminiscent of what can happen to travelers and we acted accordingly—a personal solution within a complex situation that many nations are facing or will face. Budapest's closing of the Keleti railway station was little more than a knee-jerk reaction. As one might obsess about a scratch on a car that has lost a wheel, it did little to alleviate the despair the immigrants are going through. Sadly, this situation demands cooperation between European Union and the public for a humane and efficient response to a growing stream of humanity seeking safer living conditions.