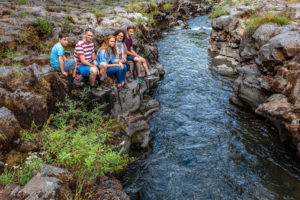 Nearly 2 years ago to the day, Sooney and I boarded an east-bound train from Munich, Germany, bound for Budapest, Hungary. We were met by my cousin, Péter Tatarek, at the Keleti train station and spent 3 glorious days exploring the birthplace of my maternal grandmother, Ilonka Néni. The account of our visit was documented in a blog posting with many photos illustrating the event.
On the day of our departure, we hugged Manyi, Péter's mother, and he accompanied us and our roller bags to the bus stop before heading off to work. Our plan was to check the bags at Keleti and sightsee until our scheduled departure for Vienna, Austria. From there, we had reserved bunks for the overnight train to Florence and, eventually, Lucca, Italy. That, at least, was our plan. Upon arrival at the Budapest's main railway station we were stunned to find thousands of mostly Syrian refugees camped everywhere who were also waiting for trains to Austria. The problem was the Hungarian government had cancelled all west-bound trains regardless of whether we (or many of the Syrians) had tickets. I learned that this was done to discourage further immigration into Hungary across Serbian borders to the southeast.
It didn't take us long to determine we weren't going anywhere via rail so we bee-lined it to the airport and scored a couple seats on an Alitalia flight to Rome. I read recently that on the following day, Sept. 4, 2015, thousands of those refugees gathered up what they could carry and began a mass exodus, on foot, to Austria, a 151 miles journey, without any assurance that they would be welcomed. Conditions at Keleti—with one bathroom per thousand persons—was no longer an option and their determination and resilience fueled their passion. Some were fortunate to get bus rides to the border but few, if any,  the air travel we purchased. I'm sure it was a blend of quick-thinking, luck, and fiscal privilege that got us out of there. So that was our final memory of Hungary until I received the March, 2017, email from Péter informing us that he and his family would be traveling to the US and wanted to visit us in Ashland.
The Tatarek family, Péter, his wife Szilvia, 2 teens Áron, Csenge, and 9-year-old Zsombor, flew into San Francisco and dealt with jet-lag while touring all the highlights. (It was fun to see their GoPro videos of rides on the cable cars, walks through Golden Gate park, and beautiful panos of the Golden Gate bridge.) The 5 of them then drove their rental car to Ashland for our reunion. We greeted them with hugs and a wonderful lasagne dinner prepared in advance. (We'd learned from a visit to Sooney's sister's in Florida that having frozen meals handy really opened up the opportunity for adventure—and how!) We also learned from other dear friends (and quintessential grandparents) that traveling with teenagers required activities that challenged their physical appetites. Our planning paid off in spades.
FLOATING THE ROGUE RIVER – After arriving on Sunday, Monday morning found us rafting and kayaking all day on the Rogue River thanks to our wonderful next-door neighbors, Gregg and Pat. We put in at Argo and pulled out at Grave Creek. Highlights included spotting a black bear sow and her cub munching on berries not far from the river. Later, nearly everyone enjoyed jumping from 4-5 meter-high rocks (these were, understandably, teens who are trained competitive divers so the metric conversion was obligatory). Almost everyone accepted the challenge to kayak inflatables through exciting rapids and a few even floated in their life jackets adjacent to the raft. Beautiful weather, great lunch of yummy wraps (the lunch table that first morning was a learning experience in itself), and good beer (Oh, I mustn't forget the soft ice cream at the Galice store). Pretty damn perfect, no? Well, the fun continued.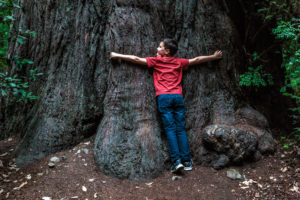 OREGON CAVES – After a day off to wander around Ashland, we headed off to the coast and, along the way, dropped into the Oregon Caves National Monument. A picnic lunch followed that included an introduction to the Stellar's Jay waiting to snack on any leftovers. We continued into California on the Redwood Hwy. and then turned onto the Howland Hill Road leading to the Stout Grove. After all that sitting, it was a blast to see the athleticism of the the kids as they climbed, ran and jumped up, down, and from the massive trees that are part of the Jedediah Smith State Park. We completed the Howland Hill road to Crescent City, CA, where we'd booked accommodations for a couple nights at the Curly Redwood Lodge "Where the Redwoods Meet the Sea!" (a vintage motel right on Hwy. 101 that incorporated much of its timber from a felled redwood tree that wasn't marketable due to its, well, curliness).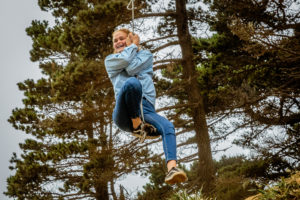 INDIAN SANDS TRAIL (A section of the Coastal trail meandering through the Samuel H. Boardman State Scenic Corridor) After a forgettable introduction to conventional breakfasts at a diner across the street, we purchased prepared sandwiches and headed back into Oregon to a place recommended by friends as a guaranteed welcome-to-the-Oregon-coast teenage rush. No doubt, it fulfilled all our expectations from the initial view of the rocky coast after leaving the canopied trail to the teens discovering the swinging rope that allowed them to video themselves with their GoPro, 20 meters above the sand (there I go again), and faces full of smiles. Hard to say, but the rocky cliffs provided even more opportunities to push the limit, and they scampered all over the terrain. (It was all I could do to position myself carefully for the occasional photo of them scaling scratchy lava mounds effortlessly.) Thank you, Marge, for the heads up on fun things to do with teens.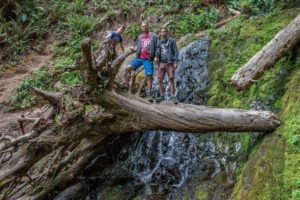 THE BOY SCOUT TREE TRAIL – Our return to Ashland began after an exceedingly better breakfast at the Good Time Restaurant. From there, we retraced our route via the Howland Hill Road to the trailhead to the Boy Scout tree (a 5-mile RT from the road). Although overcast, occasional sunlight filtered through the grove of monumental redwoods making the hike even more magical. After a snack at the massive tree (for which the trail is named) we proceeded on the Howland Hill road to Cave Junction where we stopped at Taylor's Sausage for a quick bite and purchased ingredients for the Paprikás Krumpli that Péter prepared that evening for dinner. (In Budapest he prepared the 3-hour feast over an open fire and settled on a stovetop variety for the sake of brevity.)
BIKING FROM LAKE OF THE WOODS TO FISH LAKE — Our activities were determined by the severity of smoke from local fires, and Saturday was reasonably clear. We set up a sandwich bar and, everything ready, headed up to the Upper Lakes (bike) Trail not far from Lake of the Woods on Hwy. 140. From the snow park, a shuttle car was dropped at Fish Lake day use area and we bicycled the 9 miles past Lake of the Woods and through the Brown Mountain lava flow. It was a perfect ride, and with food and drink at the destination everyone chilled for a picnic, a swim, and lounging in the setting sunlight. We explored the area and determined that Doe Point campground was worth a stay.
Sooney and I had OSF tickets to see "Off The Rails" Sunday afternoon, so off we went with the family enjoying a day poking around Ashland. Péter and Szilvi really enjoy flavorful beer and enjoyed the Growler Guys setup on Lithia Way that features 40+ handles of crafted beer and food to boot. They brought home a couple pizzas that served us well on our day-long trip to the upper Rogue River Gorge and Crater Lake the following day.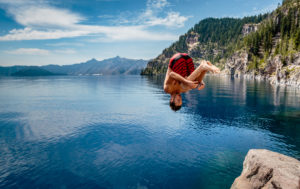 DIVING FROM CRAZY HEIGHTS INTO CRATER LAKE — We set off on Hwy. 62 with the intention of culminating our trip at Crater Lake. Fearing smoke, and hearing some accounts where the lake was barely visible from the rim, we were content with reveling in the Rogue River Gorge and taking our chances on the National Park. Much to our delight, coastal breezes pushed the haze eastward and we headed directly to the Chilkoot trail leading down to the boat dock and access to the water for swimmers and divers. On previous visits to the lake shore I'd not been aware of the diving rocks. This, being summer and warm, was perfect swimming weather and the rocks, a short distance beyond the boat dock for lake tours, was packed with animated visitors. Several foreign languages echoed throughout the area and our cousins, speaking Hungarian, barely raised an eyebrow. It was only when Áron and Csenge began diving did the attention turn to the kids. They were brilliant; back flips, forward one-and-a-halfs, and razor like jumps that barely generated a ripple as they repeatedly performed their magic.
"Hey, check it out. The dude's doing it again," was a familiar utterance as the two of them approached the rocky platform. Péter added to my still photos with underwater video that resembled filming in an Olympic pool due to Crater Lake's clarity. After a 700' assent back up to the parking lot we were grateful for having packed a couple of iced Caldera Pale Ales in the cooler. We opted to return through Fort Klamath, and the afternoon light made the drive that much more lovely. We even saw several raptors but not a single baldy. Big day, but not that unusual given the tone of the visit.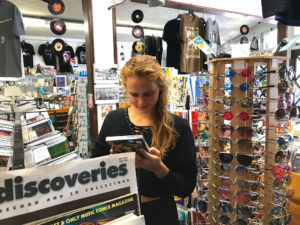 HIKING THE WHITE RABBIT TRAIL TO ASHLAND — Their final day was significantly easier but no less wonderful. The 3 older guys hiked up Park Street and continued onto the White Rabbit trail to Lithia Park. The rest of the family checked out the Tuesday Market where Sooney picked up some lettuce starts and they continued to the recently redesigned Garfield Water Park. Zsombor had a ball doing all he could to get Csenge engaged with all the clever water apparatus. They then spent the better part of an hour at the multi-faceted Ashland Art Centre where artists of all genre display their talent. We rendezvoused at Hiro Ramen on 1st street and pretty much called it a day. There was laundry to do, bags to pack, and plenty of genealogy stuff to finalize between Péter and Nick. I had scanned graphics and photographs that he wanted for his family tree. He, in turn, had scans of original photos of my great grandmother that were an unbelievable surprise. There was so much give and take throughout this visit that our only regret was that Alicia wasn't a part of it. Maybe the next time.