"Dave, where's Harry? Dave, find Harry," she repeated as if her two companions needed reminding. Her voice was loud and it was difficult determining her location on the trail. Dave, a shaggy golden retriever, showed up a moment later, apparently looking for Harry (or was it Hairy?) and scrambled past us without as much as a lick. We all were circumventing Matheson Lake that's adjacent to the wonderful Galloping Goose biking trail in southern Vancouver Island, BC. By then we were accustomed to the presence of dogs—a woman passed us earlier with nine dogs in tow. Sooney asked if she was a professional dog sitter as it was inconceivable to both of us anyone in their right mind would own, much less take, that many dogs on a trail as narrow and uneven as the one around the lake. "Dog walking is what I do," she politely corrected. We neglected to ask where she stored all the poop her charges left behind. Finally alone, we enjoyed a quarter hour with a noisy Wilson's Warbler that we later discovered, after post processing several images of the cute yellow bird, was bearing a band on its tiny ankle. We fantasized it may have been banded by KBO in Ashland and now wore it 550 miles north to this wonderful location—a short ferry ride from Port Angeles, WA.
The reason for our traveling to Vancouver Island was for a reunion of 7 former Canadian Academy teachers preparing for our sailing adventure into the Desolation Sound. Dave Harris is an accomplished captain and regularly collects a group of friends to crew and share his passion for sailing. This trip was centered around Comox, BC, the home of Julie and Rick Howell and a perfect departure point for the secluded coves and inlets near Cortes Island and points north.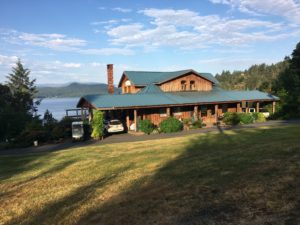 Before the reunion in Comox, Sooney and I spent a couple nights in Gresham with Bob and Bev and, after an overnight in Port Angeles, we ferried over to Victoria. After clearing immigration, we drove straight through touristy Victoria and took Hwy. 14 the 35 kilometers east to Sooke, a small community nestled among one of many coves and inlets on the sound. We planned on biking the Galloping Goose cycling trail for a couple days and chose the Arbutus Cove Guest House at milepost 35 as our base. Mike and Kathi Hicks were wonderful hosts and provided us shelter, nourishment, and seclusion befitting a first-rate accommodation right on the Sooke Bay. With pub-grub nearby, we explored the cycling trail in both directions over our 3 days and ate on no particular schedule. While the food may not have been remarkable, the outdoor patio at the Stickleback Eatery was an easy place to enjoy the sunset reflecting off the opposite shore of their moorage.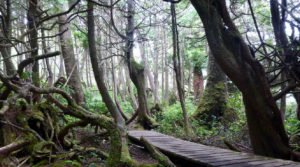 On our second day, we drove 81 km. to Port Renfrew on the SW. coast of Vancouver Island and explored the Juan de Fuca Provincial Park, including interesting Botanic beach during reportedly record low tides. There's a 2 km. loop trail that meanders through the coastal forest with access to the shore at various points. While lunching at a cute spot in Port Renfrew, our waitress filled us in on some of her favorite hiking trails along our route home. We chose a stretch of the Juan de Fuca coastal trail that was one of the more difficult surfaces we'd experienced in quite a while. The route was varied as thousands of visitors plied their own routes among the exposed roots of towering alder, maples, and the occasional Douglas Fir. In certain places, boardwalks were constructed providing temporary relief. Our destination, Mystic Beach, was an interesting illustration of ancient sea floors, intermittently stacked in a sheer wall facing the narrow beach. With the tide blowing in, we completed our hike and rewarded ourselves with a cold beer at a local watering hole.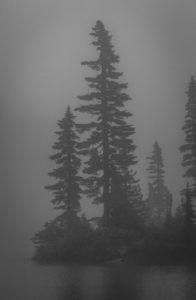 Our 3-day layover in Sooke was a wonderful reintroduction to Vancouver Island where we'd last visited during our camping adventure to Alaska 2 years earlier. It's an easy 3-hours drive up to Comox, and always a treat to visit Rick and Julie. Having the Fergusons along was an added bonus. With Captain Dave arriving on a late flight from Vancouver, we shopped for provisions and in the afternoon Rick suggested a hike in Strathcona Provincial Park (the largest park in Vancouver Island). The trailhead is located at the parking lot of the Mount Washington Nordic ski area, 25 km from, Comox, and despite threatening clouds we gallantly headed off. The first part of the trail consists of specially-designed boardwalks providing disabled access with a very gentle 5% grade, and we were entertained with a variety of wildflowers, wildlife, and weather. Mid-way through our 8 km. hike, the weather component turned foul and we trudged the final 4 klicks in rainy weather "more characteristic to November," Rick apologized. Unfazed (albeit soaked), we were safe and thoroughly enjoyed a walk far easier than our introduction to the Juan de Fuca trail a few days earlier.