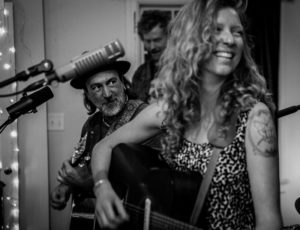 Alicia Viani wrote:
An inspired hello and well wishes. While focus has rightly been on the most significant civil rights movement of a generation and surviving and managing a pandemic, the arts have been carrying many of us through.
Because of your support, we created and completed my debut album in Nashville with producer Amy Speace and engineer Thomm Jutz. The support and feedback has been overwhelming. Thank you to those who let me know how the songs touch you. The album enjoyed a #4 peak position nationally on FolkDJ charts this spring. I've been truly delighted with the entire process and outcome.
I will be joined by Mark Karwan, Pete Kartsounes, Scott Oliphant, and Jeff Cramer at Parkway Sounds recording studio in Bend, OR, this Friday, June 26th at 7pm PST for the live online release show. We'd love it if you joined us live, and the links will remain active so you can view the show anytime afterward as well. We are thrilled to share our music with you in your homes with studio quality, so hook up the nice speakers.
It's free, but tips are appreciated via Venmo and Paypal (linked below). After paying the phenomenal band, all proceeds will be donated to BOLD, (Black Organizing for Leadership and Dignity), a national leadership training program helping rebuild Black social justice infrastructure and increasing the impact of Black organizers. boldorganizing.org
Links to live show:
Vimeo link
Facebook link
Tips:
Paypal Sign-in: (payable to aliciaviani@gmail.com)
Venmo Sign-in: (payable to @Alicia-Viani)
Kickstarter update:
Thank you again for making this album possible! I know that all contributors are waiting for the downloadable digital copy. We have had some technical and logistical bumps to navigate in creating the digital version. It will be available once the record is officially released on distribution sites. Thank you for your patience and you will most certainly get your downloadable copy as soon as it is available!
Much love to you all and see you Friday.
www.aliciaviani.com (for more information and links to media, interviews, photos, and announcements of future shows).