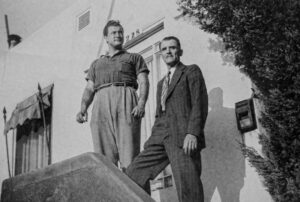 On a recent trip to Villa Viani, Italy, our ancestral village, my cousin Roselina pulled out a tattered album with some photographic gems. The faded acetate had adhered to many of the photos, prohibiting pulling them out for information written on their reverse sides. Of particular interest were the photos of my dad in his early 20's—photos I'd never seen. They were stunning, and I did the best I could to optimize the light, hold my snapshot camera steadily, and hope for clear images. To borrow these priceless photos and scan them at home with high quality resolution was out of the question. So snapshots I have, complete with reflections, stains, and many painstakingly removed spots.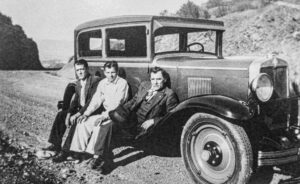 In 1906, my grandfather, Luigi Viani, passed through Ellis Island when he was 22 years old. He then made his way to Los Angeles and connected with his sponsor, brother Terzo, 3 years his elder. Remaining in Villa Viani was another brother, Giuseppe (Pio). Pio was 8 years younger than Luigi, and served in the Italian military prior to migrating to the USA. During his military service, he was awarded the Cavaliere dell'Ordine di Vittorio Veneto (Order of the Knights of Vittorio Veneto), a form of Italian knighthood, for saving lives during Italian conflicts in Libya prior to WWI. I'm unaware of his immigration status but, following his arrival to Los Angeles in the early '20's, he worked as a cook and is featured in many of the photographs sent back to Villa Viani that now reside in photo albums like the one we enjoyed at Roselina's.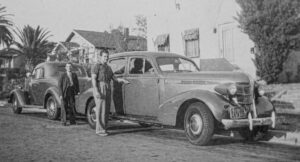 The photographs displayed in this post were sent from Los Angeles, where my father was born in 1912, and were most likely sent to family members in Italy by both my grandfather, Luigi, and my great-uncle, Pio. They reside with many others in albums that document photographically our family's expansion abroad and hold countless stories within. For now, these four show the brothers Luigi and Pio, and Luigi's sons, Guiseppe (Joseph) and Peter, a year younger. What I found particularly interesting was their fascination with automobiles and they were included in several of the compositions. Bear in mind that a car similar to the ones displayed here would be well beyond most Italians' wildest realities. At least those Italians remaining home in Villa Viani. Quite frankly, they wouldn't have fit in the narrow streets.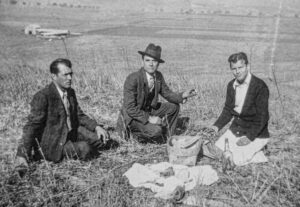 Many of our family migrated to to America to improve their livelihoods. If photo albums could speak, it appears that many did just that. It also validates the notion that some things simply can't beat a picnic. I'm sure Pio had something to do with this menu.