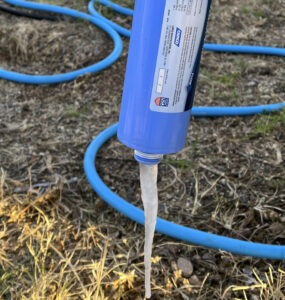 The routine is simple: turn off the alarm, turn ON the furnace and the electric hot water kettle, and scramble back into our warm bed. It's quiet, still dark, bitterly cold outside, and little has changed for the past 10 days! Thankfully, the temps are slowly rising, day by day. At one point during our second night on the preserve, it dropped down to 8° and froze our outdoor water filter. Nothing serious internally, thank our stars, and we're seeing high 20s the past few mornings. About 7:30am, the warm rays of the sun make it over the nearby Patagonia Mountains and penetrate our down jackets and warm our faces. By this time, guests have arrived and we greet them from the sunniest place in the visitor center's outdoor patio. By mid-morning, jackets are removed and daytime temperatures are in the 70's and climbing as we look ahead.
There are 2 locked entrances to the Patagonia-Sonoita Creek Preserve. At 7:30, Nick bundles up, swings open the main gate for vehicles, and rides his bike a half mile up the road to unlock the "Green" trail gate on the north side of the Preserve. Across the street from this gate is a trail that connects the Preserve to the Paton Center for Hummingbirds. While Nick's out and about, I opt for less-cold-wind-on-me-that-early and head over to the Visitor Center, about 50 yards from our trailer's pad, to perform the opening ritual. The office is unlocked (electric ceiling heat has warmed it), the info display with brochures and Nature Conservancy magazines is placed on an outside counter, the visitor's restroom (also warm) is unlocked, a box of masks put out, the hand sanitizer dispenser is hung, the Welcome Center concrete floor is swept, and we're ready for guests. When they're out on the trails, we retreat into the warm office, raise the blinds to allow precious sunlight inside, and record the low and high temperature from the previous day. It's strange using a Windows machine to record this data along with our daily volunteer hours, but it's a simple routine. By 8am, it's our turn to hit the trails. Well, at least one of us; the other remains stationed at the Visitors Center and performs ambassadorial duties.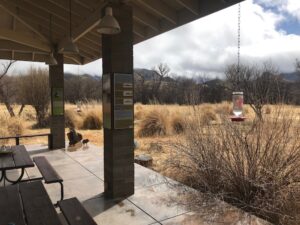 Out on the patio are two hummingbird feeders that when nearing empty are washed and refilled later in the day when it's warmer; the thought of washing them with cold water at the outdoor sink sends a chill down the spine. Luckily the two male Anna's aren't big drains on the sugar water. They spend most of their time chasing each other from one sunlit feeder to the other. Every morning one or two Gila Woodpeckers drink undisturbed. The Violet-crowned is showing up (and showing off) at the Paton Center just up the road. So far, none have been sighted here yet.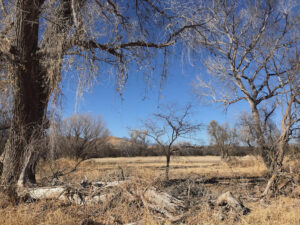 It looks (and feels) like winter here; colors are mostly brown, gray, and golden-wheat with scattered Juniper trees throughout the preserve. The growing signs of spring are in the abundant clumps of gray-green Horehound in the dry fields, emerging bright green wild hemlock near the creek, the bank willows with opened catkins attracting insects, the widespread Mexican Elderberry shrub/tree well leafed out, and a couple of yellow blossomed Ragwort shrubs. A hint of new growth on the Mesquite trees is actually some of last year's leaves still holding on. As we explore the trails, our boots rustle last year's Cottonwood leaves from huge centenarians as well as dried leaves hanging on and crackling in the breeze. For 2 months we'll live on a 300-acre section of the Nature Conservancy's 873 acres property, their first in Arizona. Purchased in 1966 from a developer who gave up on building a golf course and housing complex, the preserve features a significant stand of Fremont Cottonwoods and Goodding Willow. Flowing through the northern section of the preserve are the first two miles of the year-round Sonoita Creek and the floodplains alongside the creek that serve a large population of White-nosed Coati and Javelinas. While most days feature clear blue skies, we had one day of on-and-off again rain that measured a ¼" on the gauge. It will be fun to see how that precipitation impacts the otherwise dry terrain.
Our schedules are conforming with what we want to do during our daily OFF times. As ambassadors for The Nature Conservancy, we are the smiling faces at the Visitors Center. Between 7:30am – 4pm, one of us is ON at the VC and available for local or out-of-town visitors who are welcomed and presented maps of the trails. The majority come from points north (Minnesota snowbirds are currently the most common). The farthest away so far was a doctor from the Netherlands, in Tucson for a medical conference, who loves birding as a hobby. He was pleased to share a nearby location we hadn't yet visited to see overwintering Chestnut-collared Longspur. It's a win-win, with information shared both ways; often about birds on the preserve that we know about, species they are looking for, where they're from and favorite places and hot spots both there and locally, and, eventually, eateries. Meanwhile, the other of us is OFF and on a trail with the morning light for about 3 hours. When folks come off the trails and pass through our covered area, they usually stop and share their sightings and where we add new sightings to the board. If it's a bird we haven't seen, we like to see it and confirm the sighting for ourselves.
After a few hours, the OFF one of us returns and we do a switcheroo until lunch. After lunch, another switch. We flip-flop days, and around 3:45 rejoin to begin the reversal of opening. Gates are locked at 4pm, the VC tidied up, and we're free to bird together, walk a trail, go into town, or do whatever together or apart. That's how it's working now, and so far so good.
Siri says Patagonia has a population of 804. We think it may be closer to a thousand. It's likely Siri doesn't count snowbirds here for the winter. We have had good conversations with locals who are admitted free to the preserve; others pay a suggested fee of $8 for a weekly pass. Nobody keeps track who's paid or not; cash is placed in a slotted piggy bank and TNC will never turn anyone away. Downtown consists of 4 streets crossing Hwy. 80 (connecting Sonoita and Nogales), and features an expansive central open space on the main drag that includes a butterfly garden, a city hall, public restrooms, health center, and more. When we opened our PO Box shortly after arriving, there was a landscape plan displayed that demonstrates how the community is coming together to implement a redesign with more native plantings to mitigate flooding and attract pollinators and birds into the town. Something to see in the future!
Patagonia has a museum, a historical society, and a local library where we hope to find an original penned by one of our birding visitors last week. It's about a Mexican girl who was captured by the Apaches and rescued by a surveyor determining the US-Mexican border in 1852. One exciting part was the quicksand they experienced on the property on which we are now hosting. Other amenities in this surprisingly comprehensive community are an opera House, a community choir, a few good restaurants, a small and well-stocked community food store (keeping us supplied with greens, veggies, and Half & Half), and a bakery that's provided us several yummy treats.
As we meet and greet at the Welcome Center (training for our next gig at Walmart), we've enjoyed learning about a number of advocacy groups for the environment. One, Borderlands Restoration Network, stands out and is worthy of further exploration. As stated on its website, BRN "supports conservation and immigration programs that protect human and nonhuman life in the borderlands, while encouraging cross-cultural communication and learning. We stand alongside border communities and organizations in opposition to physical barriers, activities and policies that inhibit the inter-connectivity of wildlife, land, water, and people in the US/Mexico border region." We plan to visit their Native Plant and Seed Nursery, see the efforts of the Women Grow Food program, walk in the Wildlife Preserve to learn more of their Quail (and other species) habitat restoration projects, and their work in and around a critical migratory pathway for birds and large mammals (e.g. the jaguar) between the Huachuca and Santa Rita mountains.
And then there's the mine. A couple of locals dropped by the VC and shared their efforts to keep a close eye on the controversial Hermosa Mine. They and their PARA group (Patagonia Area Resource Alliance) want transparency in the mine's plans for the future and the plausibility of its actions. That's an BIG rabbit hole to go down. Meanwhile, in nearby Sonoita, is a brewery and several wineries we have yet to visit. Much to do, and nice to have time to do it.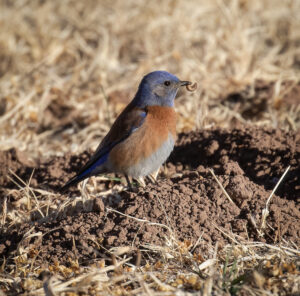 The birds we're seeing daily or intermittently are Say's Phoebes fly-catching in the fields, a Gray Flycatcher usually on an outside branch, a large flock of Lark Sparrows, noisy Gila Woodpeckers, Northern Flickers, a couple Northern Cardinals, the Bridled Titmouse and White-breasted Nuthatch, Lazuli Buntings (perhaps here for a spell to come into breeding plumage before heading to northern locations), Lincoln's and White-crowned Sparrows, a couple Green-tailed, Abert's, and Canyon Towhees, a few House Finches, Bewick's Wrens, a couple of Ravens, some Yellow-rumped and an Orange-crowned Warblers, a couple Vermilion Flycatchers, several Robins (usually at the creek), Black Phoebes, a nesting pair of Kestrels, and a Sharp-shinned, Cooper's, and Red-tailed Hawks. This morning (Feb. 16), a small flock of Western Bluebirds showed up and scurried about in search of grubs surfacing after a recent rain.
We love our trailer! Very cosy—perhaps a little too cosy for yoga—but doable on the narrow floor. When it begins to warm up, we'll put up our 10' bug house in the shade with a tarp floor for something more permanent. We're grateful to have both electric, water, and WiFi connections to make life easier. Our electric water kettle eases the early mornings and evenings and is a good way to create more moisture in the air. Our microwave warms up rice bags that we wear and/or toss in the bed. Another very useful electric item is our air fryer that we plug in outside and enjoy roasted carrots, potatoes or yams among many options from savory to sweet.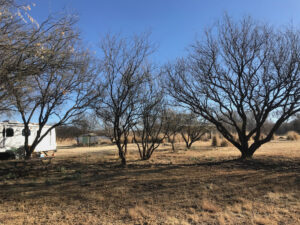 The creeping matte weed, in patches everywhere in the open fields, looks innocent enough but sticks to soles of our shoes and would cause havoc in our trailer's carpet (not to mention hair-thin needle-like stickers to getcha later).
We've been hearing claims from across the nation how birds are actually fake. Not so in Arizona! More on that next time.
—Sooney Viani