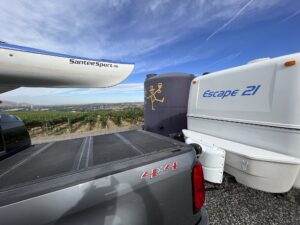 Our wonderful visit with family concluded, several exciting destinations awaited us: more Harvest Hosts, more kayaking, and the culminating event—a pelagic birding trip 41 miles off the coast of Westport, WA. Our return route followed that of our arrival: south along the Yaak River and then west to Bonner's Ferry. Yep, the fairground was still there and after dumping our accumulation we proceeded to an enjoyable overnight at the Knott Family Lavender Farm.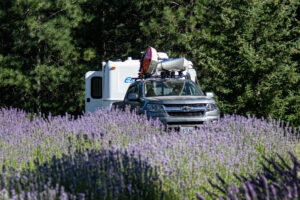 The hosts were a retired navy couple who had it living in big cities and chose an idyllic forested plot in the middle of nowhere. The former owners didn't tell them anything about the operation. Simply sold it and moved on. So our hosts did copious research and the result is a nice hobby farm with a variety of lavender products.They're growing 6 different varieties of lavender dispersed over a sunny couple acres and, yes, we camped at the end of several rows of lavender, right next to their bee hives that produce honey as an additional product. We had the place to ourselves and, while initially hot, we enjoyed the fragrance and a late-afternoon chill.
Our objective was to cross Washington by following Hwy. 12/Interstate 82 along the southern border. That route conveniently returned us to the Columbia Valley that features several excellent wineries serving as Harvest Hosts. Our first taste was the Smokey Rose Winery in Walla Walla. We were their very first Harvest Host campers, so I showed 'em the ropes. We parked in a shady spot and I visited the tasting room while Sooney had a phone date with good pal Annie. Expecting an expansive operation, I was surprised to learn that they outsourced all their grapes, leaving the farming to others and specializing on making wine. On one occasion, a grower had an unpicked harvest of Sangiovese grapes that they gifted Smokey Rose. These episodes evidently occur periodically, and nobody wants to see good fruit go to waste. I mentioned in the last post how the larger AVA regions were subdivided into specialized AVA's and Smokey Rose was proud of their fine Mourvèdre vintage of which I, our course, purchased a bottle after tasting several others in their small venue. The Sangiovese was long gone.
Short drives were a pleasant reprieve, and our next stop was Benton City to taste the Merlot and Cabernet Sauvignon varietals they're known for. Hampton Cellars was at the end of a couple miles of orchards; the barren beige of distant rolling hills contrasted beautifully with the vibrant vines. At sunset, those hills became golden and resembled the miles of hay fields we'd passed farther north. There appears to be no shortage of water in the Columbia Valley, and the grape industry is flourishing. The tasting room was opulently outfitted with expensive-looking University of Washington Cougar sports paraphernalia so I kept my loyalty to the Oregon Ducks close to my chest. Our 'tender was a local woman, born and raised in Zillah, and she shared years of her past with us, her only customers. She later showed us where to camp and pointed out the water and power hookups that were a pleasant complement to the a bottle of their 2015 Weinbau Cabernet Franc, a double gold winner, that she found stashed beneath the counter. We enjoyed the tastings, and let the judges be our guides. Worked for us.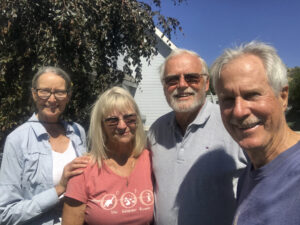 Our final Harvest Host winery was in Yakima, and en-route we lunched with long-time friends from our teaching days in Balikpapan, Indonesia. Harlan Lyso was the head-of-school for two of our five years there, and our two families (pre-Alicia) spent a lot of time together. They moved on to other international schools and we lost track—but not the fond memories. It wasn't hard reconnecting with them—their son, also now an educator and barely 5 years old when we'd last seen him—was visiting with their children. Harlan and Mary were leaving the following day for a European vacation and that they had the graciousness to host a luncheon the day before departing astounded us. I suppose a career of traveling internationally taught them some tricks; not like us who succumb to self-imposed anxiety weeks before any major trips. I can honestly say, however, that a mere half hour into any major journeys is all it takes to put that angst behind us, this trip notwithstanding.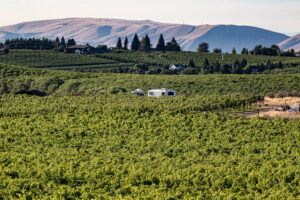 It was barely a 20-minutes drive to our final Harvest Host, Wildridge Winery, located in the hills outside Yakima. After we parked our trailer on a sunlit ridge amidst their biodynamic and organically-grown orchard, we delayed our tasting for a bit and and enjoyed a hour of yoga on the shaded lawn in their lovely garden-like setting. Sooney particularly liked the Viognier so we bought a bunch and enjoyed it throughout the rest of our journey.
With trepidation we began the next stage of our road trip, following Hwy. 12 into the lovely Cascades between Mt. Rainier and Mt. St. Helens. I'm admittedly uncomfortable pulling a trailer without a destination established and someplace to camp. Neither of these were our guides, and traveling late in the day didn't settle my nerves one bit. After striking out in a couple campgrounds, we adventured off on forest road NF-4510 that eventually leads to Soda Creek CG (4 miles). We found a sweet spot on Carlton Creek about 2 miles in and set up on a lovely off-the-grid campsite, right on a creek that served us well for a couple nights. The following morning we were surprised by the chatter of a flock of Western Tanagers in the nearby conifers. They yacked it up most of the day and, I suppose, so did we. Baths, laundry, and a couple cups of the juiciest huckleberries imaginable—now that's a recipe to calm my nerves.
After a hearty breakfast of huckleberry pancakes, we broke camp. It was a bit of a shock to drive 20 minutes to the bustling community of Packwood, WA. This is apparently an adventure destination and we kept our creekside secret to ourselves while we shopped for provisions. Continuing along Hwy. 12 to Mossyrock, WA, we slipped into the last remaining campsite available that night at Ike Kinswa State Park, located on the confluence of the Tilton River and Mayfield Lake. We arrived on a Sunday afternoon, and the place was jamming! Loud muscle boats and hundreds of day users with all kinds of kayaks, water toys, and inflatables completely dominated the scene and, to be honest, overwhelmed us. Poor us. So we made a plan: scout out the area and get there with our kayaks as early as possible. The day use area opens at 8am, so that was it. We retired to our sweet little campsite and chilled out.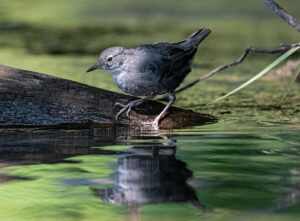 The next morning we were the first vehicle in the parking lot. We launched our Hurricane kayaks and paddled easily up river to the beginning of a lovely mossy-walled canyon complete with a waterfall we could kayak right up to. We proceeded up river, navigated some riffles, pulled our boats through a sand bar, and eventually grabbed a bite attached to a fallen tree that pretty much ended our exploratory paddle. The birding was sketchy; a dipper and kingfisher were present and a spotted sandpiper pecked away along the shore. Somewhere nearby, a Willow Flycatcher called but remained elusive in the shrubs. As the sun rose, so did the temperature and we began our paddle downstream to a special surprise. Reentering the canyon with sunlight at a higher angle transformed our experience; it was like entering another world.
The sheerness of the walls and the deep water rendered the current negligible. We intuitively pulled out our iPhones and started taking movies. Native oaks filtered the sunlight, casting reflections on the moss-covered walls with an eerie, geometric pattern. As we were the only persons in the canyon, our soundtrack were droplets falling from the ferns and a nearby waterfall. We got within a foot or two from the walls and, with a gentle twist of our paddle, let the scene unfold as we slowly drifted by. A juvenile bald eagle flew in to see what all the excitement was about—this went on for the better part of 20 minutes.
At some point the magic ebbed and a pontoon boat with an animated pack of kids motored in our direction. About the same time, an adult baldy flew down the canyon, right over the float, generating excitement they may not have expected. Their destination was the swinging ropes attached to overhanging trees that some visitors use to play in the water—the day before as many as 40 motor craft were in this same canyon—and in the same area we'd had to ourselves moments before. There's no duplicating experiences like that, so we birded the water around the day use area and, satiated, pulled out our boats and headed "home."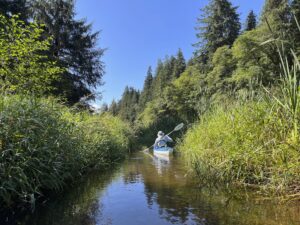 Our ultimate destination for this road trip was our long-anticipated pelagic birding trip the following Sunday, but we still had 3 nights camping before our rendezvous with our birding buddies. I'd typically researched camping opportunities, and found a spot on a cute lake just outside Montesano, WA. Sylvia Lake was smaller than we expected, and provided a nice blend of entertainment: kayaking, hiking and, because we disconnected our trailer, an opportunity to refill our propane tanks and fuel up. Always the perfect navigator, Sooney successfully found a bakery and an organic grocer.
Our staples refilled, we headed toward the coast and connect with Marty and Terry birding an expansive stretch of beach. Brown Pelicans were diving and maneuvering away from impudent Heermann's Gulls doing all they could to snatch the catch. Way out on the horizon, we noticed a dense flight of sea birds, thousands of them, and completely unidentifiable even with our powerful binoculars. At the time, we dismissed it and proceeded to our 3-night campsite in Westport RV Resort.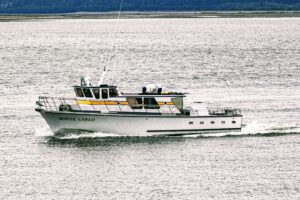 The Monte Carlo is a 50 foot Delta built charter boat. It has been owned and operated by Phil Anderson since 1982. Phil is the former director of the Washington Department of Fish and Wildlife where he worked from 1994 – 2015. After leaving the Department he was anxious to get back to his true love of spending time on the ocean, be it fishing or enjoying pelagic birds. The term "pelagic" describes a bird that spends a significant portion of its life on the open ocean and rarely ventures close to land except to breed. Pelagic birds may be found hundreds or thousands of miles offshore and are powerful fliers that can remain aloft for hours while gliding or soaring. We had a memorable experience 41 miles off shore. All in all, our group of about 14 participants spotted 36 species of birds, many of which accommodated us by landing on the mirror-like surface.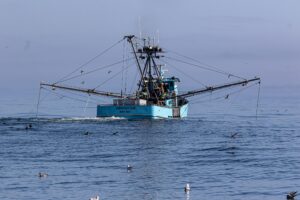 Our skipper took advantage nearby shrimp boats that, while pulling in their harvest, create an environment pelagic birds thrive on. Especially those with nostril tubes on their bills that can smell an easy meal from miles away. One deck hand mentioned these were perfect water ski conditions; another added that they hadn't seen a day like this for over a month. Sadly, we never got to see the "aerialists" using their long wingspan to maneuver the winds while soaring over their ocean terrain. It was a tradeoff, and when at sea, calm is generally considered best: no complaints from this photographer.
One species we saw abundant quantities of was the Sooty Shearwater. They breed in enormous colonies in both the south Pacific and Atlantic Oceans on islands off southeast Australia, New Zealand and Tierra del Fuego (South America) where certain breeding congregations can exceed 2.5 million pairs. When not breeding, the Sooty Shearwater embarks upon one of largest mass migrations known. Shortly after fledging, the population begins to move towards the northwest corner of their respective oceans by following the prevailing winds. Naturalists on our birding trip assured us that the distant birds we spotted a couple days earlier on that beach were most likely Shearwaters. Our trip completed, we followed a familiar path back to Ashland with perfunctory stops in Gresham to visit with dear friends, Bev & Bob. We're looking forward to future birding adventures in Panama but our primary objective is to avoid the plague. So far, so good.