No longer symptomatic, I let COVID be damned and pursued the birding safari we'd planned. Not recklessly, however. I continued to quarantine and remained within the perimeters of a sensible safety protocol to those around me. That said, my meals were delivered to my quiet bungalow and days were spent wandering the Tranquilo Bay property looking for interesting things and snorkeling in the warm Caribbean water. Sooney and Carol, having quarantined themselves, continued to search for new species and enjoyed offsite guided birding adventures by themselves. My inability to participate on those treks is the basis for my submitting a claim to the travel insurance we purchased for just these kinds of situations. How that prevails is yet to be determined, and from what I've heard these cases can be tedious.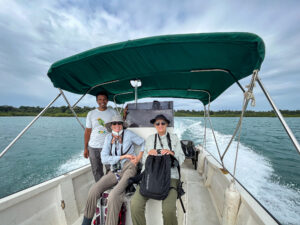 After a full week, we bid the wonderful staff at Tranquilo Bay Eco-Adventure Lodge a thankful farewell in anticipation of the next leg of our journey. Following the 45-minute shuttle in their outboard skiff to Bocas del Toro on Isle Colón, we connected with Panama Air for our flight back to Panamá City. We were met at the Marcos A. Gelabert domestic airport by a shuttle driver from the Canopy Family of lodges who delivered us to El Valle de Anton, a beautiful mountain town nestled in the crater of an extinct volcano and the location of Canopy Lodge.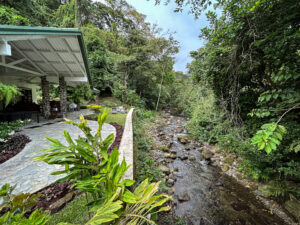 Still waiting for my "get out of jail card" (a negative COVID test result), I continued to quarantine and, as before, followed the requested protocol that consisted of tasty meals delivered outside my door. Sooney and Carol, meanwhile, shared another room and took their meals with other guests on the lovely outdoor patio overlooking the Rio Guayabo and participated in 4-days of structured birding events with excellent guides. My forays outside the comfortable accommodations consisted of wandering the property, camera at the ready, and expanding my territory to include the road into nearby hills for some exercise and sightings of a few new life birds.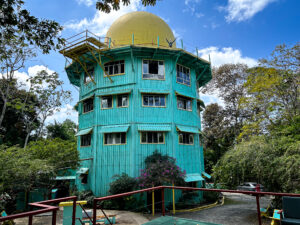 After 4 nights at Canopy Lodge, we transferred to yet another Canopy property, this time the highly anticipated Canopy Tower. Initially built as a US Air Force radar installation in the wake of the Cuban Missile Crisis, the tower later served as an air traffic control center and later as a Panamanian communications tower before being closed in the mid-'90's. In August of 1997, the government of Panama signed a long-term contract with Raúl Arias de Para (of the Canopy Lodge family) to transform the tower into a center for rainforest observation and ecotourism in Panama. It has served that role since January, 1999.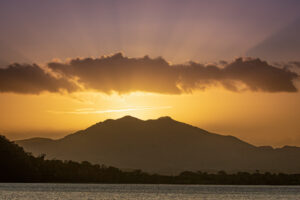 After 12 lonely days, I finally tested negative and we collectively resumed our daily routine in the field. That consisted of regularly awakening before sunrise, grabbing a bite accompanied by some great Panamanian coffee, and meeting our guide in his vehicle for a morning of hunting. With binoculars and camera, of course. Back in time for lunch, we'd take a siesta, and our guide would gather us up at 3ish for an afternoon in another location. We'd return at dusk, enjoy an evening meal, Sooney and Carol would compile and post their daily sightings to eBird, and I would process photos. Pretty serious traveling.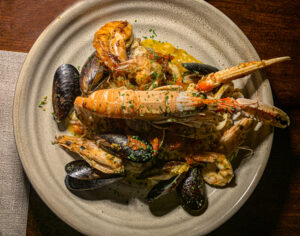 We continued to get in daily walks, especially when we relocated to Panamá City for our final 4 days. From the Radisson Hotel (our base in the city), there's the Amador Pedestrian and Bike trail that was created with soil removed in the original construction of the Panamá Canal. A narrow roadway runs adjacent to the walking path, and it was a pleasure to share such a popular spot with locals. The causeway connects to a marina and a local favorite restaurant we enjoyed. The walk back to our hotel was particularly lovely at sunset.
Our nearly 3 weeks of birding may hardly sound recreational. To be truthful, the 8-10 hours spent daily focusing on bird sightings did catch up with us. We nevertheless sighted 350+ different bird species in our nearly 3 weeks in Panamá. Of that number, 135 were absolutely new to Sooney, whose "life" list is now 934 species. So we wisely toned it down for the final 3 days in Panamá City and enjoyed morning walks (guided, of course) in Metropolitan Park and spent afternoons on our own.
One interesting visit was to Miraflores Locks, an up-close visit to the Canal. After an informative IMAX 3-D movie showcasing the history and highlights of its construction, it was yet another thing to be within a hundred yards or so of a Viking cruise ship navigating the locks. Those ships are HUGE, and there was joyful conviviality between the hundreds of passengers and the audience observing the passage from the on-shore museum. Once the ship passes into the next lock, the massive gates close and water is removed in order to drop the ship to sea level. After a short distance, it will pass beneath the Bridge of the Americas into the Pacific Ocean.
We have friends who have taken dozens of cruises and obviously love 'em. While we're not inclined to take a voyage on a cruise ship that large, we've often thought how much fun it would be to participate on a bike & barge package. One's being organized by a former colleague from our teaching days in Japan so we may join up sooner than later.
Another non-birding foray found us exploring Casco Viejo ("old town") that was built following the near-total destruction of the original Panamá Viejo that was attacked by the pirate, Henry Morgan, in 1671. We were thankfully able to appreciate recent efforts to restore the old town, and used Uber to easily travel between our hotel and a couple of interesting restaurants located there. One in particular was Rosanegra Modern Italian cuisine that was fabulous. My Risotto Mariscos was over the top, and the experience was a delightful culmination of our wonderful return to Central America. Perhaps a trip farther south (Columbia?) may be in our next-year's plans.
We have two lives
and the second begins when
you realize you only have one.

Final stanza from the Portuguese poem, O Tempo que Foge by Ricardo Gondim. 'Nuff said.