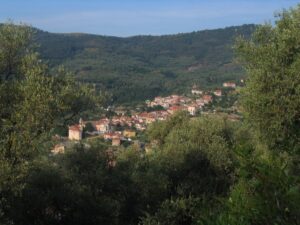 Our 7-hour journey riding the trains from Florence to Porto Maurizo was worth every minute because we've finally arrived in Villa Viani, the birthplace of my grandparents, and the home of our family's oldest-living relatives. Siblings Roselina and Piero are the children of my late grandfather's brother, Pio Viani, and continue to live in rural Villa Viani tending the olive trees, grapes, and expansive gardens. There's not much that doesn't grow well in this Ligurian coastal village of 200 inhabitants, and the principal export of the region is its famous olive oil.
In addition to Pietro and Roselina, our Italian extended family consists of Simona and Federica Ramella, daughters of Roselina, and Paola, the only child of Pietro and Vittoria, and all three are successfully working locally (although not in Villa Viani). On the surface, very little appears to change in Villa Viani when we return here every couple years or so. The town looks the same, and very little new construction appears to have taken place. Italy, however, appears to perpetually remain in a state of reconstruction–I suppose that's reasonable for a country getting by quite well in 12th century structures. We do notice the varied seasonal vegetables that determine much of the local cuisine. As this trip has us here mid-June, there's a considerable vacuum at the moment: the cherries and fava season is finished, but practically everything else is pending. Of course, the market provides everything necessary, and our latest discovery is the Cuoci di Bue tomato (heart of the ox) with its distinctive chambered sections and juicy red interior. We figure to introduce this variety to southern Oregon next summer.
Piero spends the majority of his time tending his crops–the couple acres adjacent to their house, another couple acres several Km. up the road in the campagna, and the hundreds of olive trees covering the hillsides in between. His wife, Vittoria, originally from Borgo d'Oneglia downriver a bit, oversees the house they built 20 years ago, prepares the fabulous meals, and sees to the rentals they've accumulated both in Villa Viani and in nearby Oneglia, 8 miles away on the coast of the Mediterranean (actually the Ligurian Sea in these waters).
Rosalina lives a much simpler life than her brother, and occupies the former home of her father, Pio (the brother of my grandfather). Her two daughters live outside the home, so besides us, Roselina's companions are her 3 cats. Her house is an interesting maze of rooms, floors on various levels, and stairs leading up and down throughout the house. In these old villages where most structures share walls, it's not unusual for a house to expand above and/or below an adjacent house, but not necessarily be connected in any way to the room immediately above or below or next to it. Hence the myriad staircases that wind up, down, and around somebody else's kitchen, as may be the case. Rosalina very adequately raised her two daughters in this narrow home, and continues to manage quite fine.
A treacherous circular staircase descends from Roselina's kitchen to the basement where Piero stores all his olive oil and wine-making equipment. His specialty is a white wine made from the Vermentino grape he grows on a good half of their garden. The Vermentino originated on the island of Corsica, and is well-adapted to Liguria. In fact, Piero mentioned that the agricultural climate in Villa Viani closely resembles that of Sardinia, which accounts for the diverse varieties harvested here, including lemons which are our benchmark when comparing growing regions with our own in southern Oregon.
Villa Viani is actually a "fraction" (frazione) of the extended community of Pontedassio, which is 8 Km. from Imperia. Imperia, in turn, is actually a combination of two cities, Oneglia and Porto Maurizo, and locals continue to distinguish between the two cities for their respective qualities. Imperia is approximately 30 Km. from the French boarder, which makes the Nice International airport the preferred terminal for many travelers. Milan's airport is a long 3 hours away (with a transfer in Genova), and due to its size and air traffic, much more congested. We've begun using a local bus connection directly from Imperia to the Nice Airport that makes traveling very easy, indeed.
Liguria is the Italian region that hugs the sea ("The Riviera") and extends along the coast from the French boarder all the way to La Spezia. Its major city is Genova and the region has a long history of shipping and maritime prominence. From a tourist's perspective, the now-discovered Cinque Terre ("5 lands") are located southeast of Genova, and are famous for the picturesque hike between the 5 villages. The five villages are, from west to east (i.e. from Genova towards La Spezia): Monterosso al Mare, Vernazza, Corniglia, Manarola, and Riomaggiore. Beginning in Riomaggiore, walkers proceed along the hillside to Monterosso al Mare, with time for a wonderful seafood meal in Vernazza along the way. The significance of these towns is that until recently, most were accessible only by boat, train or by foot. A rarity in Italy, cars and motor scooters are generally a non-issue in these lovely villages.
A wonderful thing about Liguria are the plentiful paths along the sea. in addition to the Cinque Terre, it is easy to catch a bus from Oneglia to Porto Maurizio and walk back along the coast to Oneglia. Another option is to walk from Oneglia to Diano Marina along a walkway paralleling the sea, have a leisurely lunch in Diano, and walk off the meal back to Oneglia.
Before this sounds too much like a regional travel promotion, it's significant to point out how much we've gained from reconnecting with our Italian family. So many Americans have ancestors who passed through Ellis Island near the turn of the century, and children born in the USA often shirked their European lineage for one reason or another. Before his death, my father helped us connect with our relatives overseas, and it's clear that we're all one family now. Villa Viani is located in a beautiful area of Italy, and Italy's greatest asset are its people. We're thrilled to call many familia.