Driving up Interstate 5 to Port Angeles, Washington—and the ensuing ferry to Victoria—we impulsively decided to change our route just a couple miles south of Portland and headed west to the Oregon coast. This took us through Seaside and Astoria and then over the Columbia River into Washington and on up 101 through the western reaches of the Olympic National Park to our ferry ride. Fortunately, we camped out a couple times along this beautiful journey.
The first night we camped close to Cape Disappointment State Park, and the next night made it to the Olympic State Park for an overnight at Quinalt Lake. Disappointede we were to have arrived to late for any camping spots. We therefore drove into a "commercial" RV spot and learned they're not all the same. We had a private spot far from the big rigs and their hookups.
Quinalt Lake is really beautiful, and on next visit we hope to cycle around it. For starters, we enjoyed a wonderful hiking trail through the rainforest near the Big Falls campground, and we thoroughly recommend the alternate hike of approximately 3 miles. There are ups, downs, and the lovely canopied path heads off into territory not often visited by the casual tourist.
Since our ferry reservation was for the following noon, we allowed a couple hours for the drive up to Port Angeles, and barely missed it because of the required 1-hour pre-departure arrival time. Nonetheless, they found room for our camper and off we sailed for Victoria, BC, and a couple weeks visiting friends and exploring new adventures.
In vacations past, there has been a tendency to drive long and hard with late-afternoon arrival times at our destination. Time restraints dictated generally short stays at these destinations, and off we'd scoot early the next day for a repeat performance. In this the life of perpetual Saturdays, we opted for shorter journeys, earlier arrival times, and an allowance for some activity in the afternoon leading up to a casual dinner. Departures tended to be mid-morning with our next camping spot not more than a 3-4-hour drive away. When planning our trip, we found BC regional parks were placed conveniently along our journey with several options for layovers and the opportunity to book a spot in advance via the Internet. Our first overnight in BC was Goldstream Provincial park, a mere 30-minutes north of Victoria. There are some lovely trails in the woods, and campsites were respectfully distanced from each other.
Our first social destination was Cortes Island and a rendezvous with long-time Ashland friend, Laurie. She had been staying on Cortes a couple weeks prior to our arrival, and knew all the recreational hot spots. Getting to Cortes, however, was a bit convoluted: from Campbell River, one catches the 10-minute BC ferry to Quadra Island, drives 20-minutes across the island, and catches the BC ferry to Cortes island. The latter sails on the hour, and not being near the size of the Quadra ferry, there often is a wait.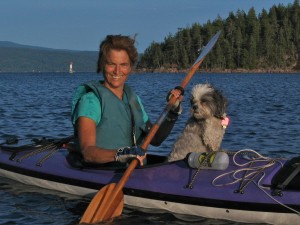 As luck had it, we were one of the last vehicles loaded on the awaiting ferry, and after landing on Cortes Island, we excitedly waved at Laurie as she approached us on the road in anticipation of our arrival. She spun around and led us to her comfortable apartment with maps and schedules strewn over the table. We spent the next couple days kayaking in Cortes Bay, cycling to Spelt Provincial Park on the southern tip of the island, hiking gorgeous trails between Gunflint and Hague lakes, and snacking in remote coves generally accessible only to yachts anchored offshore. Cortes is one of those destination islands within reach of Victoria and Seattle, and protected coves and bays abound. Also located on Cortes is Hollyhock, a new-age retreat/conference center that is often packaged with yacht rentals. We rode our bikes there and were greatly impressed with their beautiful gardens.
Aside from the recreational opportunities available on Cortes, a favorite of Laurie's are the freshly-baked scones and cinnamon rolls that accompany the free wireless Internet access at the local community center. The allure of tasty sweets, the opportunity to check email, and the likelihood of meeting friends brings in a bustling crowd 3 times a week around 10 AM. In addition to the light meals, the community center also features a thrift shop, a sharing library, and apparently meets the small community's social needs. Across the street is the local market, and opposite that is a bookstore / tavern combo that offers delicious burgers as accompaniment for several micro brews on tap. Cortes has everything one needs to vacation or relocate, and the lifestyle is just right.
Laurie's children were arriving in a couple days, so we freed up the spare bedroom and ferried back to Campbell River for a couple days with Julie and Rick Howell, dear friends and colleagues from our teaching years in Japan. The Howells' children were spending the summer in Japan working at an English language camp, so we had them all to ourselves for laughter, meals, and outings. Arriving on the Friday of a 4-day weekend ("BC Day" fell on the following Monday) we filled our days with sight-seeing around the Comox/Courtney communities, a day at the Filberg arts festival, and a 4 hour bike ride all over the place. Each evening was culminated by delicious dinners on their deck overlooking the inland straights plied by cruise ships traveling to and from Alaska from Victoria and Seattle. 12 miles across the straights is Powell River, a remote outpost on the mainland accessible to Comox from Vancouver, BC, via a combination of auto and ferry rides. We've not visited there, and propose to do so down the road.
Our final destination on Vancouver island was farther north than we'd ever been, Port McNeil, where we had arranged to meet yet another couple of Ashland friends, Trisha and Larry. These two traditionally spend a good hunk of the summer on their float house nestled in calm waters, and this summer were anchored in cozy O'Brien bay, a short 5-minute speedboat ride from Sullivan Bay. The float city of Sullivan Bay is where they store their float house in the winter, and provides support for maritime RVers throughout the year—a store, fuel, laundry, restaurant, and other niceties, and does so entirely on floats.
To make things even sweeter, their granddaughter, McKenna, joins them for the summer and has the time of her life living 24/7 with a professional outdoorsman and educator. After years of hearing about their summer holidays, we were excited to finally experience what they'd been doing for years all around Vancouver Island. As we drove up to the dock at the scheduled time, Larry and McKenna were tying up their 24' aluminum boat. The crossing from Vancouver Island to their float house takes over an hour, and the waters can be treacherous. Their boat, however, was made especially for these waters in nearby Campbell River, and is a model of functionality. During the next few days, we experienced the efficiency of the Mully Lee: we fished, gathered traps full of prawns and crabs, and comfortably navigated the potentially dicey waters.
As it turned out, the ride over was calm, the weather monochromatic, and the visibility endless that when combined makes for perfect viewing sea life. We were rewarded with rare sightings of Orcas, Minke whales, seals, dolphins, and porpoises; our ride to Sullivan Bay was what patrons of "whale watching" vessels would die for. To Larry, Trisha, and McKenna, it was just another day in Paradise. During our 4-day visit with them, we got a eye-opening introduction to life in some of the most remote coastal waters either of us had ever experienced.
Not far from where they've moored their float house is a clear cut that profoundly impacts the scenery. We used their dinghy to row over for a little exercise through the area. What I discovered was how a little knowledge can go a long way to reinforce ignorance. Huge piles of debris were scattered throughout the area, and I learned that to burn these would scar the land beneath the burn for years due to sterilization. They're left to decompose and create habitat for displaced species whenever they return. Furthermore, as we walked through the area, we saw healthy cedar saplings springing up; they were everywhere, and in no time the entire forest will have that smooth appearance of a warm, green blanket.
Another first was visiting Embly Bay and the mouth of a stream destined to be the final journey for thousands of "Pinks" (salmon) leaping all over the bay. No one was able to explain why the salmon were leaping about, sometimes 2-3' above the surface, because they clearly weren't eating. Larry speculated they may be loosening the eggs in anticipation for spawning. Good a reason as any. I think it may have been the pesky males blowing out accumulated testosterone in anticipation for a good time up river. Either way, a grizzly bear was hunkerin' about the mouth of the stream waiting for low tide and an easy meal of stranded fish. Above us were several bald eagles, patiently waiting for what the Griz' left behind. An adolescent bald eagle was a first for us, its brown coloring uniquely different from its parents and older siblings. We accessed this protected bay by leaving the Mully Lee anchored in deeper water and used the 12′ aluminum powered by an outboard motor to take us into the Bay. Larry then used oars to take us up to the mouth of the stream—and the grizzly. What a grand way to spend a couple hours, whispering to each other and just soaking in the grandeur. These excursions were so amazing since we had, for the most part, no prior experience at any of them. Alas, as is often the case when you're having fun, the days flew by and after 4 days in northern waters we were shuttled back to Port McNeil for our journey south.
After a quick visit to the market, we hit the road fully intending on overnighting at a provincial park about 10 Km. off the highway. We learned from another camper driving in the opposite direction that the campground was full, and so we opted for a private pullout in what appeared to be a gravel pit forgotten by some road crew eons ago. That's what our self-contained camper is supposed to offer us, and our first genuine "off-road" sleep-over is now behind us.
We proceeded the next day to yet another provincial park, Miracle Beach, located just south of Campbell River, and could see why it's the most popular park on Vancouver Island: the protected sandy beach was perfect for children of all ages, and everyone was chilling out: working on the tan, throwing Frisbees, digging for razor clams, building sand castles, and generally just goofing off. Our first new friend was a 6-year-old who proudly showed us his bucketful of sand crabs and taught us how to differentiate between males and female sand crabs. These kernels of wisdom will undoubtedly prove valuable in the future.
We discovered a reoccurring pattern of arriving at our destinations mid-afternoons and leaving mid-mornings that resulted in shorter drives and enjoying our layovers more. What we hadn't considered was how fun it would be to stay in some of these campgrounds for an additional day or so. We're looking forward to just that during our visit to the Olympic National Park in Washington in just a couple days.
We calculated the 4-hour drive from Miracle Beach to Victoria would be enough for one day, including our anticipated luncheon on the patio of the Malahat Mountain Inn nestled in the hills above our overnight destination of Goldstream Provincial Park. As before, when we first arrived on Vancouver Island, Goldstream proved to be the perfect interface when dealing with the Port Angeles / Victoria ferry. The following morning we easily packed up, ate a great breakfast at John's Place in Victoria, and still had ample time get in line for the ferry—well in advance this time.
Our second visit to British Columbia in a year proved to be just as fun as our trip last September—only completely different. As we've noticed on previous holidays to new destinations, we tend to do as much as we can do with the understanding that a follow-up visit is in the cards. In the case of Vancouver Island, we've several decks to play out.