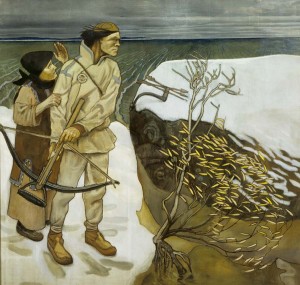 Akseli Gallen-Kallela is my favorite Finnish painter, and I'd strongly recommend that you spend your next available free minutes, or longer, looking up his work. The frescoes in the Jusélius Mausoleum in Pori, which are dedicated to the deceased seven-year-old daughter of a very devastated and very wealthy industrialist (also deceased), are especially moving. At least in person, it's easy to get lost staring at the character's expressions and resonating strongly with their vivid emotions that spring off the walls. I find these paintings best illustrate how cyclical seasons, nature, and death's presence in life are central themes to Finnish culture.
These are not obscure dimensions of culture here – they are quite tangible and surface in practical ways. As I've previously described, forested walking and biking trails snake through the cities and are accessible to everyone. During celebrated holidays most people visit deceased relatives and friends at cemeteries to light candles honoring their very-remembered lives. People are currently fleeing Helsinki as if it were plagued to spend their 5-week vacations in cottages in the forest. I recently learned that sometimes people confusingly and vaguely propose marriage by asking, "do you want to share a cemetery plot with me someday?" (which is also a beautiful example of Finnish humor). And personally, having lived in Finland for just under a year, I'm starting only now to get it – to get the cyclical and balancing process of this place and of life here.
I remember all too well the days several months back that were utterly freezing, where daylight commenced at 10am and slunk away after 2, and where people hurriedly retreated indoors, retreated inward, and streets were very quiet. Now, it's never dark! Clouds sit colorfully in the sky at midnight, the white nights omnipresently illuminate our lives, people are manically celebrating, the recently still streets burst around the clock with energy, and the long hours of direct sun have resulted in explosions of lush green life everywhere. Places on the equator have a regular and calculated cyclical balance – the sun rises and sets at 6 and there is equal time for waking and restoring during a full day. Here, in Finland, we have just now, finally, restored balance – in so many ways – and it feels totally marvelous.
The newly balanced world helps me make sense of other social phenomena that seems completely out of whack. The empire that is America is in decline, according to what I read in the NY Times, and there are tragically far too many populations of humans and non-humans alike who are vulnerably bearing the crushing weight of that tumbling and rich (for a few) superpower. But what doesn't make it better, but still helps, is to imagine the restoring balance of new growth, new methodologies, and new systems that will arise after there is some death during its wintry season. Finland taught me that the bloom of summer does come, even if it seems impossible during long unlit days.
I've had to be patient and work towards restoring and grounding balance in my personal life as well. The spring and summer have been periods of vast change and transition. Josh, my boyfriend of several years, left in May after living here with me for five months and we are no longer a couple. The Fulbright year ended and funding plus plans for what to do with my research were undefined. Sitting through and trying to make the best out of times of painful uncertainty have produced some happy outcomes, however. I recently arranged with Väestöliitto, the agency that has so hugely supported my work this past year, to write a book based on the quotes and narratives of the women I interviewed! Anna and Osmo have been committed to helping me with this research project from the start and have now made it possible to write, while funded, for several more months. Stina, another researcher, will translate it into Finnish during the winter, which ensures that none of us will be able to understand a single word of it, but young Finnish women who are interested in exploring their own sexualities through the guidance of the experiences and perspectives of their peers will be more able to do so when it arrives at libraries, schools and bookstores over here.
Therefore, after a season of difficulty – one that felt colorless in many ways – the shifting and ever-changing nature of things has brought bounty. These blessings arrive in imagery, such as the sight of big red barns nestled in green fields that glow in direct sunlight at 10:30pm, wooden boats overgrown from summer wildflowers resting by impossibly blue lakes, and the wide smiles of contended sun-soaked Finns. The blessings also arrive by plane from Oregon – first Leesan and Elena plus family from Portland and then my parents and cousin (who whisked me happily off to Norway for 7 days of hiking in a place that was so damn pretty I think it was make-believe). We had lots of mischievous fun together – I fully blame Leesan and my dad for all of the illegal parts – and I'm now recovering and settling back into focused work.
I hope that this finds you all of you friends doing well during this delicious smack-dab-in-the-middle-of-summer time, that you are also actively counting your blessings, and that your lives are thriving right along with this vibrant season.
Love
Alicia