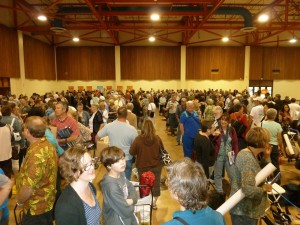 "Well, are my college loans going away?" Alicia asked excitedly as Sooney answered the call on her mobile phone.
She was hoping that one of the 4 items we took to the Antique Roadshow in Eugene would turn into a goldmine and that Sooney would live up to her promise and relieve Alicia of her indebtedness. Alas, we learned it doesn't work that way, and had a ball in the process.
We arrived at the Lane County Convention Center a half-hour before our scheduled admission, dutifully got into line (the operative word over the next 2 hours), and got to know the friendly folks near us in the queue. Actually having 2 tickets to the event was a bit remarkable since we don't really spend much time watching TV and only learned of the nearby (3-hour drive) event because of a conversation with a couple who were giddy with excitement that the Roadshow was coming to Eugene on June 4. So I entered the online lottery and we scored a couple. Each ticket holder may bring 2 items for appraisal, and if an item met certain criteria, there was a chance to be featured on the show. That, we learned, was a looooong shot (although I did see an excited woman standing near a rostrum with her pewter or silver-trimmed animal horn—an instrument? or perhaps a drinking cup?—mounted on display as camera, lights, and sound were getting set up).
The items we selected were chosen because we didn't know much (or anything) about them and hoped to tap into the expansive knowledge-base of the appraisers. Friends in Ashland (and fans of the show) said things from China were really popular, and since we own several items that are difficult to research on the Internet due to our unfamiliarity with the wide range of Asian ceramics, we selected a porcelain "pillow" with colorful flowers and a hand-painted motif incorporated into the glaze. This item was purchased at an art shop in Balikpapan, Indonesia, and while we knew it was a pillow, we didn't have a clue about its origin or significance.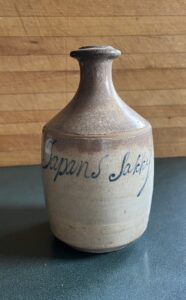 Another ceramic piece from our Balikpapan days also made the short list. It's a stoneware jar originating in Japan that was used for exporting sake (Japanese rice wine). This bottle never reached its destination and most likely spent over a century undersea as part of a ship wreck. It was recovered and ended up in our collection of eclectic items amassed during the 80's while teaching overseas. The bottle was particularly interesting as it had "Japans Sakky" in a lovely script inscribed in blue glaze prior to firing, and the appraiser had never seen one like it. Sooney and I did see similar souvenir bottles during our visit to Kyushu, Japan, in 2007, but they were used for storing soy sauce.
Our third item was a framed photo, signed and dated (1896) and featuring a young woman conversing with a winged cupid. What was unusual about this photo was the attempt by the Alfred Campbell Art Co. to create a 3-D effect by having the characters somehow embossed above the background. The deep frame and backing paper were in need of repair, but we followed the general practice of not attempting corrective measures unless necessary.
The final piece was similar to a photograph but was actually a photogravure whereby a photographic negative was used in the production of a copper plate. This allowed the printer to produce large numbers of prints and was often used in publications. The photogravure we took was signed by the artist ("Barbara") and titled "Stockholm's Magic Hour" in pencil. I acquired it inadvertently when purchasing a used frame at our local Goodwill. After removing the print from the frame, I notice several notations on the print that suggested it was part of an exhibit. The Antique Road Show seemed the perfect opportunity to learn more about it.
Each of the 5,000 ticket-holders for the Eugene event were given a time frame for entering the convention center (we fortunately were asked to be ready to enter at 9 a.m. and planned on driving home later in the afternoon). The first batch had begun at 8 a.m. and, as we arrived, folks were already leaving with their treasures. There was ample parking and we got in the first (of many) lines. When the last of the 8 a.m. folks had entered, our group was ushered into a huge room where we serpentined back-and-forth with all our stuff. (The photo at the top of this post will enlarge if you click on it at each successive screen.) This process took about 20 minutes, and you became familiar with objects as they passed you once, twice, etc. until we entered a smaller room where we were instructed to turn off cell phones and hide our cameras. (Bummer, as I was hoping to photograph the entire process.)
Finally, we entered a third room and were directed to a "generalist" who looked at our stuff and gave us admission tickets to yet other lines to tables of appraisers specializing in our collectibles. The Asian Arts line was particularly long, so we got into the one for photographs and prints and soon were showing our two items to a nice fellow named David McCarron, a regular appraiser on the show since its inception in 1997. He liked the framed angel and cupid, suggested that I replace the backing with acid-free paper, and said it was cute and would probably fetch $75. (Ebay here it comes). We then showed him the photogravure and he was more interested. Unfortunately, he wasn't familiar with any photographers working in the 20's and 30's who signed their art "Barbara" and asked me to send him detailed photos of the piece so that he could research it further. That proved promising. I'd snuck in a folio of 9 smaller German photogravures Sooney had inherited from her great uncle and, while interested, he was clearly curious in the larger print. We'll see where that goes.
Lines were heading every which way but we finally found (the end to) the one for Asian Arts. It moved pretty quickly as there were 3 appraisers, and during the wait had a nice chat with a fellow who's sister lived in Indonesia in the late 60's and had amassed a large collection of ikat fabrics (a favorite weaving process of ours). Another fellow had a sword that closely resembled the Japanese officer's sword given to me by a distant cousin who served in WWII and who had returned with all kinds of souvenirs. When we finally reached the table, I showed the fellow the "Japans Sakky" bottle and he loved it. Even showed it to his colleagues. He agreed with my suspicions, dating it in the mid-1900's and said its true value was to a museum as these were not particularly coveted by collectors but important historically. I then showed him the Chinese pillow and he confirmed it was a Chinese pillow, about 80-years-old, and pretty unremarkable.
So, that was it. Over an hour waiting in lines, maybe 5 minutes total speaking with friendly appraisers, and knowing little more than we did walking into the building. With one major exception; before leaving the Asian Arts table, I asked the appraiser if he'd been the one examining the Japanese sword a few minutes earlier. He brightened and said, yea, it was a nice one and he'd figured it was worth around $700.
Our next step is to send photos of the "Barbara" photogravure to the interested appraiser, and to take the Japanese sword down from the wall in our garage, remove all the spider webs and photograph it for a possible shot on eBay. Overall, it was a fun event, we interacted with many interesting people, and will probably miss the TV show as we've done in the past. Anybody seeing us obediently following the herds in line kindly bring it to our attention and we'll check it the archive online.