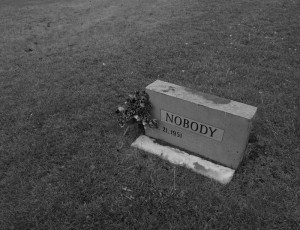 Nobody is Somebody out there hopefully making a difference.
We (Sun Magazine) prefer that you submit traditional black-and-white prints. You may send prints of any size, though we find it easiest to review photographs that are between 4×5 and 11×17. Matte or gloss finish is acceptable; prints made on heavily textured paper, however, do not reproduce well.
If you are submitting digital images, send high-quality digital prints. (One image per page, please.) We cannot review images on screen. We cannot accept images via e-mail. If we accept your digital images for publication, we will request the image files on cd or dvd media (Mac or pc). Save your image files in uncompressed tiff grayscale at 300 dpi or higher.
Read more at < https://www.thesunmagazine.org/submit >