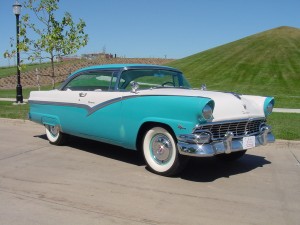 In the summer of 1955, my mother's sister ordered her first new car as a wedding gift to herself.
She and her husband picked it up, a '56 Ford "Victoria Coupe" no less, in Michigan and drove that beauty all the way back to California. I remember the difficulty I had removing the lettered "Just Married" sign from the trunk. Why had they used cellophane tape, anyway? The long drive from Detroit had baked the adhesive, and it was all I could do not to scrape the enamel paint.
That car was a beauty. A baby-blue and white coupe, it had fender skirts over the wide white-walls and full-cover hubcaps that were trendy then. Ford must have known they had something special when they named this model a "Victoria" – what a queen. And she was the end of an era; 1957 saw the introduction of a larger, longer, lower design.
That car was mint. The white leather interior was trimmed with blue piping, and still embraced passengers with that wonderful smell that only accompanies new automobiles. It even had a push-button radio featuring a scanning feature, unheard of thirty years ago.
The car sported a 292 cubic inch V-8 engine. Ford designed the tuned twin exhausts into the rear bumper, and listening to the deep-throated gurgle of a big engine still holds a special fascination for me. There were no pauses and jerks common to manual transmissions; no, she had ordered a "slush", an automatic that slipped thru the gears without the hint of a shift.
And then one day the car was mine, but I was no longer eleven. Fast cars have never held great importance for me. Several high school classmates were able to afford either new, powerful cars or had the aptitude to convert modest, used ones into muscle machines. None of this interested me until university days. I needed transportation to college and my aunt let me buy it cheaply. What a difference a decade makes.
I became self-conscious of what I drove. Perhaps it was because of my commuter status at the University of Southern California, a school noted for its affluent, campus-housed student body. My, did those kids own lovely cars. Mercedes, Corvettes, and Porsches converted the curb along fraternity row into a showroom. Today, my Ford would attract the attention theirs did then. Something needed to be done.
As a toddler might experiment with a new-found pair of scissors, I began with something cosmetic. There were so many door chips a new paint job was in order. And where else but at Earl Scheib's, an annoying regularity in late-night T.V. commercials. "I'll paint any car, any color, only $29.95," he'd penetrate your tired eyes every fifteen minutes throughout a film. And my Ford looked just as cheap as Earl had guaranteed.
Next, in an effort to "soup-up" the performance of a perfectly healthy car, I attempted to change the Ford's carburetor to a racier four-barrel variety. Big mistake.
I succeeded in breaking that car. Oh, sure, it was serviced, but for some reason it never ran the same. And I've never forgotten it. The car…and the day I simply handed the keys over to a greasy garage owner on my way to class. It seems incredible that a car now considered a classic had meant so little to me that gray fall day back in '65. Now that I think of it, I don't even remember checking the trunk.