Returning to Everglades National Park is one of life's great pleasures. Especially in February when you're able to hang out at bird ponds, wearing shorts & flip-flops and sitting in a sand chair; oh, yea, and without a trace of those small biting critters that eat you alive.
The entrance to the park via Homestead, FL, is the most direct from Coral Gables and the entire trip to Flamingo (the most southern part of the park) is a easy day trip. One of these days we'd like to camp in the Everglades and use our bikes and inflatable kayak to explore and be present at dawn and dusk in different locations. We understand the evening walks/bike rides under a full moon with glow in the dark alligator eyes are exciting. Yikes!
The first stop on the journey was the Anhinga Trail, where the photos in the first gallery were captured. (Click on the photo of the American Bittern to access the image gallery with all the rest). After a short hike through a beautiful forest, we stopped at the Lone Pine campground hoping to see Brown-headed Nuthatch; no luck this time, but a wonderfully different part of the Everglades (pine rockland) with tall pines and cool breezes. We then proceeded to Mrazek pond where we set up chairs and watched the wonderful afternoon show of birds coming and going, seemingly inattentive to the gators nearby. Last year we saw Roseate Spoonbills feeding like there was no tomorrow, and a flotilla of brown and white Pelicans floating and dipping, floating and dipping. We were pleased to see hundreds of Wood Storks nesting in the trees on the far side of Paurotis Pond that was in sharp contrast to previous visits.
Late in the afternoon we arrived at Flamingo, and saw our first crocodiles. Probably more impressive was watching a male Osprey snag a 3-4 lb. fish out of the bay, settle upon a palm snag for a bit of sushi, and then distribute it to his mate and the young in a near-by nest. We learned that he was actually servicing two nests, having been observed by some nature photographers repairing the nest of another nesting female a couple hundred yards across the jetty. What a rogue!
A fabulous Everglades sunset culminated our day and we eagerly look forward to subsequent visits to the park during our all-too-brief visit with Carol and Jim. Here's the link to last year's images of our trip to Flamingo.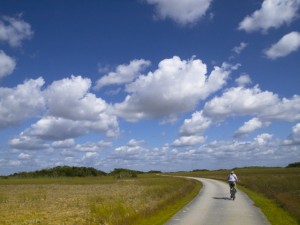 On another day, we drove the short distance to Shark Valley (on Hwy. 41, the "Tamiami Trail" or, to locals, merely the "Trail") and rented bikes. Over the next 3 hours, we cycled the 15 mile loop and enjoyed perfect weather—high, billowy clouds, blue skies, and a gentle breeze to keep us cool. There were a couple opportunities to gush, "It doesn't get much better than this" and the thumbnail of Sooney at milepost 13 captured that moment well. What's bizarre is riding a 12′ tramway with all kinds of wildlife sharing the road: buzzards savoring the last remnants of a fresh kill, alligators sunning themselves in the most unlikely places, and (nearly) invisible birds waiting for a tasty morsel to come within range. We found ourselves scanning constantly, not only for the breathtaking beauty but for the plethora of wildlife: from birds in the sawgrass to those annoying 7′ speed bumps with teeth.
I was taking some documentary photos of a juvenile Purple Gallinule (not nearly as bright as the adult) when I noticed Sooney a couple hundred yards up the road waving her arms and pointing low. She'd had a long, lingering look at one of our "most-wanted" birds, the elusive Limpkin, and I arrived in time to enjoy the moment. Later, we had another sighting of an equally-elusive find, the American Bittern. That's 4 for this vacation and we're considering adding them to the common list (not!).
Next time, we hope to have our own bikes (or at least borrow some with more comfortable seats). We'll also plan a snack break on the bench at milepost 10.5 and feast our eyes for a spell. For reference, here's the link to last year's images from our visit to Shark Valley.
Bird Sightings (so far) in the Everglades:
Anhinga Trail, Gumbo Limbo Trail, Lone Pine picnic area, Paurotis pond, Mrazek Pond, Flamingo and Shark Valley
Black Vulture, Turkey Vulture, Double-crested Cormorant, Anhinga, Wood Stork, Pied-billed Grebe, Limpkin, American Bittern (4!), Great Blue Heron, Little Blue Heron, Tri-colored Heron, Green Heron, Great Egret, Snowy Egret, White Ibis, Common and Purple Gallinule, Belted Kingfisher, Osprey, Common Yellowthroat, Painted Bunting, Blue-gray Gnatcatcher, Northern Cardinal, Gray Catbird, Palm Warbler, Tree Swallow, Black-throated Green Warbler (F), Blue-winged Teal, Green-winged Teal, Roseate Spoonbill, American Coot, American Crows, Northern Mockingbird, Savannah Sparrow, Great-crested Flycatcher, Red-shouldered Hawk, Barn Owl, Willet, Yellow-rumped Warbler