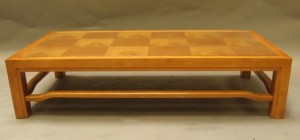 Olga and Angelo's home at 1224 Journey's End Drive in La Cañada was beautifully furnished. Several of the pieces now grace our home and their provenance has fortunately been traced. Ray See, a Chinese-American furniture designer based in San Francisco, owned and operated a small furniture manufacturing concern named See-Mar and constructed furniture to his design in the Oriental-Modern and Organic-Modern styles. He was active in the 1940's through the 1960's and favored exotic woods such Koa and Myrtle. He made our myrtle wood parquet coffee tables, the multi-tiered end table, and matching night stands in our guest room. In addition, he also manufactured the small Asian-styled chest with matching doors gracing the front. We don't know (yet) the provenance of several other items from this period, but their originality, beauty, and functionality make them wonderful additions to our eclectic furnishings. Particularly notable is a lovely glass-faced chest of drawers and its companion mirror with an Asian motif, 2 copper lamps featuring stunningly evocative characterizations of a male and, on its companion, a dancing woman, the 6' copper wall sculpture of a top-hatted party-goer supporting a functioning street lamp, the carved wooden lamp base of 3 Asian figures, and our stunning oil painting by Paul Grimm.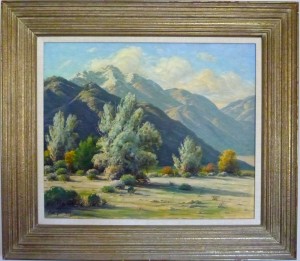 Motivation for this article was a recent auction in Los Angeles, where one of Grimm's paintings hammered down a winning bid of $30,000. It was a beautiful cloud study and was painted near Palm Springs where he lived and owned a small gallery from the early 1930's until his death in 1974. His work fits comfortably into the Plein Air community of California Impressionist painters (light-filled landscape painters that counted Edgar and Elsie Payne and Jimmy Swinnerton among their flock). Surprisingly, little is known about this prolific painter; web searches produce variations on his bio but not much about his associations. One notable exception is his much-heralded endorsement by former President Dwight D. Eisenhower. Eisenhower, an admitted "dauber" and who often visited and shared confidences of their common passion for painting, once wrote of Grimm, "I profited from the experience of seeing how a real artist creates the effects he wants." (Paul Grimm biography courtesy of Edan Hughes.)
The early California artists, also known as Plein Air painters (Plein Air means "in the open"), are the original conservationists. The paintings of Albert Bierstadt and Thomas Moran, for instance, showed the world what was worth saving in Yosemite. In the Coachella Valley where I live, the early artists preserved in paint fields of verbena and cholla that are gone forever due to development. —Alissa Campbell, "Early Painters of the Borrego Desert"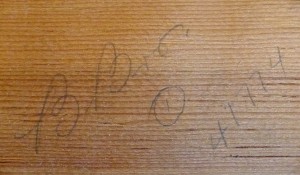 Our painting by Grimm (1891-1974), part of his "Nature's Extremities" collection and hand-titled "Smoke Trees 'Neath San Jacinto," was executed in 1950 and was purchased by my aunt & uncle at Barker Bros., a Los Angeles-based furniture company founded in 1880. Advertised at the time of its construction as one of the largest furniture stores in the country, the building was converted into offices when Barker Bros. closed in the 1980s. (The reverse side of the gold-gilt frame has what appears to be the original Barker Bros. inventory number written in pencil). Pam Ludwig is the director of Joan Irvine Smith Fine Arts, Laguna Beach, CA. that features works by Grimm from the 1930s to the '50s. "In his later years, Grimm's eyesight failed and his paintings were not as good," says Ludwig. "But his earlier works are strong and have nice impasto brushwork." Fortunately, this painting was completed during that era and is clearly a beauty. You may click on the thumbnail to view a larger photo of the painting.