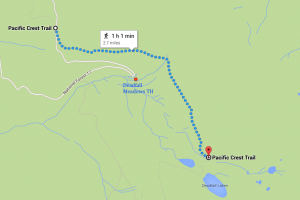 It was hard to believe that it had been 9 years since we had last backpacked together. Sooney and a few friends hiked in the Trinities last year but my walks into the back country are ancient history. Most of the gear we own is lamentably outdated. I'd recently taken a 4-session OLLI class on "lightweight" backpacking and connected with several similar-aged locals who regularly get into the woods. They're always thrilled to share tales of exciting adventures and state-of-the-art ultralight gear. Most of the latter is ridiculously expensive but, as we age, there's no reason to suffer unnecessarily. Furthermore, we were motivated by a high school classmate who completed the 1,700 mile California section of the Pacific Crest Trail. He flew up in early June, and I drove him to a local section of the PCT in Oregon where he resumed his journey to the Canadian border, one state at a time. With so many wonderful destinations throughout the State of Jefferson and such inspiration, we went for it. Our inaugural trip was a 3-day trek into the Deadfall Lakes region of California, an accessible area we are familiar with that lies in the shadow of Mt. Shasta. Our strategy was to use our basic equipment on this shakedown "cruise" and upgrade gear on a needs basis.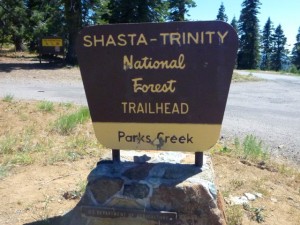 6,540' – Parks Creek TH (base elevation)
Access to the Deadfall lakes is via the Stewart Springs Rd. exit from I-5, 8 miles north of Weed, CA. From there, you follow the signs to Stewart Springs Spa and continue PAST it on Forest Rte 17 for another 9 miles. Your destination is the Parks Creek Trailhead where the PCT crosses Rte. 17 and it's there you park your vehicle. The trail follows the PCT for about 3 miles and splits off at the first lake you encounter. This intersection is clearly signed, as well.
6,922' – Intersection of PCT & Mt. Eddy Trail (+382')
The PCT continues to the west where it passes between two of the lakes. Our trail points south toward Mt. Eddy and you're treated to views of a larger lake now and then. After a steep bit, you arrive at a shallow lake that was not much more than a pond due to the limited snow pack this past winter. The trail continues up a short distance to the final lake in the series and a popular location for outfitters. This is the last place to filter water before summiting Mt. Eddy.
7,500' – Campground at upper Deadfall Lakes (+960')
Our camp is one we have returned to with remarkable success. It's nice to have a favorite destination and arrive to find the campsite available. We enjoyed cool, windy weather but no rain.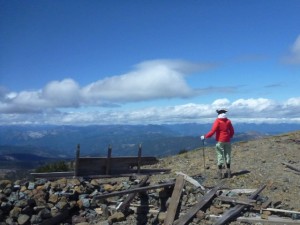 8,700' – Mt. Eddy Summit (+2,160')
The next morning we climbed up Mt. Eddy and nearly got blown off the summit. One of the joys of hiking the PCT are the "thru-hikers" attempting the entire Mexico-Canada trek. One fellow we met on the trail was planning on summiting nearby Mt. Shasta, had a couple-days layover, and camped up on top of Mt. Eddy. Didn't sound like fun to us; gale-like winds and not much to do but hike down. He didn't; we did.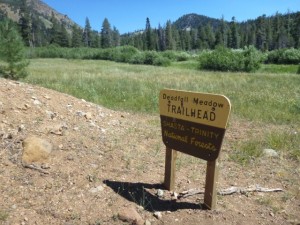 6,161' – Deadfall Meadows Trailhead (-379')
After a couple nights, and satisfied with our existing gear (and prepared to spring for some newer stuff), we hiked out to our car. At the intersection where the PCT heads west there's yet another trail that meanders down Deadfall Meadows to a trail head 1.3 miles down Rte. 17 from where we parked our car. At some point it would be fun to walk DOWN the meadow trail but I'd prefer to have a shuttle car awaiting me. That 1.3 mile trek up the road to the Park Creek trailhead wasn't fun the last (and only) time I did it.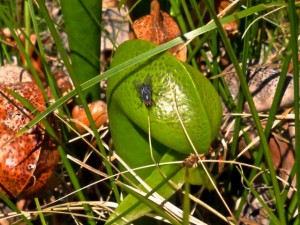 6,253' – Darlingtonia Fen (-287')
On the road down to Stewart Mineral Springs Spa for a refreshing shower, Sooney spied a Darlingtonia fen with hundreds of the carnivorous plants. So fun, moist, and other-worldly.
3,690' – Stewart Mineral Springs Spa (-2,850')
We opted not to take the full treatment consisting of repeated soaks, saunas, and therapeutic showers. Over and over again. What we needed was the $3 shower that prepared us for a gorgeous meal on the patio at our favorite restaurant in Dunsmuir, Cafe Maddalena.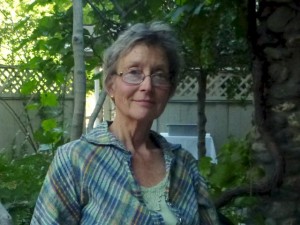 2,350 – Cafe Maddalena (-4,190')
Chilled white wine, prosciutto on fresh figs, Ling Cod on a bed of linguini, and a shared cheese cake. On the patio, of course, with a ceiling of ripening grapes. How's that for a well-planned backpacking adventure?
PS: One of the features of our new point 'n' shoot camera is the built-in GPS. Click the "display" button and scroll through the options until you land on a full-featured altimeter. This data is stored along with other photo information, but we repurposed it and tracked our itinerary on-the-fly throughout the 3 days. Fun!