What joy to have four, count 'em, four families gathered together in a spacious campground with acres of Ponderosa Pines backdropping our communal activities. Those consisted of meals, music, campfires, birding, reading and plenty of exercise sandwiched in between.
Terry made the reservations for sites B46 & B47 at Butte Lake campground located in the northeast section of Lassen Volcano National Park and assessable off Hwy. 44 toward Susanville, CA. Marty got on the phone a week prior to our camporee, and it took less than a heartbeat to sign up. He and Terry would be using our visit to Lassen as the kick-off event for a 2-month adventure that would include visits to places as diverse as Ireland and Wyoming.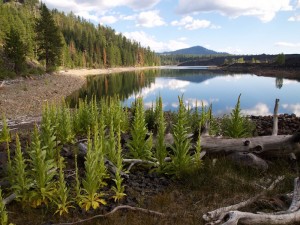 We all arrived around the same time (the lure of Terry's cocktails has a peculiar effect on the accelerator) and it was kinda cute having a line of four different vehicles all featuring their own style of campers. Best of all was we were all together, realizing a personal dream I've had for years of just this type of event. Toss in the fact that we were barely 3 hours from home, the weather was perfect, and we packed the bocce balls—bliss.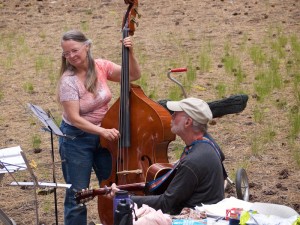 Each day found us exploring a different part of this seldom-visited section of the park. After a 3-hour drive, the short walk up to Bathtub Lake was a perfect anecdote for sore butts. The 200' elevation gain was an easy introduction to higher elevation camping (Butte Lake campground lies at 6,100'). Late afternoon light caught the trees just right and their reflections in the smallish lake resembled something an impressionist painter might emulate. The following day we did a hike/kayak switch by walking a couple miles to the far side of Butte Lake and swapping with Barbara & Terry who'd kayaked there to meet us. As we paddled our boats toward camp, we were drawn to the lake's western shore where the stark lava knifes right into the water.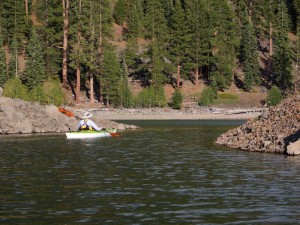 Combined with the warm afternoon light, the contrast of the lava sandwiched between a darkening sky and mirror-like water was surreal.
No trip to Butte Lake is complete without summiting the cinder cone that rises like a dark overlord, its fantastic cape of spewn lava flowing amongst towering Ponderosa pines. I'd failed to complete the hike the past autumn while on a road trip to visit Phil and was determined to prevail. With 6 of us all plugging along at our own rate, the summit became far more assessable albeit steep. We ascended 846' of elevation in the 1/2 mile up to the top. I found that using hiking poles made a significant difference due to the steepness of the trail and, coupled with frequent hydration stops, the ascent took little more than an half hour. Add in the distance from the campground and you've got a 4-mile loop that merits the better part of a day to explore fully.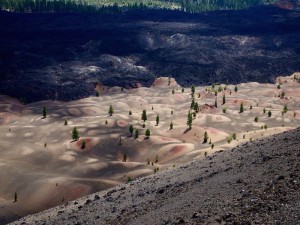 Once on top, the fun continued. There were several trails around the caldera, some of which led to the bottom of the cone. As we walked around the rim, the panorama of each unique area of the park was highlighted all the more. There were forested trees, barren fields of dark gray lava, and a surprisingly beautiful acreage of light beige ash that hundreds of years of severe weather had shaped into curves, mounds, and a multi-colored palette that challenged one's imagination for just the right descriptor. Since the top of most mounds were darker than the base, a sensual personification was easy to visualize.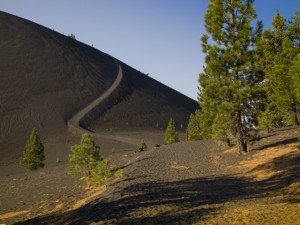 Our descent followed a different trail that led to a small stand of pines under which we snacked. The trail continues around the base of the cone and eventually ties into the main route back to camp. From our lunch spot we had a stellar view of Snag Lake, a mere 2-mile hike from the end of Butte Lake.  Visiting Snag Lake wasn't part of our 3-day agenda, but since it's approximately equidistant from both Butte Lake and Juniper Lake (that you access from the other side of the park), we envision a car-swap backpack some day with a couple days camping at Snag Lake for a pleasant breather. Another possibility we considered is to make a day trip out of it and kayak to the end of Butte Lake and hike to Snag Lake. So many options; so much time.
Descending the sandy trail (during my autumn visit) was really fun. In order to keep my goofy shadow in the viewfinder, I trusted my footing and watched the LED display for the entire descent. (Honest—no peeking.) Click the movie (below) to see the result!