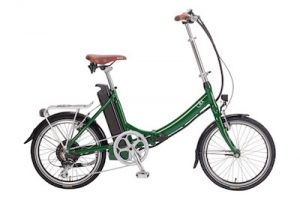 In preparation for our 3-month journey to Alaska, we explored various options for transportation in and around camp and for short bike forays into nearby towns. Formerly, a bike rack was attached to either of the 2" receivers mounted beneath our truck's bumpers and our mountain/hybrid bikes were suspended from those. That solution, however, added nearly 2 feet to our truck's already prodigious (for us) length, and since much of our travel includes maritime ferries, the extra length would result in a considerable surcharge. Our solution was the Swedish Blix Vika+ that folds up and is easily stored inside our camper when on the ferries. When in camp (and not needing them), the bikes stow nicely in the passenger seats in the front cab, safe and secure.
An added feature of these new bikes is their electric motors. Combined with the chain-driven 7-speed derailleur, these motors add two additional conveniences: 4 levels of pedal "assist" and a pour-it-on throttle. When test-driving our bikes, we found the 7 speeds completely satisfactory for most riding situations, but on hills enjoyed the assist. Here's how it works: as soon as the rider begins pedaling, the motor kicks in at one of 4 power levels, 1 being the least "assist." When the rider stops pedaling, the motor disconnects and the bike slows to a stop. This requires a bit of practice because with even the slightest pedaling, the motor kicks in. Conceivably, with an "assist" setting of 4 (the highest), an unsuspecting rider could be thrown by the power of that immediate assist if the front wheel wasn't pointed straight. The solution for that is the throttle.
When resuming my journey after making a stop, I'm learning that it's safer to rely on the bike's motor to power me up to speed before pedaling. The result is a more controlled, gentle acceleration to a point where the throttle is replaced by the pedal assist. So far, I've not used any assist settings beyond 2 and that permits gentle uphill riding without much effort. A setting of 1 provides the rider with a bit more of a bike workout. Such wonderful choices.
The beauty of these bikes, besides their beauty, is their compactness. In less than a minute, the nearly-full-sized bike collapses into a 36" x 27" bundle that we store in a factory bag (not included in the $1,650 sticker price). But certainly everything you need for a pleasant ride IS provided, be it a multi-function speedometer, odometer, battery power display, and the LED lights (front & back). Also included are a bike rack, fenders, and a Panasonic 11 amp-hour, 36 volt lithium-ion battery that rides beneath the saddle. At nearly $500 alone for the battery, it's secured by a key but will most likely be removed (easily) and carried when we leave our bikes unattended. To deter theft, I purchased 2 reasonably heavy-duty chains with key locks. Granted, an experienced bike thief could easily cut that chain with a bolt cutter but hopefully the second lock (this one a combination cable) will be enough of a deterrent. Especially with the battery removed.
Other features of our bikes are conventional gripping brakes (as opposed to disc brakes on more expensive brands), a reasonably comfortable saddle, an adjustable handle bar (both height and rotation), and 20" wheels. My initial concern about the smaller wheels was not only a lack of comfort but safety. I learned that a wheel's spokes absorb some of the shock when riding off-road, and these smaller wheels would conceivable "fall into" divots that a larger wheel would span. This requires alert riding. Another concern of smaller diameter wheels is how they track on loose gravel. In my preliminary test, I searched for every opportunity to challenge the tire and the bike handled well. Mind you, we're not ever going to be riding fast.
One more thing that separates our more affordable bike from its more expensive cousin is the rear-mounted motor. This actually is a plus because the rider's weight keeps the wheel grounded. I learned that front-wheel motors can actually cause the wheel to spin out if the rider is not prepared—a possible danger.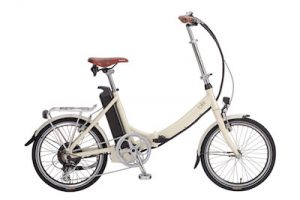 We're waiting for our second bike (an attractive cream-colored model) and took my green one on our recent camping trip along the Metolius River outside Sisters, OR. It tested out wonderfully, scooted around the campground and also handled nicely on a gnarly road Marty & I explored when fishing. My rod attached conveniently beneath the saddle and my fishing gear was stowed in the pannier I'd hitched onto the rack. I was a little apprehensive riding on the road's unimproved rocky surface using the bike's default city tires. Getting some knobby tires and a spare tube will alleviate that concern—hopefully I won't need the latter.
Our bikes should make a significant difference throughout our soon-to-begin expedition to Alaska. I also see them as providing an efficient alternative to taking the car on short journeys around town when we return. A fully-charged battery will reportedly be enough to travel approximately 30 miles, and the solar panel on our camper's roof will adequately charge the battery when we're dry camping. Regardless of where we ride, the good news is if we run out of power, we've still got the power to pedal home.