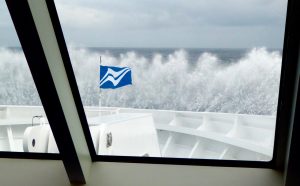 We've never taken an actual "cruise" but boarded their smaller (and less-extravagant) cousin, the BC ferry that sails the inland waterways of Canada and southeast Alaska. The rough seas in the Queen Charlotte Sound were reminiscent of the thrilling rides I've had on many, many roller coasters—front row only, please. After an hour of bouncing around in waters that have claimed 90+ vessels due to a combination of unprotected exposure to Pacific swells and gradually shallowing waters, we relaxed in our recliner seats for the reminder of a peaceful journey meandering up the BC coastline to Prince Rupert. We caught the ship, Northern Expedition, in Port Hardy, the northernmost ferry terminal on Vancouver Island after celebrating Canada Day with former colleagues from our teaching years in Japan who live in Comox, midway up the island. What a wonderful conclusion to the first 1,000 miles of our Alaska adventure.
In a characteristically packed week of travel, we started in Portland and paired up with Peace Corps alumni Bob & Bev for some camping in Olympic National Park. We'd formerly explored the park's coastal destination (Klaloch), the rainforest campground (Hoh Valley), and the high-elevation glacial fields of Hurricane Ridge. This time we camped near La Push, WA, at the Mora Ranger Station in the Park's northwest corner and adjacent to the Quileute Indian Reservation. Situated in a temperate forest of moss-covered Sitka Spruce, Douglas Fir, and Western Hemlock, it was a short walk to Rialto beach and the 30-mile North Wilderness Coast Hiking trail. This is a beautiful location and walking the beach at low tide presented us with grand panoramas of rock islands, the dominating "Hole-in-the-Wall" monolith marking the trail's first campground, and a stunning exhibition of eagles diving for fish in the exposed tidal pools. On the forest trails, we were entertained by a cacophony of bird songs (listed below). Evenings were punctuated by Native Americans tooling up and down their private speedway, the Quillayute river, outboards roaring as they fired bottle rockets at each other in the darkness. Or so I imagined as explosions accompanied us to sleep after a long day. What should we have expected a week before the fourth?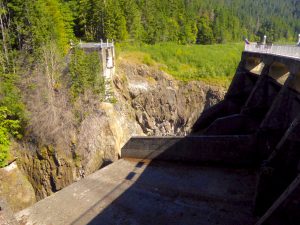 It didn't take long to cover the 65 miles from La Push to Port Angeles where we treated ourselves to a reunion luncheon with a long-time friend from our LA daze. We were scheduled for the following morning's ferry and had the afternoon to play so, on Nancy's advice, we drove the 11 miles west of Port Angeles to the park's Elwha River Valley campground, or what's left of it. A few years ago, the park completed the removal of 2 dams built in the early 1900's on the Elwha River that reopened the water to salmon and steelhead. Incredibly, after over a century of blocked access ("What did the salmon say when it bumped its head?"), 3 species of salmon found their way up the river into the Olympic Peninsula's largest watershed to spawn. It took years to completely remove the dams, and a controlled amount of silt was released into the Strait of Juan de Fuca. Sadly, heavy rainfall last year exacerbated the flow and washed out much of the valley, including the park's recreational venues. The roads survived, however, and we were able to cycle the 3.5 hilly miles up the vehicle-free road to the remnants of the former reservoir. What a remarkable engineering feat and summary validation for our purchasing electric bikes.
We'd formerly taken the Black Ball ferry from Port Angeles to Victoria BC, but this was the first time we'd been searched. Not for alcohol. Not for exceeding the $10,000 limit for pocket change. No, we were stereotyped as gun runners. Next time I'm not mentioning Alaska as one of our destinations. Sadly we didn't see any Orca Whales this time but the weather was gorgeous and, as always, Victoria shined. We were on a mission, however, and proceeded directly up Hwy. 19 to Comox where we caught up with our dear friends and, with their help, planned our drive home through mainland British Columbia in late September.
July 1 is Canada Day and Rick and his 92-year-old dad performed with the city band preceding the festive parade in nearby Courteney. Afterward, we all headed off to a new craft brewery before settling into the park's thick, green lawn to enjoy local musicians and a lovely nap. The day before, Julie toured us all over the Comox Valley, the 3 of us never taking the same route twice as we wine tasted, concert attended, and "peddled" an additional 40+ miles on our new bikes. What a grand debut to such beautifully engineered vehicles, to a remarkable 3-month journey we've only just begun, and to adventures we know will exceed our wildest imagination. Stay tuned.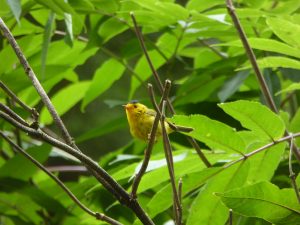 Bird sightings:
Mora Ranger District – Pacific Wren, Varied Thrush, Swainson's Thrush, American Robin, Pacific-slope Flycatcher, Golden-crowned Kinglet, Stellar's Jay, Western Tanager, Wilson's Warbler, Belted Kingfisher, Song Sparrow, Bald Eagle, Great Blue Heron, Raven, Osprey, Double-crested Cormorant
Dickey River – Common Merganser, Barn Swallow, and Northern Rough-winged Swallows
Elwha Valley – Violet-green and Barn Swallows, White-crowned Sparrow, Spotted Towhee, Robins, Swanson's Thrush, Wilson's Warbler, Downey Woodpecker, (we heard the elusive) Sooty Grouse, Dark-eyed Junco