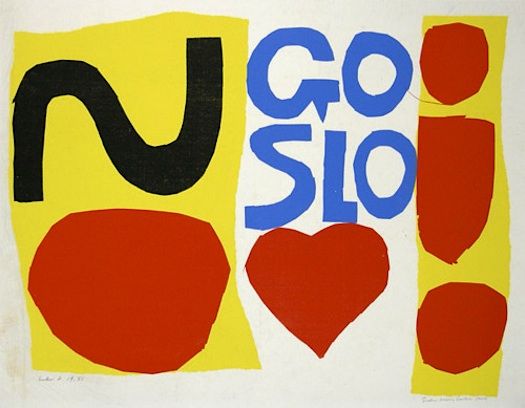 "luke 2.14, 51″ is an energetic mix of the primary colors, red, yellow and blue, silkscreened onto a white background. A swash of black cuts through the yellow color field on the left, creating a composition that is both balanced and riotous. The text implores us to "Go Slo" but, as the color suggests, we shall proceed with this proclamation joyfully. Corita sent this print to Lyndon Johnson in 1964 for his birthday after she read a newspaper account of Mrs. Johnson's note to the President telling him to slow down. The inspiration for the design came from Corita's belief there ought to be a more elegant way of telling him to "go slo."
~ Read more at The Corita Art Center.
We recently enjoyed a visit by Susan Bass, a Portland resident who consults for those who want to heal their bodies naturally. Her work can best be described as proactive healing through digestion, detoxification and medicinal yoga so you can look and feel your best. She gifted us a small, thoughtful collection of writings titled The Art of Digestion that included "Slow down: Good Digestion Only Happens When You Are Calm and Relaxed":
Slow down…take a moment for yourself…
Get the felt experience of being nourished
by the universe.
Feel the sun warming your skin, feel oxygen filling
your body with life, feel water hydrating and
cleansing your cells, and feel food properly digesting
and healing your body.
Know it was meant just for you.
Be thankful for it.
~ Susan Bass
While twisting comically during a yoga practice the other day, my gaze fell on the Corita poster luke 2.14 51 hanging among other colorful artwork displayed in my office. Germaine to Susan's passage, Ladybird's message for LBJ to slow down took on a new meaning for me—an invitation to all of us moving forward. If only President Lyndon Johnson had heeded Ladybird's advice back in the 60's when he was escalating the Vietnam war.
Learn more about Susan's work on her website The Heart of Digestion.