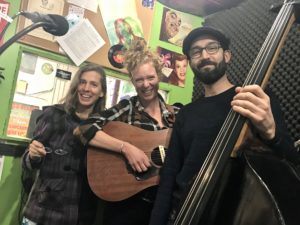 A couple days before their third annual holiday gig in Ashland, Alicia and Mark were invited by DJ Starlight for a music/interview on her weekly program, Soulshine. Our favorite musical duo spent the better part of an hour on the 27th in the KSKQ studio on Hersey Street, talking about their music and singing 4 songs. I met one fellow at the Friday night show who heard about the gig while listening to her show. Community radio really makes a difference, one patron at a time.
The engineers at kskq.org kindly provided me a recording of the entire 30-minute interview. Click the icon below to hear four of their songs along with some additional information about their musical journey.
[mp3j title="Listen to a recording of the entire live interview" track="https://viani.us/wp-content/uploads/2017/12/av_mark_kskq.mp3″]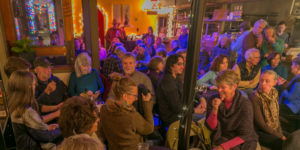 On Friday night, 60+ friends and music lovers joined us at the La Baguette Music Cafe for Xmas tamales, fish tacos, and a couple sets from Alicia and Mark. There was passion in the lyrics, love in her heart, and confidence in their delivery. The gig was epic; a comprehensive portfolio of their self-defined music genre: "Therapy Rock" (defined for listeners in the interview).
Hey—check this out: while listening to their live radio show, click the photo of the event to carousel through a gallery of photos taken at their show…with a soundtrack of them singing in the background!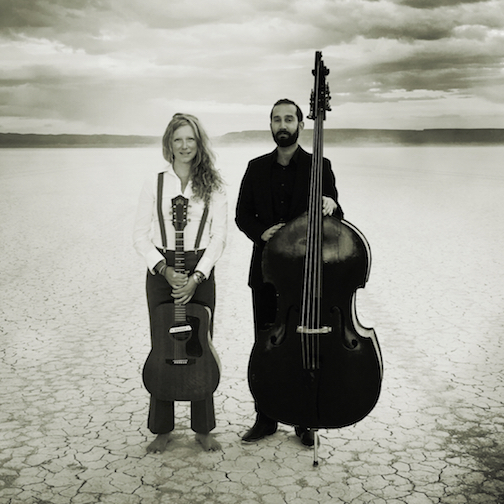 Five picks for live entertainment ~ Dec 29, 2017 ~ 7pm
Ashland native, singer, songwriter and guitarist Alicia Viani and acoustic bassist Mark Karwan will perform from 7 to 9 p.m. Friday, Dec. 29, at La Baguette Music Cafe, 340 A St., Ashland. The duo's original folk music weaves jazz, funk and Americana with personal and provocative lyrics to create an intimate songwriter performance. Admission is $10. See aliciaviani.com/listen.