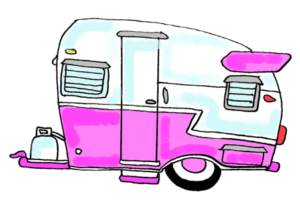 Our search for a new RV began with that memorable relationship with Frank Baskins and his Garden Hose Virtuoso in Grants Pass. When his product line didn't work out, we reached out to other RV manufacturers. What drove that search boiled down to the floor plans available. At first, simply moving from a pop-up truck camper to a travel trailer seemed comparable to moving from an apartment to a mansion; we didn't have as much as a bathroom so items such as enclosed showers were over the moon.
We soon learned that powered slide-outs were the norm and nearly every manufacturer offered models that seemed spacious compared to those without. We became wary of trailers featuring slides when we read that Airstream, the brand most associated with class and quality, offered slides for only a few years before abandoning the idea. Speaking to service managers also confirmed our suspicions—slides were the number one reason for repairs in the RV industry. So early in our search, we limited our quest to floorpans without slides. That immediately eliminated Lance trailers, an otherwise fine product. They don't offer a floorplan we like without slides and, more importantly, double axels. We began looking closer to home that allowed us a greater chance of finding dealers with trailers in their inventory we could check out.
La Grande, OR, is where Arctic Fox trailers are made. Long considered a rival of Lance, their home company, Nash Trailers, actually make 3 different lines with different customers in mind. Ray Nash, the founder, entered the industry with the economy model he named after himself. Basic wood construction and not many amenities. An upgrade is the Arctic Fox line, that replaces wood construction with aluminum framing and thick insulated walls. Very well crafted, we searched for a couple months before locating a dealer that had one we could climb into. Their 3rd line is the OutdoorsRV models that interested us the most—especially their floorplans without slides.
We quickly learned that the trade-off for the expansiveness of slide-outs is the size of the galley. Supposedly for weight distribution, many models feature bathrooms above the axels (all of them "dry" with enclosed shower stalls). We'd eliminated single axels early in the hunt. With bathrooms in the middle, the other major features (bedroom and dinette) ended up on either end of the trailer. Some early rejects had the dinette in the FRONT of the trailer which made no sense since most campgrounds features sites into which you BACKED into. That made the rear dinette a must, but what to do about the bathroom?
Something we learned about our Four-Wheel pop-up truck camper was that climbing over the other person in (and out-of) the bed was a pain. Especially when there was an additional 3′ drop down to the bench to the galley below. A forward-facing bed became another essential in our search and that, by definition, added 2-3 additional feet to most trailers' overall length. In the RV world, length means weight, and we hoped to settle on a trailer that wouldn't take a diesel truck to pull.
Our first concession was giving up the forward-facing bed with space on the sides for easy access. That space made making the bed far easier and often was coupled with wardrobes above the night tables. On the other hand, eliminating that 16″ made the trailer narrower,  lighter, and ultimately easier to pull with a mid-sized pickup. Another consideration of a narrow trailer is the visibility behind the trailer using stock truck outside mirrors.
Motivated to reach a solution to our hunt, we carefully examined features of every trailer on our short list. Our first RV salesperson, Frank Baskins, averted his eyes when we unrolled our list of desired options earlier in our search. He shared that an 80% success rate is usually just fine for most shoppers and we should view options with a grain of sensibility. By this time, however, we were confident we'd found the correct floor plan and had whittled it down to 2 OutdoorRV models: the 21RD and the 20SK. Barely a foot separated them in overall length, both had forward-facing beds, dry baths, and a rear dinette. The latter was the one feature we weren't willing to compromise on and an extra foot in the dinette bench was what eliminated the 20SK. So we had our trailer picked out, we hadn't made to many concessions to our values, and now began the fun of finding just the rig and working on a fair price.
Well into the search we'd learned that our desired model was offered with 2 trim levels. Features of both intrigued us and that added to the complexity of our conversations with both dealers and salespersons. We're not chrome-plated-handle-type people but DID like directional reading lights above the bed. Why one trim level didn't offer those was beyond us, and we learned from the HQ in La Grande, OR, that certain options could be easily ordered and dealer-installed on the trim level we liked. We began a steady email conversation between the salesperson in Redding where our future trailer was parked, and the mother company in La Grande.
Everything was put on hold for a brief visit with Alicia in Bend. There is an OutdoorRV dealership in Bend as well, but they didn't have the model we'd selected. Nevertheless, we felt certain that Alicia should visit our chosen model to introduce a fresh set of eyes. Alas, she never saw it because that weekend Bend received 3′ of snow and everything changed. For the better, it turned out.
After several days of slipping and sliding around Bend in our trusty Subaru Outback, we headed back home along Hwy. 97 south. We'd caught a window in the weather and the drive was unremarkable with the exception of periodic wrecks lying in state beside the road. Fresh snow had erased any sign of the obvious terror associated with a vehicle turning over. Similarly, any attempt at road assistance was also blanketed with a comforting reassurance. A 14-wheeler lay on its side a good 20′ off the road in a treeless field. I'll always remember that truck and trailer as if it was a beached whale on a shoreline—stark still, silhouetted again a monochromatic background and forlornly abandoned. Absolutely surreal.
That got us talking about the likelihood of a trailer swaying behind our pulling vehicle. And that got us questioning the type of vehicle necessary to pull whatever ended up as our final selection. And THAT got us thinking about just how heavy our trailer would be and the size of the truck required to pull it.
Revisiting the Escape Line of Travel Trailer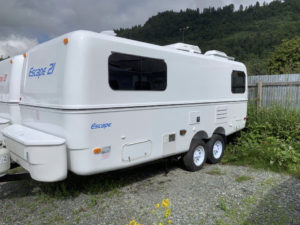 Years earlier, while visiting our dear friends Rick & Julie in Comox, BC, we'd been invited to sit in the newly-purchased trailer of their neighbors'. The trailer was an Escape, fiberglass construction, and relatively light weight for its 21′ length. We liked that brand and it was always out there in our consciousness during the trailer search. Something clicked and we were now rethinking the Escape line.
In our search at home we accepted that a 21′ trailer was actually 25′ when you added the hitch. The Escape21 is actually 17′ plus the hitch so there were going to be some concessions to consider in that we'd lose 4′ of our interior when compared to the other models we were fond of. The good news is the Escape21 is lighter, narrower, seamless (and essentially waterproof) due to its clamshell construction, and it seriously competed with our fantasy trailer, the Airstream, for coolness. The company is located in Chilliwack, BC, Canada, where they maintain a comprehensive online presence describing their 4 models.  It merits mentioning that the price on their website is in Canadian dollars and with the current rate of exchange, the US dollar gave us nearly a 25% discount.
Another significant factor in our switching to the Escape21 was the size of the tug required to pull a framed trailer compared to a fiberglass frameless trailer. No longer was a ½ ton truck necessary as the Escape was considerably lighter and only required a mid-sized truck. Always our choice, a 4-wheel pulling vehicle would get us where the birds are without taking our home along with us for the ride. A small truck would also get far better mileage around town, handle far easier and may, just maybe, become our primary recreational vehicle should we decide to trade in the Subaru for an electric ride.
As for tradeoffs, the Escape designers came up with a novel solution to reduced galley space that characterizes a floor plan with a mid-rig bathroom. With a comfy dinette properly situated in the rear of the trailer, the bathroom (no longer a "dry" bath but smaller and "wet) is adjacent to a slightly narrower bed that still faces forward and continues to provide plenty of storage. With the bathroom next to the bed, the busy galley with sink, refrigerator, and cupboards is widened and, along with the dinette, becomes the center of our indoor activity with room—and storage—to spare. And all this design efficiency comes with a lighter dry weight that, when packed, can still be effectively pulled with a mid-sized vehicle. I think that was the game changer. We suddenly came to the realization that my get-around-town and our birding vehicle when traveling will leave a far smaller carbon footprint than its bigger siblings.
Once we saw the light, we needed to see the inside of a newer 21 footer. The company maintains a referral system where Escape owners show off their trailers and receive a modest honorarium from the company. The big problem is there isn't another Escape21 in southern Oregon so we scrutinized an Escape19 model owned by local friends and came to the realization that our choice was the correct one.
Then began the frequent calls and almost daily communication with Joldie Coombes who was assigned to our purchase once we'd submitted the obligatory $2,500 Canadian dollar deposit. March 4th, to be precise—my 74th birthday! With that commitment, we were assigned a completion date of July 11, 2019. In order to have the "build sheet" prepared for that completion date, a cut-off of April 11 (3 months before completion and 3 days from this writing) was established that gave us plenty of time to read the online Escape Trailer Forum  for lengthy answers about anything related to fiberglass trailering.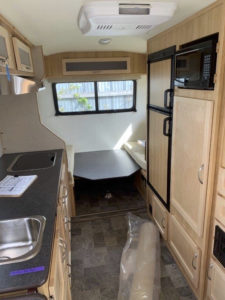 A couple days later, we heard from Joldie that another customer pulled their deposit and an earlier completion date was available. Associated with that was moving UP the deadline for submitting our "Build Sheet". Yikes! We needed to ramp things up and Sooney and I began a crash course on building a customized RV. One thing that needed immediate attention to was the selection of the custom fabric, counter top, and flooring material. Having chosen the new maple interior package, we stuck with the counter and flooring and Sooney selected a muted blend that will be complemented by pillows made from our ikat fabrics. We also poured over the extensive options list and made choices based on both functionality and weight. I'm convinced our Escape21 will be a dream to pull, to live in, and to show other potential buyers since we'll most likely become the Escape ambassadors for Southern Oregon.
Here are the specs lifted from the ETI website: