For sale: a Four-wheel Camper "Grandby" popup camper. Mounted semi-permanently on a '98 GMC 2500 pickup. This rig has always been garaged except for the 400+ nights we've called it home. Considering we bought it new in 2006, I'd say this camper is barely used.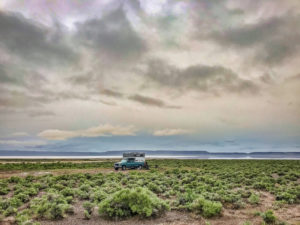 We began our SpringFling '19 in early May after a whirlwind visit with Alicia in Bend. Our initial destination was the Painted Hills unit of the John Day National Monument, so the relatively short drive got us there in time for a colorful sunset. After nearly 4 months truck-camping in Alaska, we discovered a dry campsite just outside the unit that was ridiculously quiet. Honestly, an hour from Bend, it proved to be the quietist spot in our entire trip. So we beelined it straight there after a lengthy visit with a Say's Phoebe and set up camp. Our second visit  (night #396) proved to be equally quiet—and delightfully birdy the following morning as well.
The inspiration for this road trip was us sharing a beautiful house overlooking Wallowa Lake with our dear friends the Karlins. Special guests included a couple birding buddies Lee and his really-birdy brother, Lynn. All together, we probably spotted 50 birds in the Wallowas , including a Lark Sparrow that, for me, was a first.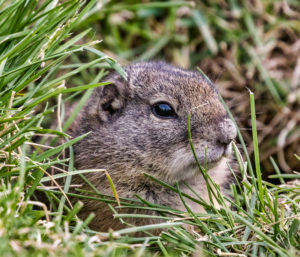 Our trip included two visits to the Zumwalt Nature Preserve that we'd visited the previous fall during Rachel & Christopher's wedding festa . Things were different this time, however, because the cattle were still around. In fact, the reason the Zumwalt so successfully supports ranching, wildflowers, and a robust hawk population is because ranchers cross-fence the herds. On this trip, we actually watched as cowhands on horse and 4-wheelers moved a herd from one section to the other. The value of moving cattle frequently is that it prevents the land from being over-grazed, their manure supports the wildflowers, the wildflowers support the thriving Belding's Ground Squirrel population, and the hawks happily prey on the squirrels. Equally fun was hanging out with 5 dedicated birders who'd rather be doing this than just about anything. Sadly, we only spent 5 days together, and after a robust breakfast at Rooster's in Enterprise, OR, we headed south for our inaugural visit to the Alvord Desert.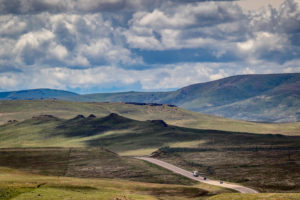 We plied the Interstate through Baker and Ontario before heading south on Hwy. 95 that eventually connected us with Burns Junction. En-route we passed through Jordan Valley where a pro-rodeo literally transformed the tiny town. We would have stopped if only to visit the variety of venders who follow the circuit. Sadly, there wasn't a parking space to be found. The gas station was down the road, so we crept along and enjoyed an encapsulated view of classic rodeo and all the culture that adorns it. The venue was right on the main drag, and our view was predominately the back of the stands—rows upon rows of boots, water bottles, and Wrangler jeans with Skoal-imprinted back pockets.
Our route took us briefly into Idaho and back into Oregon for an overnight at Farewell Bend State Campground on the Snake River. After a morning relishing several pairs of Bullock's Orioles, we left urbanity and spent the next several hours on some gorgeous highways. Hwy. 78 heads back to Burns, but mid-way we turned south on a well-maintained dirt road toward Fields—home of an infamous milk shake we can't confirm. The road goes on for miles; its entire length in the shadow of the massive Steens range blanketed with snow. A fabulous soak at Alvord Hot Springs culminated our day's journey and we'll return considering how easy it is to get there from Burns. And, of course, the lure of an epic chocolate milk shake.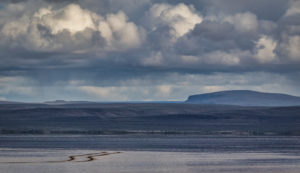 The Alvord desert gets an annual rainfall of 7″ and I think it dumped a majority of that on us during our 2-day visit. What is usually 180,000 acres of a dry lake suitable for driving on, land sailing, and generally frolicking in its immensity, presented us a muddy 1-2″ deep puddle. You could almost watch the water evaporate while you sank into the muck.
One HS guest drove down from Portland in a '95 Land Rover Defender WS—his was #219 of a limited edition of 500 manufactured. The reason for driving to the Alvord was to take photos that will illustrate the auction site the following week. His tire tracks through the mud created a leading line that disappeared into the shallow water. At several places, he parked the car in reflective water, carefully climbed out so as to hide his footprints, and took hundreds of photos with snowy peaks in the distance. Curious about what he hoped the 25-year-old car would hammer down for, he happily replied that the plan was to put a reserve of $50k for the auction and that he was hoping to get double that. Alas, another investment opportunity missed.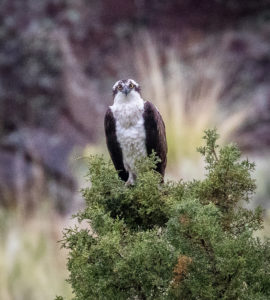 We'd hoped to have a quiet week camping in the lovely Page Springs Campground not far from Frenchglen, OR. All went according to plan as we arrived in the afternoon and settled into site #27 that was beautifully situated beneath the bluffs where we'd seen owls nesting during earlier visits. Late afternoon sunlight illuminated the bluffs just right, and Yellow Warblers, Common Yellowthroats, and a Caspian Tern completely ignored us as they did their birdy thing. From the bluff, an Osprey perched tentatively, searching the Blixen for a tasty meal.
Sadly, the rain persisted so sensible Sooney booked us into the Diamond Hotel (c. 1898) for a couple nights of hot showers, meeting other birders, and home-cooked meals served farmer style. We struggled with the Greg Walden sign on the hillside, but reigned in our political bias and used the Diamond as our base while exploring the (very) watery Malheur Nature Preserve. The birds didn't seem to object to the standing water, and the Blixen River was expecting even more with the eminent snow melt. We determined the rain was actually a blessing because the cooler weather prevented a life-threatening mosquito hatch. Throughout both days in the Preserve we experienced a variety of weather conditions—at one point it hailed on us. Another time sunlight blessed us sporadically and we spent the better part of an hour enjoying the elusive Bobolink rising from…and then dropping back into the tall grasses.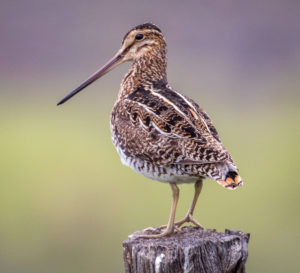 After one glorious meal, we walked along the quiet access road looking for owls. There was an ever-present "winnowing" sound created by some bird passing nearby that we couldn't see. It turned out to be the long-billed Wilson's Snipe, flying under the radar at an amazing 60mph. The sound is created by wind passing over the male's modified outer tail feathers during mating season. The following morning en-route to the Refuge a solitary Snipe was posing on a post beside the road. After an all-night feeding frenzy, he looked none-the-worse and posed before retiring for the day.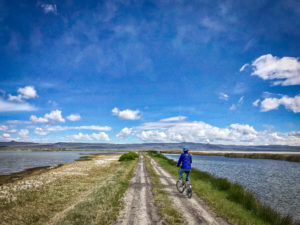 Summer Lake was not far off our route so we camped a couple nights in the Wildlife Preserve. (Note: a Fish & Game Parking Permit entitles visitors to free camping.) 2-weeks schlepping our portable bikes in the rain finally paid off as we cycled the entire perimeter of the refuge, camera stowed in the pannier and billowy clouds overhead. We not only took photos but collected handfuls of spent plastic shotgun shells decomposing in the dry terrain. Summer Lake is a really sweet community, features a restaurant & lodge, a hot springs down the road, and is a watery layover for a huge congregation of migrating birds. Hunting and fees generated from the sale of licenses maintains the refuge, and it's still a cultural conundrum to imagine permitting the killing of these fabulous birds. We felt safe and were reasonably sure no-one would ever shoot a Marsh Wren.
Our celebratory 400th night in our Four-Wheel Camper came and went, and its significance was nearly lost amidst the variety of wonderful activities that filled the previous 3 weeks. We'll continue to use our camper when picking up our new Escape 21 trailer in early July, and it'll be interesting to see how things go with TWO RV's at our disposal.