To go in the dark with a light is to know the light.
To know the dark, go dark. Go without sight,
and find that the dark, too, blooms and sings,
and is traveled by dark feet and dark wings.
—Wendell Berry: "To Know the Dark"
It was nearly 5 years to the month that I passed through Great Basin National Park en-route to an enjoyable visit with our dear friend, Phil Miller. Phil lives just outside Tucson, AZ, and my route included an overnight to nearby Lassen Volcano NP followed by a lengthy trek across America's Loneliest Highway, Route 50 across central Nevada. My objective for that leg of the journey was to camp in Great Basin National Park's Wheeler campground, elevation 10,000', and hike and capture some images of the autumn colors and magnificent Bristlecone pines. All went as planned, and the journal entry and photos have been wonderful to revisit.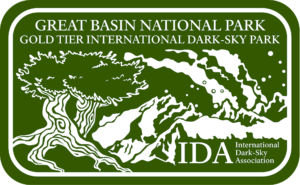 Our recent visit to Great Basin was the final destination of our 2-week autumn swing through northern Nevada. The previous 3 journal entries on this blog document our stays at Sheldon NWR (just across the OR/NV border) and Lamoille Canyon and Ruby Lake NWR (in the Ruby Mts.). We timed our visit to Great Basin to coincide with the annual gathering of the International Dark-Sky Association, and dark it was for the 3 nights we gazed upward.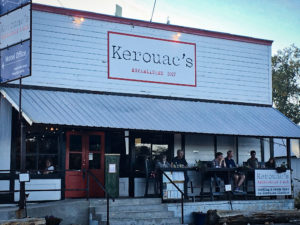 Prior to our departure, our good friend Jim Beaver introduced me to Kerouac's, a great restaurant in the tiny community of Baker, just outside the park. Their menu states "Kerouac's is an homage to life on the American road and to feeling at home in unexpected places," and its proximity to our campground made it convenient for us to dine there twice. Due to the nature of its small seating capacity, and because we'd plans to do some stargazing later that night, we found it helpful to arrive ½ hour before they open at 5pm. During our wait, we met a new friend, Pete Saloutos, an animated Greek-American and professional photographer from Bainbridge Island, WA, and ended up sharing our table with him. He lives and breaths photography and entertained us with tales of myriad escapades all over the world. On this visit, his objective was to take advantage of the new moon that darkened the evening sky that much more. He also shared some strategies we employed to take some reasonably descent photographs of the Milky Way later that evening. Great Basin is a recognized Dark-sky park as are parts of the Sheldon National Wildlife Refuge. Needless to say, Nevada is an expansive territory and with such sparse population centers the astral panoramas were fabulous.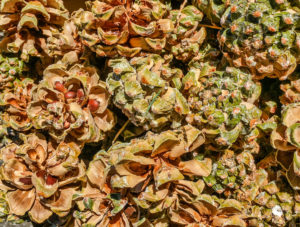 During our visit and hike into Lamoille Canyon, we enjoyed observing the Clark's Nutcracker extracting seeds from Limber Pine cones (also called the Rocky Mtn. White pine). There's a trailhead from our site in the Baker Creek campground (#28) to the Gray Cliffs group campground a mile down the drainage, so bright and early our first morning we took advantage of the glorious weather and started off. About a quarter of our way down the rocky path Sooney spotted Pinyon Pine cones on the ground, with the tasty pine nuts scattered about where the cones had landed. Looking up, we saw scads of the cones in various stages of drying and began collecting the precious pine nuts to take home. We soon learned why ball players apply a coating of pine "tar" on the handles of their bats—that stuff is sticky. We thankfully discovered that isopropyl alcohol worked best at removing the residue from our hands—and that none found our hair or clothes.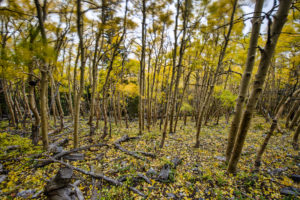 On our last day, Sooney went foraging for more Pinyon pine cones since the park permits non-commercial collecting by visitors of up to 50 lbs. That's a LOT of pine nuts, and in the end we have several yoghurt tubs of the tasty fruit. While she did that, I returned to the Wheeler campground to revisit the wonderful Summit trail I'd taken 5 years earlier. My memories of that hike were filled with colorful Aspen leaves contrasted against deep blue sky. Alas, while Sooney was blissing in the lower elevation sunlight, the summit was shrouded in cold, wet clouds blanketing the higher elevations. It was a chilly and windy hike—the movement of the Aspen leaves became blurred in some long exposures I captured along the trail.
Our return home was a long and steady effort due to the unpredictable weather forecasts. We thankfully had entertaining podcasts on our car audio system that made the 3-day trip manageable. Our first overnight was in Winnemucca, NV, at the New Frontier RV Park that's an extension of yet another casino located at every conceivable location. It was clean and we appreciated the hot showers and power hookups since our solar apparatus was somewhat compromised by the inclement weather.
The following day, we returned to the Sheldon NWR but the experience wasn't quite the same as on the way out, with snow flurries replacing the sunbeams from our earlier visit. Probably the best lesson learned from the trip was how pleased we were with the performance of our new Chevy Colorado Diesel and how easily it pulled our Escape 21 not far behind. We ate well with a significantly larger refrigerator keeping things fresh, and having a furnace when camping in 26° weather is a fine thing. One of these days we may just turn on the hot water heater.
Here's a list compiled by Sooney of birds spotted along the way: Townsend's Solitaire, Mtn. Chickadee, Dark-eyed Junco, Red-breasted Nuthatch, Wild Turkey, Cassin's Finch, Raven, Stellar Jay, Clark's Nutcracker, Sharp-shin Hawk